I took a short ride to Arthur's Pass (about 1.5 hours each way) where the snow had fallen. I figured if I could handle that then the world was my oyster.
My fingertips were a little cool and my ski suit was fine, but I did need the rain skin over it to make it more windproof. I found a pair of heated gloves online for $30 and a USB charger for my mobile phone too. Winning! With a couple of finishing touches I was confident I could do the ride safely and in turn, relive my misspent youth.
After a full cooked breakfast (fried bacon, tomato, poached eggs and toast) I filled my small hot water container, suited up and got underway. The weather was wet on the coast that morning. It was raining, but wasn't too heavy. It continued raining as I crossed Arthur's Pass and through to Cass before easing off completely. Thankfully there was no fresh snow to worry about and none at Porter's Pass either.
My first stop was Methven where I met with another RE owner. When I tried to contact him at Springfield I discovered my phone battery was almost totally flat and my USB charging cord was not working correctly. I had enough charge to send one and receive one massage. I made a cup of coffee and then was on my way to Methven. The sun was shining beautifully by now and warming up a little to around 4C (39F).
From Methven, I was planning to refuel at Geraldine and was expecting to get around 300 kilometres from a tank, just out of Geraldine, I looked at the odometer and I had just done 300km when the engine cut right as I was about to pass a tractor. I made a quick change to my reserve tank, while still in gear and eventually it roared into life again.
The journey to Tekapo was uneventful the weather was nice and sunny but I encountered a strong side wind between Tekapo and Twizel, which meant that I had to be centre of the lane to make sure I wasn't blown off the road.
Twizel is about 3.5 hours from Christchurch or 2.25 hours from Queenstown. It's a wonderful place, purpose-built in the 1960s to provide a home for workers involved in the Upper Waitaki Power Scheme. Visitors today enjoy mountain climbing, kayaking, mountain biking, skiing, horse trekking, hiking, fishing and just plain old relaxing.
I stayed overnight at the Mackenzie Country Inn and was greeted with a foggy start to my trip to Omarama, which is where I stopped and refuelled before heading down the Waitaki River Valley to Otematata. Here I left the main highway to visit NZ's largest earth dam and the second largest power station in the country, Benmore Dam.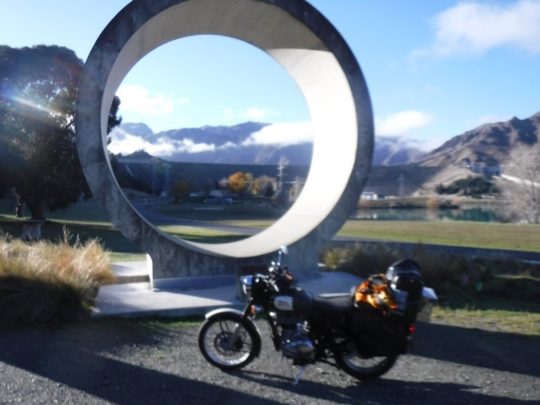 I travelled across the Benmore Dam then down alongside the Lake Avemore, across the Avemore Dam and then on to Kurow. It was here I took a break, stretched my legs and had a coffee, before mounting the bike again and continuing my journey to Waitaki.
I took a route down the north side of the Waitaki River, which allowed me to see an 'old bus', which I knew from its early days (one might say from when it was an embryo of a bus), before it had its body built and then again after it was rebuilt. I had a lot to do with buses and it was a bit of a trip down memory lane. It was also nice to catch up with the bus's owner. Once the reminiscing was done, I took the road to Oamaru, where I spent the night.
I travelled down Highway 1 and stopped at Palmerston, which is about 50km north of Dunedin. It's a small rural settlement world famous for its Mutton Pies. I rate McGregor's Pies and bought two, which I enjoyed when I arrived in Dunedin a short time later.
Dunedin is the second largest city in the South Island (Christchurch being the largest) and there is a distinct Scottish heritage enjoyed here, along with the traditional Maori. Hiking and cycling trails criss-cross the dramatic landscape and you'll find colonies of sea lions, albatross and rare yellow-eyes penguins call this place home.
It was here I met with another RE owner and I enjoyed inspecting her RE 650 Interceptor and discussing our love of McGregor's Pies. I stayed with family again, and when morning came I was off toward Invercargill then on to Riverton. A highlight of this journey for me was being able to spend valuable time with my sisters. I've lost three siblings and as we are all getting older any time we get to spend together is increasingly valuable.
After spending some time with my sister in Riverton, a quirky town surrounded by natural beauty where you can visit the Te Hikoi Museum and Information Centre, I set my sights on Bluff.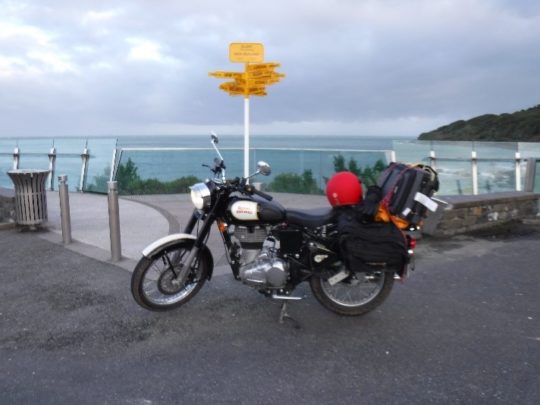 When one is in Bluff (Stirling Point) there is only one way you can drive, and that is north. From Bluff through Invercargill again, but on to Edendale. The pleasure of riding a small motorbike is the ability to pop off down interesting side roads. Such places include Taiere Beach, where my grandparents are buried.
After eight days, I was finally home. I'd had fine weather almost every day (that first day was a bit bleak) and the only ice was for around 50m heading toward Arthur's Pass. I did 2,200km and averaged 33km/L so on the pension it makes such journeys affordable.
Doyou own a motorcycle? Do you enjoying cruising or road tripping?
Been travelling? Travel at 60 wants to publish your story. Simply sign up as a contributor and submit your stories. When your story is published, you'll go into the draw to win some great weekly prizes. You can also join the Travel at 60 Travel Lovers Club on Facebook to talk to other travellers in the Travel at 60 community.