When I was much younger, and my father was based at Mount Isa's Central State School as its headmaster in 1956, we'd done a trip up this way. Back then we'd stayed at the Mataranka Homestead, though it's barely recognisable today.
We travelled roughly 10km from the caravan park to the Mataranka Thermal Pool and Rainbow Springs and walked the 500m loop among the towering livistonia trees to the thermal pool for a swim. The thermal pool is part of the Elsey National Park. The water flows from a warm spring and the pool has been developed since my childhood days — there are surrounding pavers, cement edges and steps to enter the water.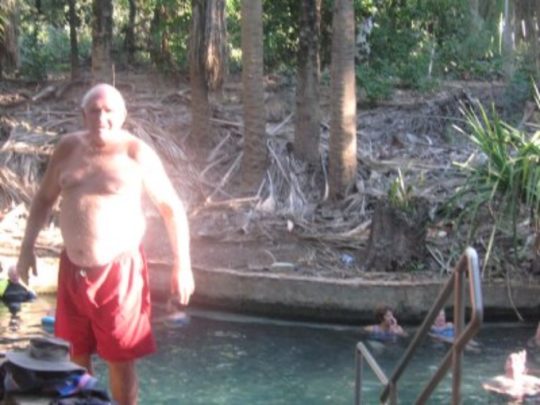 It was a peaceful way to spend some time and even with a crowd there is still a feeling of calm and tranquility.
Roughly 3km from the caravan park, at the end of Martins Road, was Bitter Springs. We took our scooters for a ride to get there.
It's a natural stream with pools surrounded by native vegetation. We found a day use area with barbecues and tables and eco-friendly toilets. Just like Rainbow Springs, we could walk a path around the area that wound under fan palms and paperbark trees, past the swimming area and through the pristine ecology of the Roper River. The main pool is a luxurious 34-34C.
Before we left Mataranka, we walked to the Elsey Cemetery where many of Gunn's characters have been buried. The grave of Aeneas James Gunn, who moved to the station as manager and who died in 1902, can be found alongside a memorial to his wife, Jeannie. I particularly liked the tribute 'In loving memory of the 'Little Missus". Jeannie Gunn captured the imagination of a nation with her portrayal of the Northern Territory outback.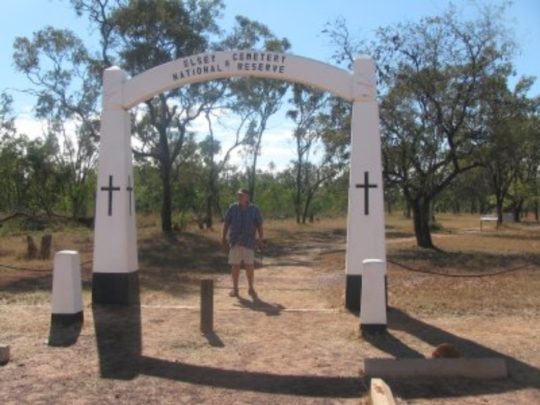 One of the highlights for me on this journey was stopping at the Daly Waters Pub for lunch. Built in 1930 by Bill and Henrietta Price, the pub is steeped in history with murders, shoot outs, cattle stampedes and the occasional drunken brawl. Rumour has it the pub is haunted and if you're around late in the evening strange things are said to occur.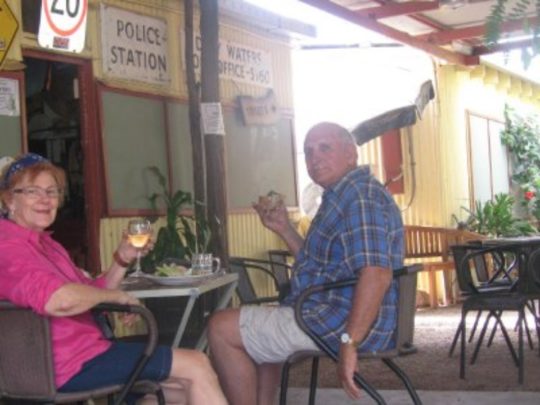 There is old-fashioned country hospitality on show here, but one thing that stands out in the pub are the bras and other intimate items that travellers have left behind as a memento of their time. You'll also find a range of memorabilia and treasures.
From Daly Waters we pushed on to the Three Ways, located at the junction of the Stuart and Barkly highways. We had lunch at the Barkly Homestead, a roadhouse located about halfway between Tennant Creek in the Northern Territory and Camooweal in Queensland. It is the only stop for travellers crossing the border and with more than 460km between towns, it's a welcome break. We were on our way to Mount Isa to spend the weekend with my son and his wife, almost five hours' travel away.
My husband John was born in 'the Isa' and I had lived there for roughly 30 years. We spent an afternoon taking our scooter around the town visiting all of our old haunts, including Townies Leagues Club where my husband had played rugby league.
We met George Tipping, a well known local racehorse owner and trainer, who invited us to the Birdsville Races. About 700km south of Mount Isa, the races are held annually in September and the usually sleepy town of about 100 residents swells to almost 10,000 people during the two-day event. The Royal Flying Doctor Service is said to benefit greatly from the event, with funds raised going to them. I was just grateful that we'd have a log fire and hot running showers at the camp, which was right in the race precinct.
From Birdsville we headed north-east for more than 1,300km to Townsville, stopping at the Lakeside Caravan Park at Richmond along the way. The following day we travelled into Charters Towers, where gold was first discovered in 1871 by an Aboriginal horse boy called Jupiter Mosman. Needless to say the town boomed with gold fever and for those interested there are museums, tours and architecture paying tribute to this past.
We stayed with friends Jim and Joan Barrett who're former founders of Wookatook Rodeo and were now based at Moonlight Creek. They welcomed us with open arms and fed us a wonderful steak dinner. They had a menagerie of animals — five dogs and five puppies, birds, alpacas, goats, deer, Shetland ponies and Solomon, the camel.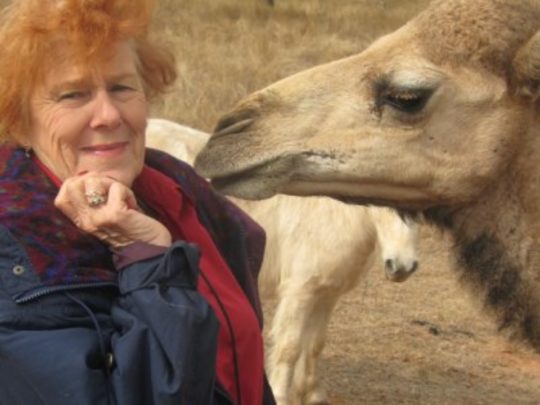 From Townsville we headed south on our way to Brisbane, stopping at Bowen to see John's sister and then Bundaberg where we caught up with some old Mount Isa friends. From there it was straight through to Caloundra on the Sunshine Coast before home to Brisbane. We parked the caravan at John's daughter's place until we could head off on our next adventure.
Been travelling? Travel at 60 wants to publish your story. Simply sign up as a contributor and submit your stories. When your story is published, you'll go into the draw to win some great weekly prizes. You can also join the Travel at 60 Travel Lovers Club on Facebook to talk to other travellers in the Travel at 60 community.