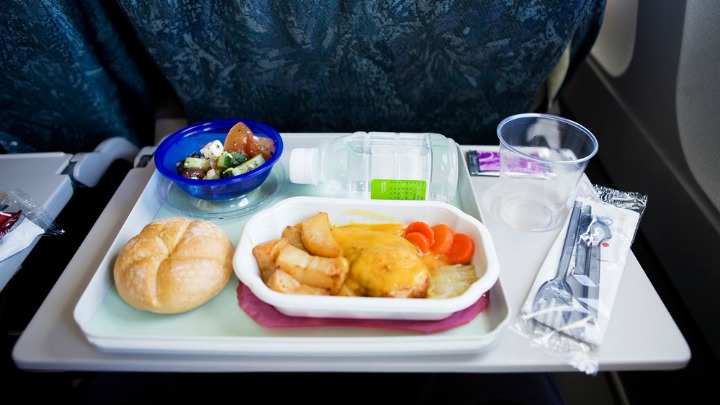 A soggy ham sandwich or a pistachio crusted chicken salad, we know which inflight meal we'd prefer!
But often you don't know what you're going to receive as your inflight meal until the flight attendant begins wheeling it down the aisle.
Luckily there are people like Nik Loukas from inflightfeed.com, who dedicates his time to reviewing food served on flights. Here are some of his recent favourites.
Read more: 7 ways to travel the world for free
1. Aegean Airlines
Aegean Airlines had a delicious mix of marinated chicken strips, salad with goji berries and carrot cake. "Just perfect!" Nik says.
2. Batik Air
Here is a Business Class lunch from Jakarta to Singapore. It's crumbed chicken served with rice and oyster sauce.
3. Air Baltic
"Latvian roasted chicken with potatoes, beans, mushrooms and cherry tomato. Side salad of salmon with dill and quail eggs and chocolate cake. Amazing quality for economy class!" says Nik.
4. Thai Airways
Lemon chicken with fried rice, tuna and cherry tomato salad, finished off with a tiramisu. Yum!
5. Xiamen Airlines
French onion soup, chicken with roast potatoes and salad. "Totally amazed at how great this airline was," Nik says.
6. Singapore Airlines
Lobster thermidor in the suite on the way from Singapore to Melbourne.
7. LAN Chile
Iberico ham salad with cheesecake is on the inflight menu on a LAN Chile flight from Madrid to Frankfurt.
8. Aegean Airlines
Business class food on Aegean Airlines looks delicious. Nik's feasting on eggplant, fava, spicy cheese dip, tuna salad and tabbouleh.
9. Flyniki
"Pre order meal costing €14 and well worth it," says Nik. "Viennese chicken schnitzel with parsley potatoes and chocolate mousse! Proper plates and cutlery too and beyond delicious."
10. Flyniki
Who knew you could have an antipasti platter on a flight? Nik says you can and for a cool €14. "People this is quality inflight catering," Nik says.
What's the best inflight meal you've ever had? Let us know in the comments section below.
Comments