Three of the most famous baths in Budapest
Széchenyi Baths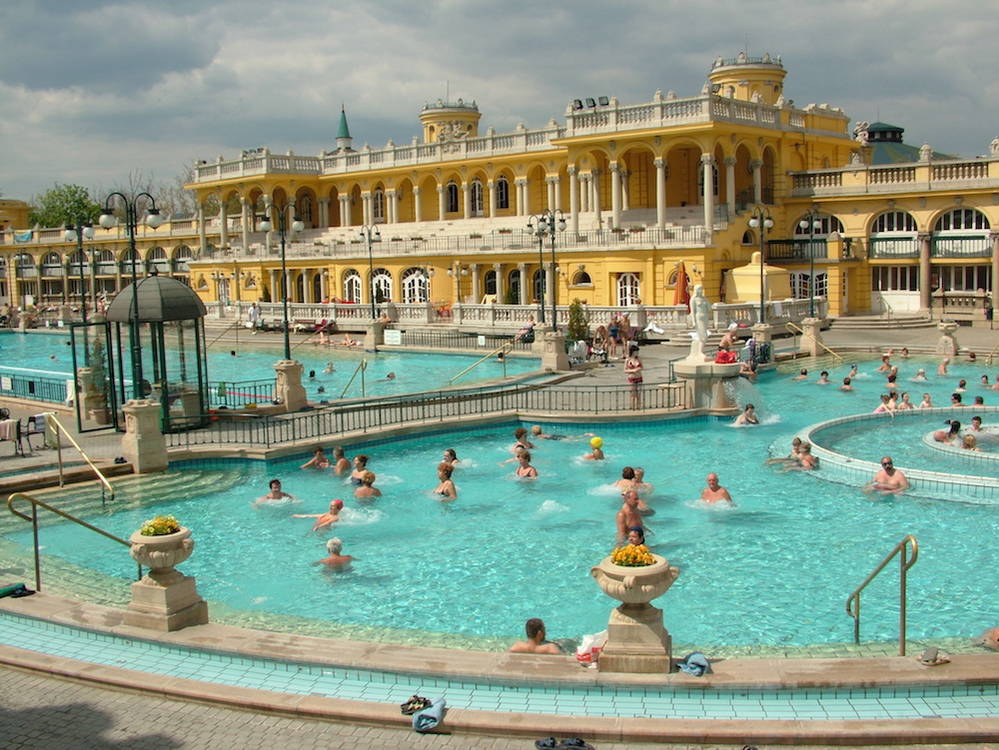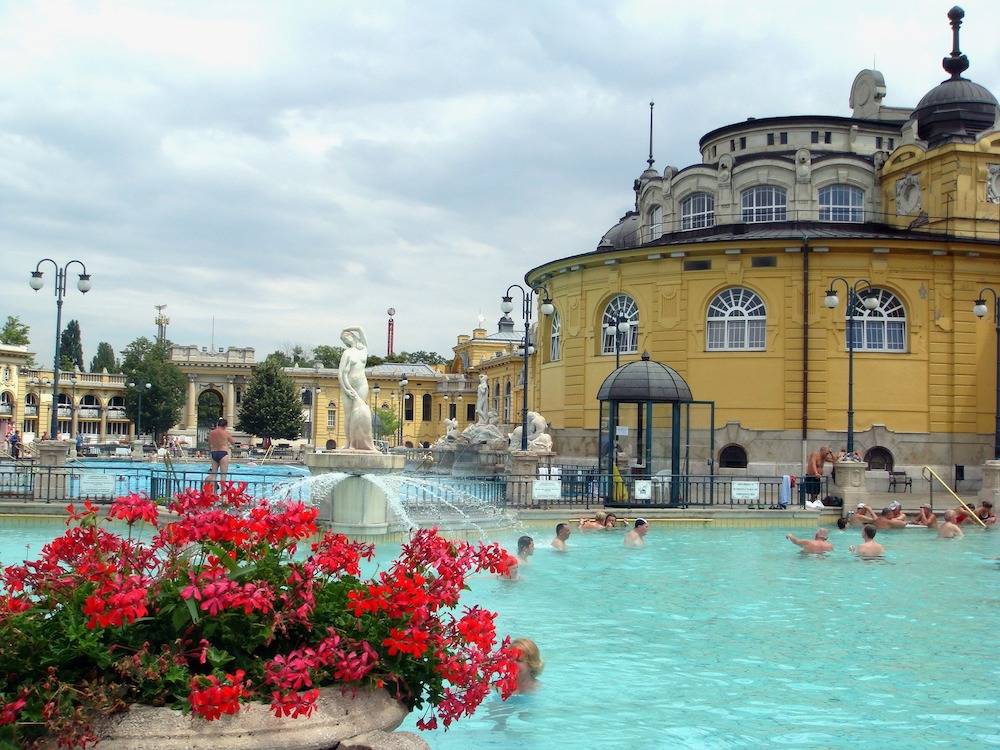 First stop has to be the stunning Szechenyi Baths, the largest medicinal bath (and one of the largest public baths) in Europe. The architecture at this Neo-Baroque wonder will make you feel like you should be wearing a ball gown, not a swimsuit. There are 18 pools, including three enormous outdoor pools – the sight of men chatting and playing chess while chest-deep in the therapeutic waters is common. The baths are open all year-round and taking to the waters (with temps up to 38°C) during winter while the snow falls will make you feel like a total local.
Gellért Baths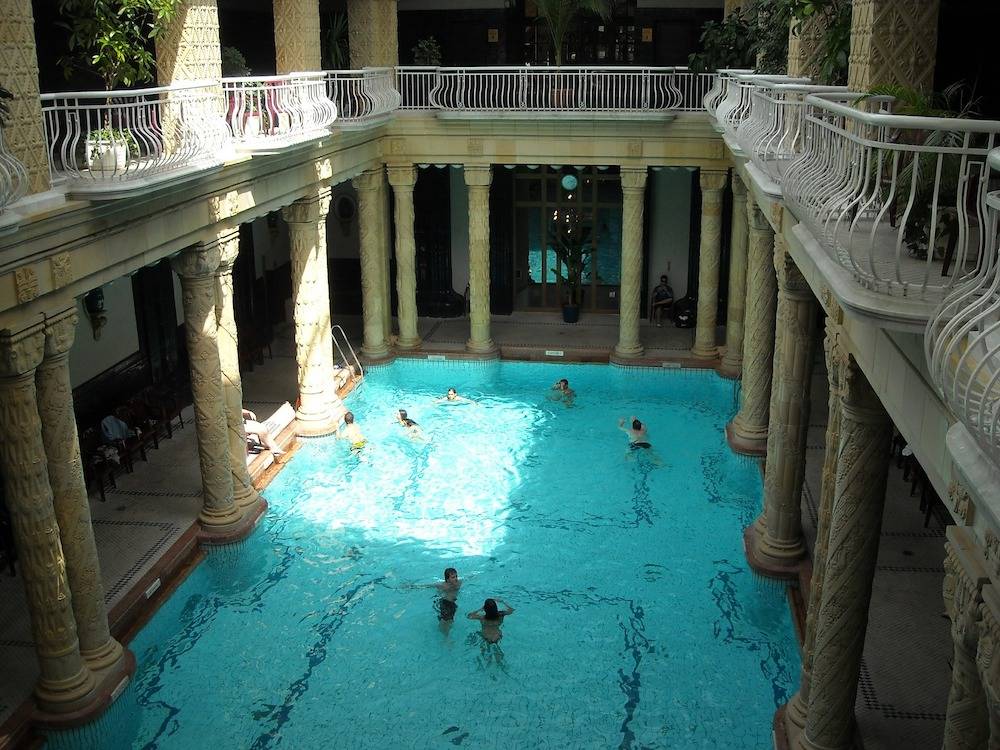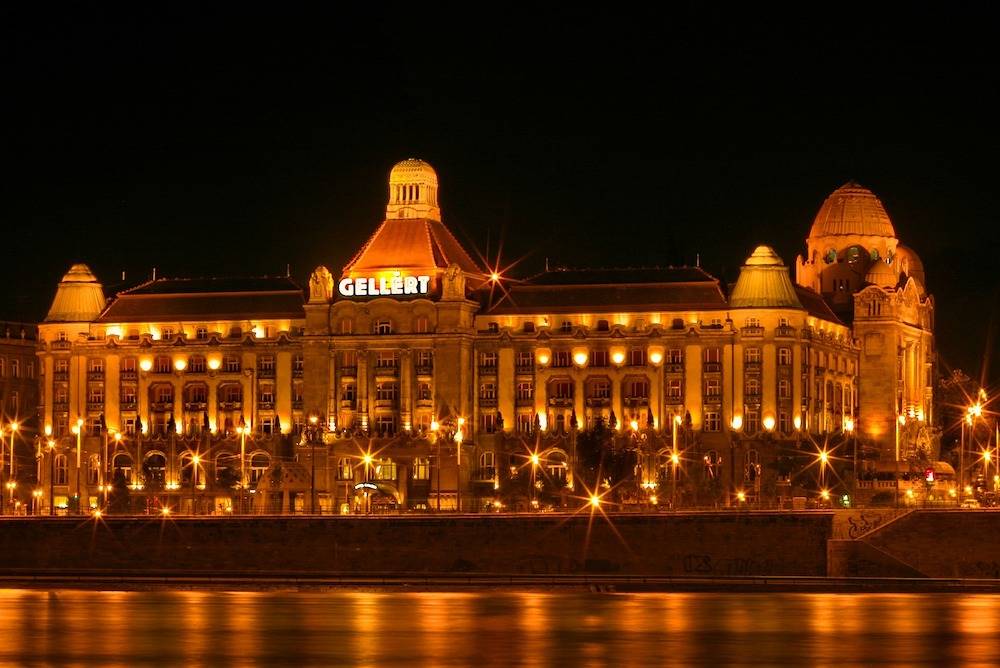 "Like bathing in a cathedral" is the general consensus when it comes to Gellért Baths. They're part of the historic Hotel Gellért, which sits right on the Danube. Built between 1912 and 1918 in glorious Art Nouveau style, the baths are some of the most beautiful and elegant in Hungary, featuring colourful mosaics, stained glass windows and a marble columned, Roman-style swimming pool. As well as thermal pools, steam room and saunas there's a sunbathing terrace that's hugely popular in the summer, dry and steam saunas, salt chamber and open-air wave pool.
These ancient baths near the castle date back to when the Ottoman Turks ruled more than 450 years ago, and look like they haven't changed one iota since. They may look a little rough around the edges, but they're clean and the water is changed constantly. The grounds are gorgeous, and the windows in the cupola above the steam baths create a beautiful effect.
Honorary mentions
Dandár Baths
This Art Déco-style hidden gem is located in Ferencváros, in the 9th District of Budapest, near the National Theatre. It opened in 1930, was refurbished in 2014 and today features two thermal baths, a diving pool, sauna and a wellness pool (another place where you can play chess).
Rudas Baths

The popular medieval Turkish baths share their location (between Gellért Hill and the River Danube) with a state-of-the-art wellness facility, completed in 2014. Newer additions include a rooftop pool and salt chamber, but it's the ancient octagonal pool – supported by eight pillars and topped by a massive arched stone cupola – that's the star. Be aware: the baths are co-ed on the weekend, but men-only during the week, except for Tuesdays when it's women-only.
Lukács Baths
Less touristy than some of the more popular baths, go here if you'd prefer to mingle with locals. The thermal baths are located in Buda and are also Turkish in origin, but underwent a thorough renovation in 2012. Today, one wall features plaques sent in by patrons from around the world who claim they were cured by the waters at Lukács.
Baths of Veli Bej
Dating back to the 16th century, this is one of the oldest Turkish baths in the city. Situated in the middle of another bathhouse, Császár, it has five thermal pools and was renovated in 2011. Visitor numbers are limited, so it never gets crowded and there's a wonderful feeling of intimacy, enhanced by clever, atmospheric lighting. The central, octagonal pool is famous for its domed roof, punctuated with little holes through which the sunlight streams like twinkling stars.
The one thing everyone wants to know:
Will I have to get naked?
Answer: To put on your swimming costume? Yes. To actually go in the baths? No. (Unless you want to – but even then it depends on the baths).
Have you been to any thermal baths in Budapest? Which was your favourite? And what are your tips? Let us know in the comments section below.