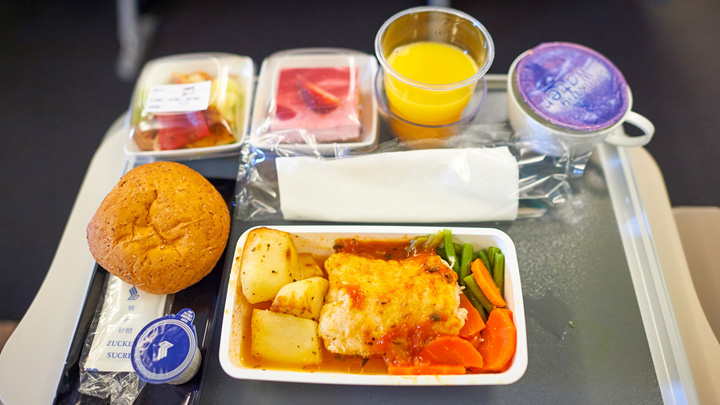 It's so interesting to see what meals are served up on different flights and airlines! Gone are the days when plane food was tasteless and disgusting – it can actually be flavoursome and tasty, and leave you wanting more.
But it might be all about which airline you fly… so let's compare them! We've found the best plane meals across a stack of airlines, and have to say there are some meals on here that we would be happy to eat on and off land.
What do you think? Which of the below meals are your favourite?
1. AirAsia
Dimsums and a bubble tea!
2. Vistara
The Southern Indian vegetarian choice of spinach pancakes with tomato upma and sambas.
3. American Airlines
Pork chops and salad with accompaniments
4. Singapore Airlines
Shrimp zucchini salad
5. Lufthansa
Fancy fruit and cheese platter in Business Class
6. Turkish Airlines
Chicken and mash with accompaniments
7. Etihad
Lunch roll and salad
8. Korean Air
Entree before main in Prestige Class
9. China Southern
Beef noodles for breakfast with fruit salad and yoghurt
10. Singapore Airlines
Classic Lobster Thermidor in Business Class
11. British Airways
Rainbow salad in Business Class
12. Emirates
Salmon and mash with fruit salad and accompaniments
Do you like plane food? What's the best and worst dish you've ever had in the sky?
Comments