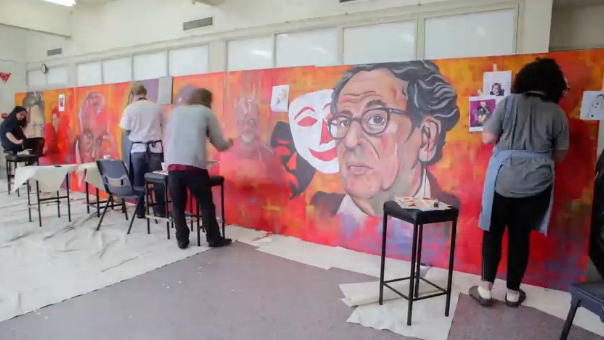 Who are the people that have really defined Australia? It's a question that doesn't often spring to mind in a hurry, but it is something that can spark interesting debate. And tonight, that's what we want to do – we want to know, who do you think are the most influential people in defining Australia?
A team of four art students from Melbourne Polytechnic University have created an incredible mural representative of Australians past, present and future.
According to Pedestrian, the people painted in this mural are; Indigenous sporting legend Evonne Goolagong Cawley; Melbourne artist and illustrator Leigh Hobbs; the late godfather of modern Australia, Gough Whitlam; somebody that you used to know, Wally De Backer; visionary modernist and architect, Robin Boyd; Australia's epicurean materfamilias, Stephanie Alexander; thespian legend, Geoffrey Rush and the late, great disability activist, journalist and comedian Stella Young.
These are the people that are seen as iconic. The people who shaped Australia.
As an older Australian, do you feel this is accurate? Who do you think are the greatest contributors to shaping Australia? If you had to paint this mural, who would you paint? Share your thoughts in the comments below…