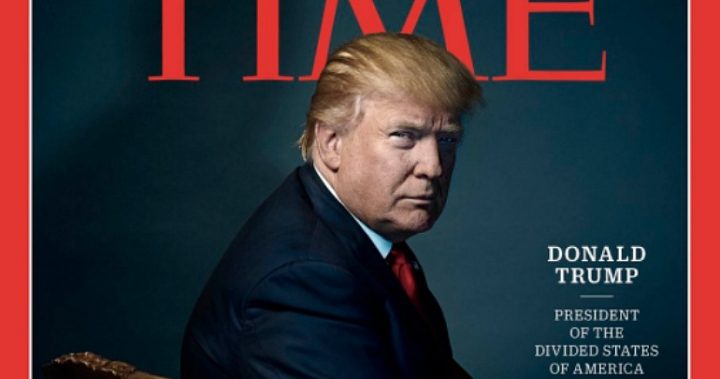 It's that time of the year again – Time Magazine has named its Person of the Year and this year's somewhat controversial recipient is none other than President-elect Donald Trump.
Time debuted the cover over night with a photo of a stern-looking Trump taken in his New York penthouse apartment and the heading: "President of the Divided States of America".
Time announced the short list on Monday, naming Hillary Clinton, singer Beyonce, gymnast Simone Biles, Turkish president Recep Tayyip Erdoğan, Facebook founder Mark Zuckerberg, Russian president Vladimir Putin and plenty of others as candidates.
Once again though it was Trump who claimed victory much to the joy of some and the disappointment of others.
The Person of the Year is considered to be the most influential person in the world at the time and there's no arguing Trump has certainly shown his influence this year.
He came from behind the claim a stunning victory in the US election and has caused outrage and applause through his comments and promises throughout the year.
While Trump himself seems happy with the award, calling it a "tremendous honour", it's a change of attitude for the man who once bagged the list as a "stunt of a magazine that will… soon be dead".
Last year, he spat the dummy on Twitter when he lost out the German Chancellor Angela Merkel, writing: "I told you TIME Magazine would never pick me as person of the year despite being the big favorite They picked person who is ruining Germany".
While the magazine says Trump was a logical choice there are some who are calling for more positive influences to be named to the list in future.
Previously, Time has named both Adolf Hitler and Josef Stalin as Person of the Year and has never shied away from highlighting people who have committed mass atrocities.
But would they be better of highlighting people who have done good in the world and ending each year on a high note instead?
If the magazine was to name people of positive influence it might have selected athletes, musicians, human rights activists and scientists as the winners instead.
If they really wanted to get into the heart of the people, they could look into local communities and highlight all the good work 'everyday' people are doing around the world.
Do you think Donald Trump was a good choice this year? Who would your Person of the Year be?