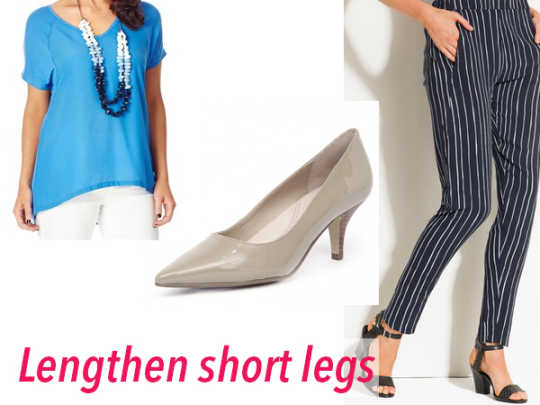 Your style questions answered!
Welcome to our new section in Style where we answer your questions!
One of our Starts at 60 Stylers has asked:
"What are the best styles for women with short legs?"
– Claudine Schoevaerts
There are several tips for creating the illusion of longer legs and Starts at 60 Style favourites are:
General Tips

Wear nude shoes with your dress or skirt – this will create the impression of endlessly long legs
Diana Ferrari matisse fawn patent pump – Available here
When wearing pants match the colour of your shoes to your pants to create the illusion of longer legs.
Wear tops with a concave hem at the front, like this one from Katies.
Katies extended sleeve mixed media top – Available here
Empire lines can be good depending on your body shape. If you are thick through the waist then avoid.
For dresses – go short, finishing just above or below the knee –  not on the knee. Long maxi skirts will be flattering.
Wear all one colour.
Focus the attention on the top half.
Wear dark colours on your bottom half always – dark colours will be instantly lengthening.
Footwear
Wear a small heel
Pointy toes are best for elongating the legs
Avoid wearing shoes that cut you off like ankle straps or bootie shoes. You want to create a deep scoop down the foot to make your legs look longer.
Keep your boots long, no ankle boots as these will cut you off.
Trousers
Avoid wide trousers, these will make you look shorter than you actually are.
Avoid large prints especially ones with a horizontal repeat.
Wear pants with vertical stripes.
Capture drape pant – Available here
Avoid low-rise pants and jeans always!
Keep the length of your pants coming down about half way over the back of your heel.
Proportions
Watch your proportions – keep the top half shorter than your bottom half.
Do you have any tips you would like to share for ladies with short legs? We would love to hear from you!