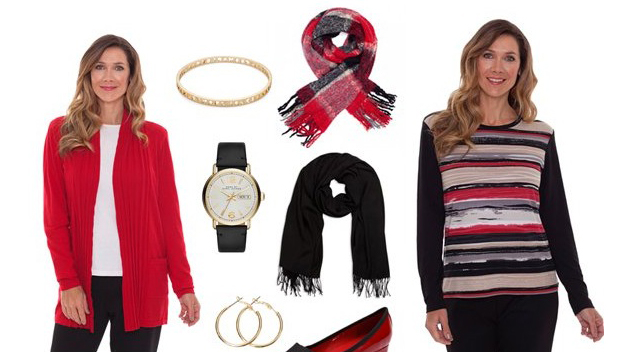 With each season that comes and goes, there will always be key colour combinations that never go out of style. Colours like black, white, red, grey and navy should form the basis of any wardrobe.
All it takes is a few simple wardrobe staples. Today we'll take you through the basic colour palettes that will give you a strong foundation for any future look. Simply add a few trend items, colours or accessories of the season, and you'll remain sharp and in-style without having to reinvent your entire wardrobe.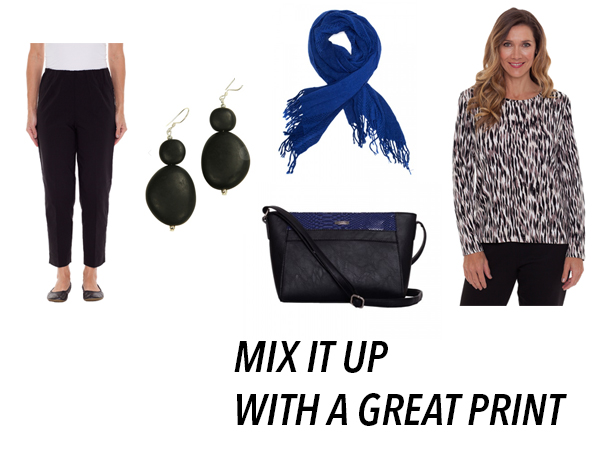 PRINTS
When looking at a print, choose the darkest colour to act as your base. The feature colour, on the other hand, can help highlight your look.
With a black and white print top, it is particularly easy to team it with black, then introduce one of your favourite colours to give it some oomph.
Don't forget to coordinate your accessories too! For the above look, we have added a blue scarf and handbag with a blue panel.
Black Pepper liberty 7/8th length pant
Available here
Polka Luka metropolis earrings
Available here
Black Pepper scarf
Available here
Black Pepper kalista admire top
Available here
Black Pepper trimmed totebag
Available here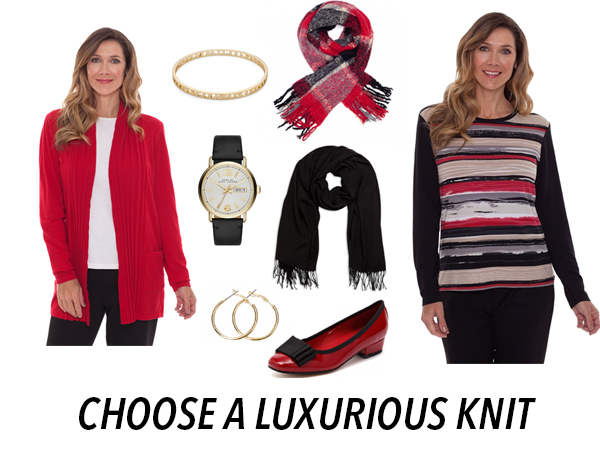 KNITS
Here at the Starts at 60 Style team, we simply adore colour! The above print top – spanning grey, beige, white, black and – gives the eye plenty to take in. Rather than adding more to the palette, we have anchored it with the print's darkest colour: black.
We have chosen the print's gorgeous red as our highlight, which we have picked up with a luxurious cardi, scarf and shoes. Subtle gold accessories complete the look.
Black Pepper celeste knit cardigan
Available here
Marc Jacobs tiny cut out logo bangle
Available here
Black Pepper check scarf
Available here
Black Pepper polly admire top
Available here
Top End amelie red shoe
Available here
David Jones pashminetta
Available here
Colette by Colette Hayman hoop earrings
Available here
Marc Jacobs fergus watch
Available here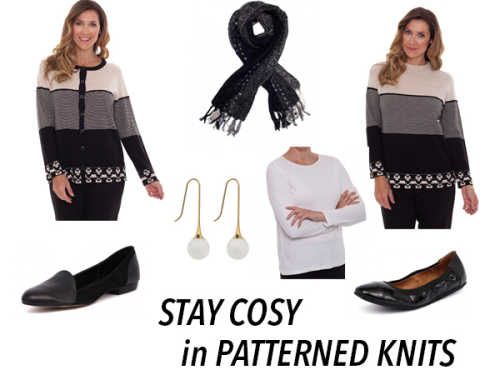 PATTERNS
With this gorgeous knit (available as both a button-through cardi or a high-neckline top), the patterned hemline is the biggest focus.
When wearing a statement pattern like this, be sure to keep the rest of your look and accessories clean. Let the knit be the star.
Black Pepper kayla cardigan
Available here
Black Pepper scarf
Available here
Black Pepper kayla top
Available here
Walnut Melbourne ava black patent ballet flat
Available here
Black Pepper winterlock top
Available here
Top End orma black flat
Available here
Najo synchronicity earring
Available here
With these simple rules, and tiny updates from season to season, you'll have core palette that will remain in style for many years to come!
 Which of these looks is your favourite? And what colour palettes or items do you rely on to stay in style?
This article has been sponsored by Black Pepper. It has been written independently by the Starts at 60 team as it provides insights into what we feel is valuable and relevant content for our community. To find out more about Black Pepper, check out their full clothing range by clicking here.
.