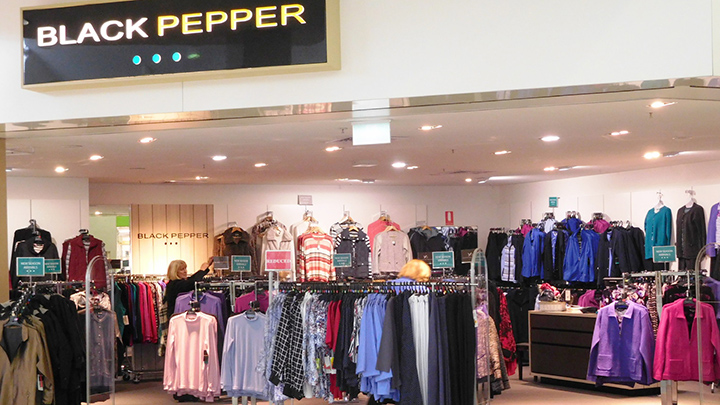 I hate winter, but with a splash of colour in my wardrobe it can be almost bearable. So with that in mind I took my size 16-18 body off to Black Pepper at Sale in Gippsland. Being generously proportioned, and welcoming a 76th birthday soon, I thought I might have problems. Almost timidly I went in to try some of the winter range not sure I would find things to fit, but there was so much I liked it was hard to choose just a few outfits! The staff were wonderful, unfazed by my mad dashing from one rack to the next! I loved the clear bright colours and the cut of the garments. I am sure stores in your area will have similar stock. The patient and helpful staff are used to dealing with more mature customers, which helps believe me!
Just remember, right now when you spend $100 or more at Black Pepper, you receive $15 off! The offer is available until Mother's Day so get shopping now! Available in store or online – it will be applied automatically at checkout. 
Outfit 1 
A beautiful jacket in Magenta got me off to a flying start. With the soft feel of the garment and the easy fit I felt warm and cosy – perfect for the chilly Victorian weather! A Lambton 100% boiled wool jacket, it is priced at $119.00. With a front zip, and roomy pockets. It is available in store. Other Fleece Jackets from $79.95 also in this colour.
Jacket available by clicking here 
Under the jacket I am wearing a striped top called "Leona" in Petunia and that cost $69.95. Again, it is an easy fit, and made from comfortable fabric. Colours to cheer the most miserable day.
Top available by clicking here 
These black pants were worn with most items I tried on because they fit well and were versatile and comfortable! They are Roma slimline pants.
Pants available by clicking here
Outfit 2
A classic Chanel style jacket, edged with black braid and with two pockets – this is a gorgeous evening look and would be a great dinner or theatre outfit. It has a subtle glitter which is beautiful. It made me feel very special – I could just imagine it teamed with a classic black skirt and heels. Have it firmly on my wish list!
I teamed it with the plain pants I used for most of the fashion pictures however it would have also looked good with the cord pants in the range. The jacket has a zip front. The price is $149.00. Available in store.
Jacket available by clicking here
Pants available by clicking here
Outfit 3
The top is called "Neka" from the new winter range, available in Pine. It has a nice pleated front detail, which lifts the style beautifully. Priced at $69.95.
Top available by clicking here
The jacket I chose was "Oxley" in a stunning blue described as "Twilight". The cost is $99.95. The design and fabric again faultless and so easy to wear for everyday.
Jacket available by clicking here
Pants available by clicking here
Outfit 4
This was again a rather special jacket and it was available in most sizes in store. It is from the Equus label and has a black pattern over a pale grey. From a small stand up collar it buttons to the waist and has a firm fabric feel. This is again a jacket to wear for lunch dates and celebration days, yet it is still versatile enough for everyday. Priced at $139.00. Available in some stores. All sizes where I shopped.
Jacket is available in store, to find your nearest Black Pepper, click here
Pants available by clicking here
Outfit 5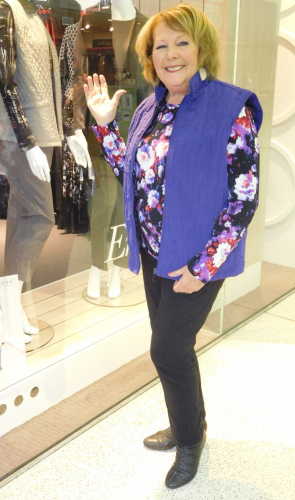 I tried a casual look for work and play, bright enough to cheer the dullest day (went poetic there!). The purple vest was called "Amira" in the colour "Opulence" and priced at $119.00.
Vest available by clicking here
The riot of flowers Liri top, in the colour Jubilee, was priced at $69.95. Both of these were available in my store, and are very new stock.
Top available in store, to find your nearest Black Pepper, click here
I loved trying all the clothes, and was astounded to find so much I could have welcomed in my wardrobe. Thank you to the great people at the Sale Black Pepper shop. I enjoyed my time there trying the beautiful new season range. The winter range is definitely worth a look so if you get a chance go and have a browse or head to the website www.blackpepper.com.au
Do you have the style to be a Black Pepper blogger? 
Fill out the form below and tell us in 25 words or less, what is your style? 
You'll go in the draw to receive a voucher from Black Pepper to spend in store and the chance to showcase and share your style looks like Jacqui has.