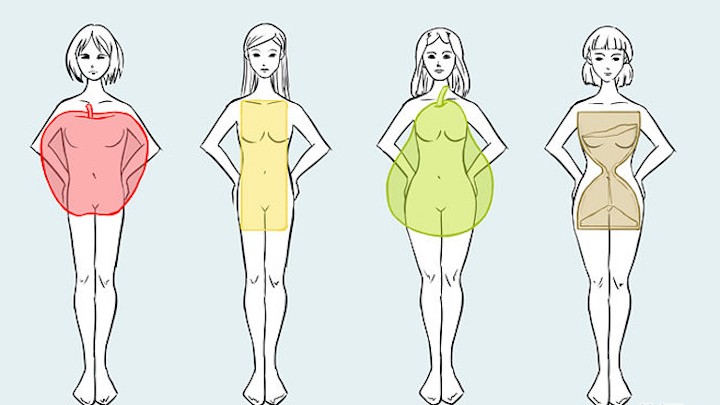 One of the best things you can do to look good in your 60s is to dress for your body type. Follow this simple guide to learn which clothes to wear and which to avoid.
We've outlined 4 main body types and explained why certain clothes are more flattering for each body shape.
1. The Apple 
You tend to gain weight around the middle so clothes should fit loosely around the midsection and snugly everywhere else. Pair this loose geometric print scoop tee or tunic top with these slim-cut pants. The pants will help make your legs look long and lean and the top will allow you to cover your mid-section. The relaxed cut will glide over your stomach.
Avoid: anything that draws attention to the middle like high-rise pants, belts or waist-clinching tops.
Elbow sleeve shirt
Price: $39.95
Size: 8-20
Available here
Short classic pant
Price: $39.95
Size: 12-18
Available here
Ext sleeve scoop tee
Price: $39.95
Size: 8-20
Available here
2. The Pear
The pear shape is defined by shoulders and torso that are more narrow than your hips. Look for a tailored or structured jacket to play up your shoulders and even out your lower body proportions. Wear an a-line skirt to avoid appearing too triangular. The goal is to elongate and balance your figure by accentuating your top half.
Avoid: shapeless, oversize sweaters and skinny jeans/pants
Notch neck embellished top
Price: $28.00
Size: 10-18
Available here
Capture cotton dobby skirt
Price: $19.00
Size: 12-16
Available here
Capture European blouse
Price: $79.99
Size: 36-48
Available here
3. The Hourglass
This shape is defined by an ample chest, narrow waist and full hips. Choose clothes that move with your natural curves. For instance, look for a wrap dress, belted jacket or pencil skirt to accentuate your curves and smooth over your thighs.
Avoid: shapeless or boxy styles, tunics, and oversized cardigans
Colour blocked dress
Price: $59.95
Size: 18-22
Available here
Sara crossover dress
Price: $99.95
Size: 16-26
Available here
4. The Rectangle
This figure is often considered boyish with a straight up-and-down shape. Look for styles that fit snugly at your middle but flare out at the bottom to create curves. You want to highlight the thinnest part of your waist so your hips and bust appear more proportional. For instance, look for tapered pants to give the impression of all-around shapeliness or a flared skirt. Also, rough high-neck tops are flattering.
Avoid: clothes that are tight all over and anything too loose.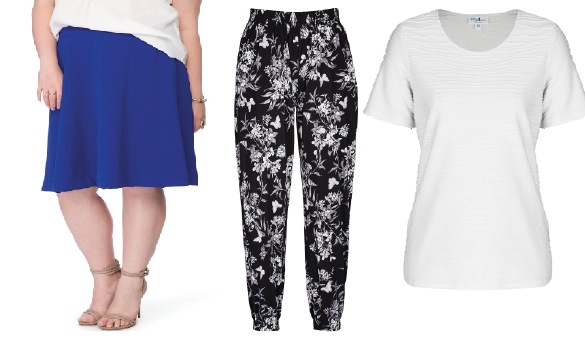 Grey floral printed pant
Price: $30.00
Size: 10-22
Available here
Fit and flare knee length skirt
Price: $83.97
Size: 12-26
Available here
Textured top
Price: $20.00
Size: 10-22
Available here
Have you been dressing for your body shape? Share with us below.