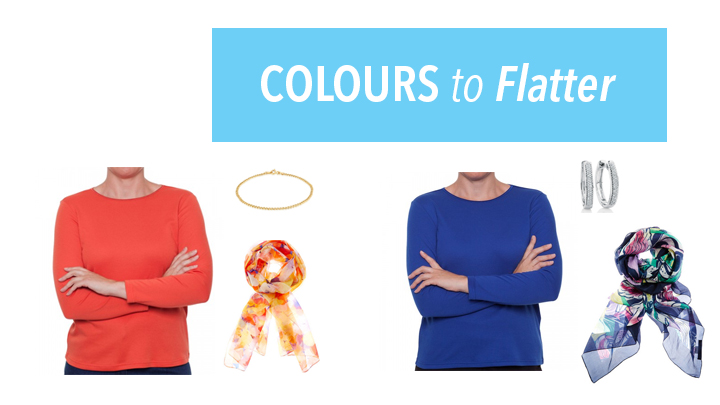 Here at Starts at 60 Style we love colour!  We encourage you to wear the colours that you love and make you feel good! But do you know those days when you get a few compliments and you start to wonder – why do I look so different today?  Well you just might find that the colour you have on suits you particularly well!  Try to focus on these colours most – the ones that suit YOU best!  As a general rule, wear the colours that suit you best closest to your face to enhance your natural beauty.
By wearing the right colours your eyes will sparkle, imperfections will be minimized and your skin will glow. You will look vital and fresh. The wrong colours will make you look under the weather, highlight imperfections like under eye dark circles, or just generally make you look like death warmed up!
HOW DO YOU KNOW WHAT COLOURS WILL SUIT YOU BEST?
Brilliant question, isn't it? Do you know what colours suit you? Let Starts at 60 Style show you how to work out what colours will flatter you the most.
There is quite a science behind it all so we won't get too technical – just a general guideline to help you stay on the right track.
DETERMINE YOUR UNDERTONE
Firstly you need to determine your undertone – is it cool or warm? There are two good ways to check this.
Have a look at the underside of your wrist. Take a close look at the veins in natural light. Do they have a blue/purple appearance? If they do, you are cool toned. You might find that they appear more greenish, and if that is the case, you are warm toned.
Another way to check your undertone is to hold a sheet of white or cream matte fabric up to your face in natural light. Make sure you don't have on any make-up or jewellery when you do this.
Take a look in the mirror. Hold the white fabric up under your face take a look at your eyes. Your eyes will be lit up and your skin will glow if you have cool colouring.   The white fabric will make you appear drawn if you have warm colouring.
Now do the same with the cream fabric. If you have cool colouring the cream will make you look drawn this time and if you have warm colouring you will have a warm golden glow.
IF YOU ARE COOL TONED
The colours that suit you best are known as cool colours. Cool colours have a blue undertone. Colours such as blue, pink, purple, lilac, silver, grey, berry colours, soft cool pastels, cool greens, jewel colours, white and navy will generally flatter you. Think of ice and snow, or think of a cool flowing stream and the many colours of the ocean.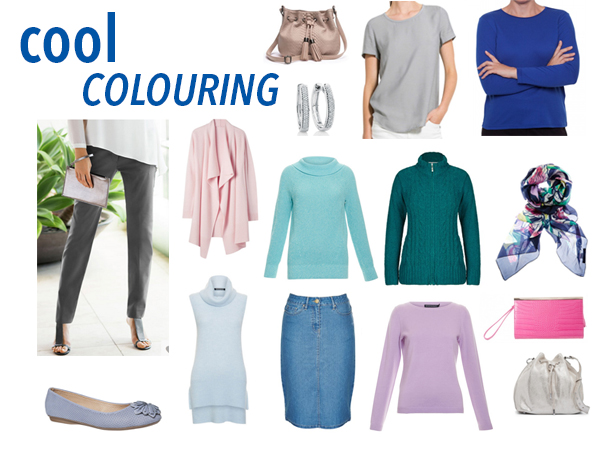 Next snake effect quilted duffle across-the-body bag
Michael Hill hoop earrings
Trenery soft twill top
Black Pepper winterlock top
Sportscraft fleur print scarf
Zimmerman celestial shoulder drawstring bag
Colette by Colette Hayman wynter wristlet clutch
Sportscraft lee boatneck knit
Millers denim skirt
Sportscraft suzie knit tunic
Hush Puppies demi ballet flat
Capture grey pants
Trenery textured collar cardigan
Sportscraft jade textured knit
Millers cable stitch zip cardigan
IF YOU ARE WARM TONED
Warm colours are just as the name suggests – they are the warm colours in nature with a yellow undertone. Try fiery colours like burnt oranges, tomato reds, yellows and golds. Earthy colours like sage green, brown, bronze, taupe and camel will also suit. When it comes to choosing accessories choose gold over silver.  Think of the rich colours of the earth like autumn leaves, warm spices or a sunset.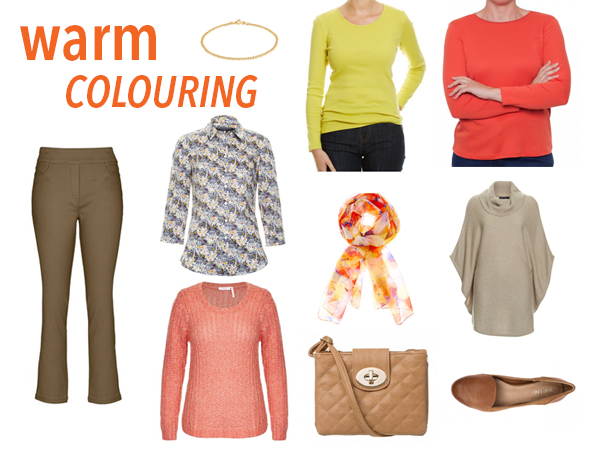 Michael Hill gold bracelet
Sportscraft heidi long-sleeve top
Black Pepper winterlock top
Sportscraft gemma poncho
Top End orma tan shoe
Colette by Colette Hayman kassandra quilt peta crossbody
Millers chunky knit jumper
Millers mocha comfort jean
Sportscraft lillian 3/4 sleeve liberty shirt
Sportscraft zoe print scarf
EYE COLOUR, SKIN COLOUR AND HAIR COLOUR
The colour of our skin, eyes and hair will also come into play to help us select the right shade of a colour. Some colours like red or green can have both a warm or cool shade. Have you ever heard of the expression – warm red or cool red? How about a blue green or a yellow based green. So when it comes to the shade of a colour – look at its undertone to see if it is blue or yellow based.
If you know your undertone and the basic colours that suit you, the next time you go shopping, choosing clothes will be so much easier! Don't forget to always hold a garment up to your face and look in the mirror. See how it makes you look. If you don't like how a colour makes you look then steer clear of it.
Do you know what colours suit you best?  Have you ever had your colours 'done'?