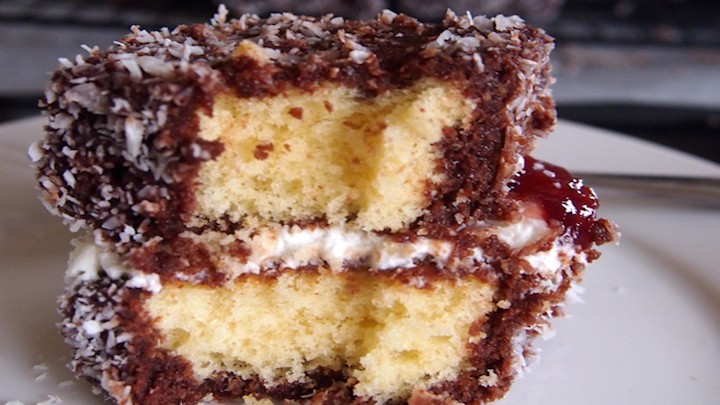 The chocolate lamington is as Australian as meat pies, kangaroos and barbecues. So to get you into the Aussie spirit, try making these heavenly lamingtons. I know my family absolutely loves these little sandwich cakes. They're soaked in dark chocolate, rolled in shredded coconut and slathered with jam and cream. It would be hard not to love this recipe!
Ingredients:
Vanilla Butter Cake Base:
125g butter
3/4 cup caster sugar
1 teaspoon vanilla extract
2 eggs
2 cups of self-raising flour, sifted 3 times
A pinch of salt
1/2 cup milk
Chocolate ganache coating
30g cocoa
50ml mlk
200g dark chocolate, finely chopped
175ml water that's just come off the boil
200g icing sugar
200g desiccated or shredded coconut
Jam & cream leamington sandwiches (optional)
300ml thickened cream
1 tbsp castor sugar
1/2 cup jam
Method:
Part 1: Vanilla butter cake 
Grease a 20cm x 30cm tray, line the base with baking paper. Preheat the oven to 175 degrees Celsius.
In a large mixing bowl, cream the butter until pale, then slowly add the castor sugar, beating well after each addition. Add all the sugar then beat until the mixture is light and fluffy.
Add eggs one at a time and beat well. Fold the sifted flour into a creamed mixture alternating with milk. Be careful not to over-beat the batter! Once everything is perfectly mixed, pour into the tin, smoothing the top.
Bake for 25 to 30 minutes or until a skewer inserted in the centre comes out clean.
Cool cake in the tin for 10 minutes before turning out onto a wire rack. Cool completely before slicing into 5cm squares.
Part 2: Icing the lamingtons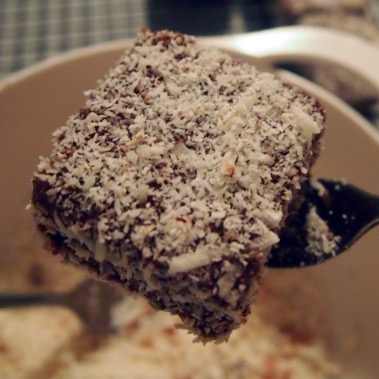 For the chocolate coating, combine the cocoa and milk in a bowl and whisk until smooth. Add the hot water and whisk again until combined. Then add the finely chopped chocolate and whisk until the chocolate has melted. Finally, add the icing sugar and vigorously whisk to smooth out any lumps.
Then, place a shallow bowl filled with shredded coconut next to the bowl of chocolate.
Start with one square, dip it into the chocolate make sure all side are coated.
Using two forks, fish out the square, let the excess chocolate run off in the bowl. Then, place the square in the coconut bowl and toss some coconut over the square to cover it. Pat the coconut down gently. Lightly lift up the square with the forks and roll it around a few more times until completely coated.
Place on a wire rack to set. Repeat with remaining squares and leave them for an hour to set.
Part 3: Assemble the jam and cream lamington sandwiches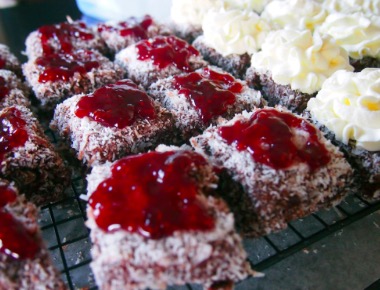 Using an electric beater, whip the cream until thick and soft peaks are formed. Spoon onto half of the lamgintons.
Spoon the jam onto the remaining lamingtons then sandwich the two halves together!
Do you have a favourite lamington recipe? What is your favourite Australian dessert? Share with us below!