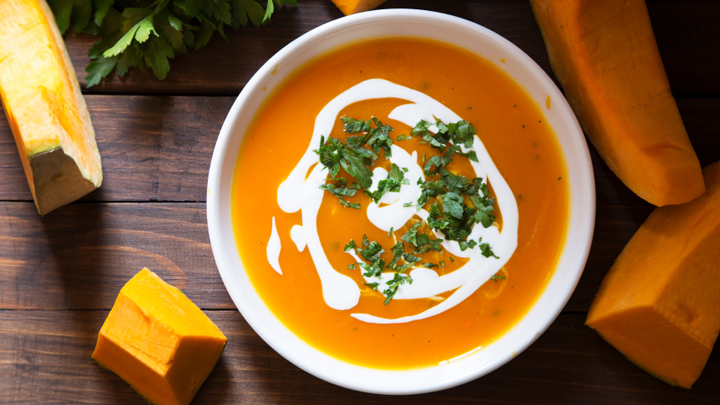 Do you love pumpkin soup? It's one of those Australian classics but everyone has a different recipe.
We've found 5 of the best pumpkin soup recipes that we think you'll love.
1. Good old classic pumpkin soup
Ingredients
Method
Heat oil in a large saucepan over low heat, then add the onion and leek and cook until softened but not coloured. Add garlic and spices and cook for 30 seconds. Add pumpkin, potato and stock and bring to the boil. Turn heat to low, cover and simmer for 30 minutes. Allow to cool slightly, then blend in batches.

Return soup to pan, stir through cream and reheat gently.
2. Spicy pumpkin and coconut soup
Ingredients
1 brown diced onion,
1 lemon grass stalk
1 long red chilli, diced and deseeded
2 tablespoon diced fresh coriander
2cm turmeric root piece
2 teaspoons coconut oil
3 cups peeled and cubed pumpkin
1 large garlic clove, diced
2 tablespoons fish sauce
1 litre vegetable stock
lime peel
½ cup coconut cream, plus extra to serve
2 tablespoons lime juice
Method
Add the onion, lemongrass, chilli, coriander and turmeric to a medium saucepan and sauté in coconut oil over medium heat for a couple of minutes.
Add the pumpkin, garlic, lime peel, fish sauce and vegetable stock and bring to the boil. Turn the heat down and simmer for 15 minutes, covered, until pumpkin is soft when poked with a knife.
Remove turmeric, galangal, lime peel and lemongrass from the soup and transfer the rest to a food processor or a blender, in batches if needed. Puree until smooth, then add coconut cream and lime juice. Whiz a couple more times to incorporate. Serve with a ripple of coconut cream and fresh coriander leaves on top.
3. Thai pumpkin soup
Ingredients
Method
Heat a large saucepan over medium heat, and add pumpkin and curry paste. Cook, stirring, for 1 to 2 minutes or until mixture starts to stick to bottom of pan. Add coconut cream. Cook, stirring, for 1 minute.

Add 2 cups cold water and bring to the boil. Reduce heat to low then simmer, covered, for 20 minutes or until pumpkin has softened. Set aside for 5 minutes.

Blend or process soup in batches until smooth. Season with salt and pepper. Top with coriander. Serve.
4. Chickpea and pumpkin soup
Ingredients
Method
Heat oil in a saucepan over medium-low heat. Cook the leek, stirring, for 5 minutes or until soft. Add the garlic, oregano, chilli powder and cumin. Cook, stirring, for 30 seconds or until aromatic.

Add the stock, pumpkin, chickpeas and cinnamon. Turn up to high heat, then reduce heat to medium-low once boiled. Cover and simmer for 20 minutes or until the pumpkin is tender. Remove and discard cinnamon.

Blend the pumpkin mixture until smooth. Top with cheese and sour cream and sprinkle with coriander.
5. Roasted pumpkin soup
Ingredients
1.5kg butternut pumpkin
olive oil
1 teaspoon dried chilli
1 tablespoon coriander seeds
1 large onion
3 cloves garlic
carrot
1 stick of celery
1 litre hot vegetable stock
Method
Preheat the oven to 170°C. Half the pumpkin and remove the seeds (you can keep these for roasting), then chop into wedges. Place the pumpkin on two large baking trays and drizzle over a little olive oil. In a pestle and mortar, grind the chilli and coriander seeds with a pinch of salt until finely ground. Sprinkle the spices over the pumpkin with some black pepper. Roast the pumpkin for 1 hour, or until soft and slightly caramalised at the edges.
Meanwhile, roughly chop the onion, garlic, carrot and celery. Heat a lug of olive oil over a medium heat in a large saucepan then add the vegetables and cook for 15 minutes, or until soft and sweet but not coloured.
When the squash is ready, add to the pan with the hot stock. Blend with a stick blender, adding a little more water if you like a thinner consistency.
Ladle into bowls and add your fave toppings.
Tell us, which of these will you give a go? What's your bets pumpkin soup recipe?