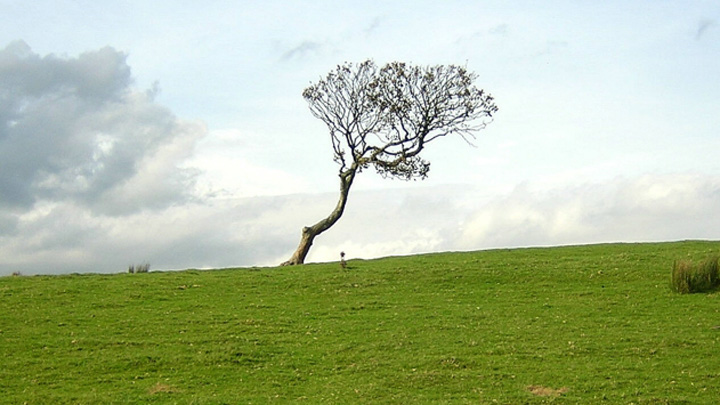 I'm sure that most of you haven't missed the heart-warming story of how Emma and Tim found love and have rejoiced in their happiness.
For those who haven't, I should explain that Tim is a tree. Yes, Tim is a poplar – indeed with Emma, he is very poplar.
This amazing exclusive has been published by the British magazine Closer Weekly which features other exclusives such as "Phillip Schofield reveals shocking truth about Katie Hopkins after Twitter spat" and lots and lots of pictures of young ladies in various stages of undress.
The magazine heralds the story about Emma and Tim with the teaser, "Meet loved-up Emma McCabe, 31, who's given upon men and enjoying steamy sex sessions with a poplar tree called Tim!" And there is a snap of the happy couple together – love-struck Emma is caressing Tim and putting her face next to his, well, trunk. Tim is handsome and sensitive in his own way of course – tall, dark and in touch with his roots. I don't know if he is circumcised or not and that would obviously depend on how much pruning he had as a sapling, wouldn't it?
There is no doubt about the fact that Emma has bought a whole new meaning to the term "tree hugger" and yet she hasn't said anything about her politics. I can only presume that she is a full-on Greenie.
"I love the feeling of skin on bark contact, which gives me a more pleasurable pain sensation, and the feel of his leaves against my skin which makes me tingle," declared Emma.
"My feelings are genuine. I've had boyfriends, but never connected with anyone like Tim. I'm in love and would like to get married. He fulfils my emotional and sexual needs. I orgasm by rubbing against the bark naked. I have the sex with him every week – it's the best sex I've ever had".
Like other more conventional relationships, Tim and Emma's relationship isn't just about sex. Although Emma sees him about four times a week, sometimes it is just to have a chat about this and that. I suspect Tim is a tree of few words which would endear him to many other women if only he wasn't a tree. And I am sure he can keep a secret, respect a confidence and be absolutely loyal.
Emma's only human and she admits that she does look at other trees, "But I don't touch – I wouldn't cheat on Tim," she said.
When she gets to marry her beau, Emma wants a "low-key ceremony with family" although she admits, "My family are shocked and think it is a phase, but they know how much Tim means to me so they support me". She hasn't said if her family has met Tim yet – I mean they would have to come to him, wouldn't they? This is one boyfriend who can't take home unless he is dead. Then again, if Tim was dead he could be made into a lovely new bed for Emma which would be the ultimate marital cot and it would only have to be a single.
Now let's be serious for a moment.
There is a condition called "dendrophilia" (which is also known as "arborphilia") which literally translates as a love of trees. UK sexologist Dr Brenda Love in her Encyclopaedia of Unusual Sex Practices – can you imagine what a blockbuster movie this would make? – writes about this fetish and notes that trees were ancient symbols of fertility and that on designated holy days, men had to go into the forest and ejaculate onto trees. Of course they had to be grown-up trees and not little shoots because that would be child abuse which is obviously a step too far.
It seems the very appropriately named Dr Love hasn't written about any women like Emma fancying a tree so perhaps they should meet. Maybe Dr Love could be Chief Bridesmaid at Emma's low-key ceremony?
Back in September 2009, a 21-year-old Scot, William Shaw, copped a lifetime ban from a public park when he was observed dropping his pants and simulating sex with a tree. While the trees there might now be safe from such unwanted advances, there are a lot of trees in Scotland and are they safe?
If Tim is bisexual perhaps he would warm to the idea of both Emma and William approaching him with the request, "Fancy a treesome?"
Actually, we know little about Tim except that he is a poplar. Poplars have, to coin a phrase, many branches and there are some 25 to 35 species within the family of "Salicaccae" which I guess will be Emma's married name after the low-key ceremony.
It is reasonable to assume that Tim and Emma's honeymoon will also be a low-key affair. Maybe it's just crusty old me but if I was invited to the low-key ceremony I would present the happy couple with two free passes to a sawmill.
What do you think of Tim and Emma's relationship? Have you ever heard anything like it before? Share with us below.