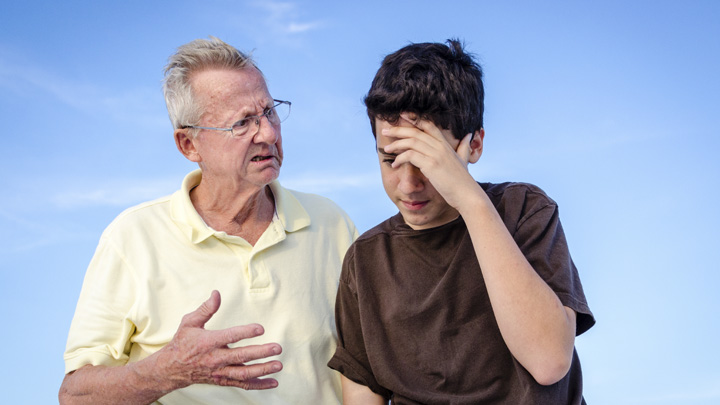 The other day, a pimply youth at the supermarket checkout greeted me with a cheery, "Gidday mate. How's your day going?"
My immediate reaction was to think "you insolent young pup", but I restrained myself from saying it and mumbled something like, "Yes, O.K." but I wasn't going to let him get away with it so I fixed him with a glowering stare and a slightly upturned lip. If he noticed and if it had any effect, then he managed to keep it very well concealed. Our interaction ended with his "Have a nice day" and my only slightly audible grunt.
I hesitate to say anything that begins with, "Why, when I was a boy …" because it hits me with a jolt that I would have turned into my late father but you know what I mean. Why, when I was that supermarket kid's age about forty years ago, any man over about the age of 30 was addressed as Sir while ladies – if you didn't know their names – were Miss or, perhaps, a mumbled and embarrassed, Mrs.
Addressing those in their twenties when I was a young teenager was slightly more fraught with uncertainty so it was best not to call them anything if you didn't know their names. Then there was that fuzzy ill-defined stage when you wondered if you could call Mr Smith by his first name Bill and, if that was tricky, it was even worse wondering if you could get away with calling Mrs Smith, Marjorie.
I couldn't agree more with the observation of the English novelist J B Priestly who, towards the end of his long life (he died aged 90, in 1984) said, "There was no respect for youth when I was young and now I am old, there is no respect for age. I missed it coming and going".
One of the thrills of my youth was sneaking into a hotel in about 1968 when I was under the legal drinking age of 21 and being asked by a very chirpy barmaid, "What'll it be, love?" with a wink that would fell an charging elephant. And – gasp – she was old enough to be my mother!
In Japan, they have a Respect for Aged Day on the third Monday of September each year and, as far as I can determine, it's the only country that specifically celebrates this. The United Nations adopted the International Year of Older Persons in 1999 but I wasn't an older person then, was I? And I must say that the annual UN International Day of Older Persons last October 1 completely passed me by.
In 2010, Deakin University and Benetas, an aged-care provider, did a survey in Victoria which revealed a lack of respect for older Australians by time-poor younger generations.
"Baby boomers" (born 1946 – 1964), Generation X (born 1965 – 1979) and Generation Y (born 1980 – 2000) all cited distance, career/job demands and a simple lack of time for not being more connected to their parents and older friends and relatives. The survey also suggested that respect for older people had changed over time moving from submissive forms (e.g. serving older people, obeying orders etc.) to shared or mutual ones (e.g. listening to each other, spending more time together) which, I think, is not a bad thing.
Another survey result showed that there was a commonly held belief that expressions of respect that are valued by older people were different to those valued by younger people, particularly with regard to physical and emotional care. There were also some marked differences between older and younger people with regard to respect for religion, ethnicity, sexuality, living options and disability.
The message I read from this survey was that you should always remember that your children are watching how you treat your parents and that if they treat you the same bad way when you are old then who is there to blame?
Back in 1965, the 21 year old Roger Daltry – lead singer and founder of The Who – was singing, "I hope I die before I get old" and, now 70, he is still belting it out without the slightest trace of self-deprecation and good luck to him. And I wonder if the two surviving Beatles Paul McCartney (72) and Ringo Starr (74) have discovered the answer to their 1967 question, "Will you still need me, will you still feed me, when I'm 64?"
The great American comedian George Burns who was 100 when he died in 1996, laughed at old age, and everybody laughed along with him. Jokes like, "When I was a boy, the Dead Sea was only sick", "Retirement at 65 is ridiculous. When I was 65, I had pimples" and "Sex at 90 is like trying to shoot pool with a rope" marked his still very popular later years but, perhaps, my favourite is, "I was always taught to respect my elders and now I've reached the age when I don't have anybody to respect".
What do you think? How are you greeted by service staff? Does it bother you? And is there a lack of respect for elders? Tell us below.