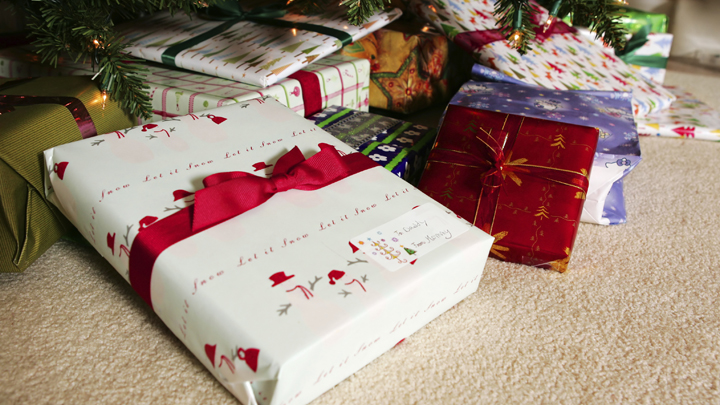 The Three Wise Men bought the infant Jesus gold, frankincense and myrrh and invented the idea of giving gifts at Christmas. The Bible doesn't tell us their names but tradition has it that they were called Gaspar, Balthasar and Melchior and it is a wonder that they haven't been canonised as the Patron Saints of Retail Shopping.
You always run risks with choosing gifts – one year I gave a chum who everybody called Dick a lovely box of Irish linen hankies beautifully monogrammed with a blue "D" and he got all huffy about it, saying his name was Richard. 'Bloody ingrate', I thought after all of the thought, expense and trouble I had gone to. I hope his nose is runny to this very day.
Anyhow, I've decided that books make excellent gifts although, again, there are risks. Lots of people I know have lots of books and it would be just awful to give them one they already had, not that I care much, really.
If people tell me that they had already have that book I smile my sweetest smile and say, "Isn't it remarkable, uncanny really, how well I understand your excellent taste?" Mind you, I make sure that I scrawl "HAPPY CHRISTMAS FROM RUSSELL" in very large letters on the title page so they can't be cheap and offload it to somebody else.
Now here is my secret.
I regularly consult the site which awards the annual Diagram Prize for the oddest book title at the Frankfurt (Germany) Book Fair. This prestigious award was instituted in 1978 and nowadays it is judged by the public by an on-line poll at The Booksellers website.
The inaugural winner was "Proceedings of the Second International Workshop on Nude Mice" and I understand that Scorsese and Spielberg have been locked in a vicious bidding war for the film rights for the past thirty-six years.
I bought lots of copies of the 1992 winner, "How to Avoid Huge Ships" which probably accounts for why it went into a second edition. Yes, opinion is somewhat varied – the "New York Daily News" called it "the best book ever" while "Publishers Weekly" condemned it as "the worst book ever". Mind you if the author – described as a "master mariner" – had done some tight editing it would be much, much shorter, perhaps one sentence, "Stay out of their way, you idiot".
I wouldn't be one bit surprised if the 1994 winner – "Highlights in the History of Concrete" – is a major stocking-filler this year, the 25th anniversary of the fall of the Berlin Wall. I do hope that the publishers have had the foresight to issue a German edition. Then again, I guess that the fall of the wall was more a lowlight than a highlight, concrete-wise.
The winner this year was "How to Poo on a Date" which is subtitled "The Lovers' Guide to Toilette Etiquette" which is a subject I hadn't given much thought to. It seems that saying, "Hang on a sec while I go to the dunny" is not a winning line on the first date. This book should not be confused with the 2011 winner – "Cooking with Poo" – which, of course, is a recipe book by Thai chef, Khun Poo.
There are very few, if any, chums I could give a copy of the 1990 winner – "Lesbian Sadomasochism Safety Manual" – if any men were interested then they would be dirty old pervs and not worthy of my acquaintance let alone friendship while the women I know would just be offended and insulted. The author of this authoritative journal Patrick Califia describes himself/herself as a "bisexual transgender man". It is an expensive book so if you are interested perhaps you should have a whip-around to raise the necessary dosh.
Every fifteen years, a special "Diagram of Diagrams" award is judged. The first in 1993 was given to the inaugural winner, the one about nude mice, as the oddest title for the previous fifteen years. In 2008, the second winner for the oddest title over the previous thirty years went to "Greek Rural Postmen and their Cancellation Numbers" which was the 1996 winner, narrowly beating, "People Who Don't Know They Are Dead".
As yet, I haven't found the time in my busy life to read this no doubt engrossing history of Greek rural postmen in the 20th century but I bet it would make a fabulous film. A pity really that Anthony Quinn is dead; he did so well in the title role of "Zorba the Greek".
You are spoilt for choice with this list but this year I'm going for the 2002 winner "Living With Crazy Buttocks" because it is the only winner by an Australian author, Ms Kaz Cook.
Would I give you a bum steer?
What's your foolproof Christmas gift idea? What's something that you give that you can guarantee the gift receiver won't have? Tell us below!