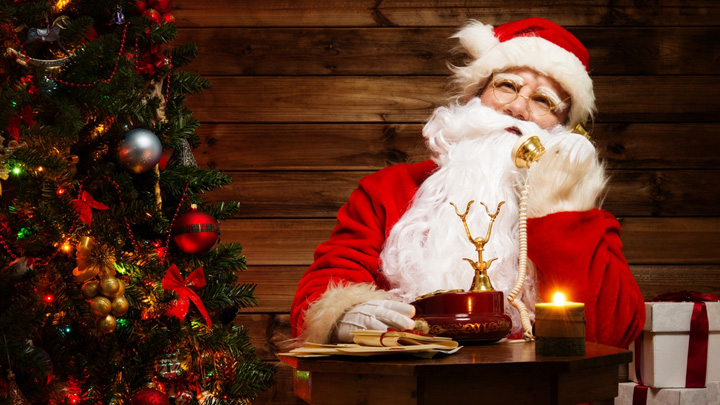 NORAD – the North American Aerospace Defence Command – plays a crucial role in the defence of the USA and Canada. Its website explains that it is "charged with the missions of aerospace warning and aerospace control for North America. Aerospace warning includes the detection, validation, and warning of attack against North America whether by aircraft, missiles, or space vehicles…"
The Commander is responsible to both the US President and the Canadian Prime Minister as it is a joint project by the two countries. NORAD, after it detects and validates any hostile aerospace incursions, alerts the two leaders and fighter jets are scrambled.
It is a very serious outfit and is alert to the slightest incursion. Its website spells out this critical mission although it neglects to mention that it also tracks Santa Claus.
Tracks who?
Yes Santa Claus.
60 years ago on December 24, 1955, a Sears Department store placed an advertisement in a Colorado Springs newspaper which told children that they could call Santa personally and his very own secret telephone number was included in the ad.
And, yes, it certainly was a top secret telephone number but it wasn't Santa's. The number was misprinted and calls went to the commander of NORAD – then called CONAD (Continental Air Defence Command) and its director then was US Air Force Colonel Harry Shoup. He knew this red phone was very rarely used and then only in an emergency.
Years later he recalled the incident. He admitted to being "all shook up."
"Yes Sir, this is Colonel Shoup," he said. Silence was the response.
"Sir, this is Colonel Shoup," he said again. Silence again.
"Sir, can you hear me alright?"
Then, finally, a soft voice on the other end. "Are you really Santa Claus?" a little girl asked.
Shoup admitted to being stunned and he thought it was a joke. He looked around the room, expecting to see his men laughing at their prank but all he saw were stony, serious faces. He realised that there was "some screw-up on the phones" and decided to play along.
"Have you been a good little girl?" he asked.
She insisted that she had been a very good little girl and told him she would be leaving out some food for him and his reindeer and then she recited her Christmas list. Shoup thanked her in advance for her hospitality and said he had an awful lot of houses to visit.
"How do you get to all of them in one night," the little girl asked.
Now Colonel Shoup was an experienced officer who knew that the release of classified intelligence was a criminal offence so he replied, "That's the magic of Christmas" adding that she should not tell anybody about this or they would be put on the naughty list.
The phone kept ringing throughout the night and the deadly serious senior Air Force officers worked a roster system using Colonel Shoup's tour de force as their inspiration. The Colonel also instructed his men to tell callers that they were not Santa but a helper because Santa was on his way and that they were tracking him on radar
I guess it would have been just too bad if a flock of Soviet bombers were on their way. The next day – Christmas Day – they saw the department store advertisement and all was explained.
From that night on, it became a yearly tradition although a new number – not the red phone hotline – was established and publicised. Now volunteers run the service from 1 December until Christmas Day and it has taken on a life of its own with the full cost coming from corporate sponsors.
It now scores more than 20 million visitors to its website – www.noradsanta.org – each Christmas and some 120,000 telephone calls are answered by more than 1,200 volunteers. It has about 150,000 Twitter followers and more than 1.5 million "likes" on Facebook. Volunteers have included US First Lady Michelle Obama.
In 2013, NORAD contracted Bing Maps to provide 2D map tracking which is used by many North American TV newscasts as part of the weather updates on Christmas Eve. On that evening, the "NORAD Tracks Santa" is updated every hour when it is midnight in a different time zone while the videos show Santa flying over famous landmarks.
Colonel Shoup passed away in 2009, remembered by his peers and public as the "Santa Colonel" who gave a special gift to millions of kids.