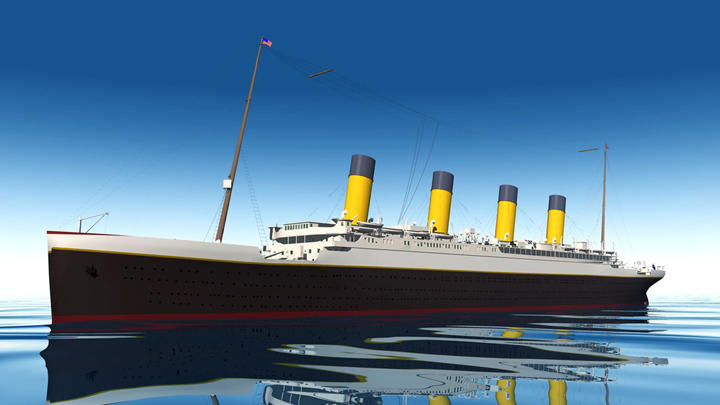 There is a joke in somewhat dubious taste that the guy who was asked to design the RMS Titanic suffered from a lisp and who, when told the dimensions of the ship that had to be the largest and most luxurious ever constructed, pronounced the whole idea "unthinkable". Sadly, the boss of the company which commissioned the project thought that the designer had said "unsinkable" and the rest, as they say, was history.
Tickets have already gone on sale in Hong Kong for a unique experience on what is supposed to be a perfect replica of this famous ship which sank on its maiden voyage on 15 April, 1912 with a loss of more than 1,500 souls.
A Chinese company, Qixing Energy Investment Group is spending one billion yuan (about AU $216 million) and, it is claimed, everything is being replicated perfectly right down to every nail, screw, nut, bolt, light fitting and plate. The designers even consulted with the team behind the 1997 Oscar-winning movie, Titanic and got the thumbs-up.
The Chairman of the company, Su Shaojun, has told Chinese media that, "The Titanic is a great ship and we will revive it. This new construction is not only to commemorate it but to let people know more about it. For people to know that when it sank the spirit of love was exhibited as well as creating its legend."
The manager of the shipyard undertaking the project has described it as "challenging "as it has to meet modern shipbuilding standards which is probably just as well given the fate of the original.
In fact, this Titanic II is really a super, mega, stupendous amusement park ride which will be permanently moored in a Chinese river.
If you want the experience of an extravagant dinner and being able to dance to a recreated Edwardian-era dance band, it will cost some AU$690 which includes a cabin for the night while the ultimate First Class experience in lavishly recreated suites is a real bargain at about $AU22,000.
I understand that the replica will not actually sink except, of course, inadvertently so ticket holders will not get to have the whole experience. There are no plans to have the band end the evening on a tilting deck playing "Nearer, my God, to thee" while people scramble for the lifeboats although a high-tech simulation involving light and sound effects will let passengers feel the experience of the ship hitting the iceberg.
The Chinese seem to have a real thing about the Titanic.
Back in the days when mining magnate Clive Palmer was pleased to refer to himself as "Professor" Palmer, he formed a company called Blue Star Line Pty Ltd – the original Titanic was owned by the White Star Line – and had a lot of lavish dinners to announce his very own recreation of the Titanic in February, 2013.
Then, he said, his recreation would have its maiden voyage from Southhampton to New York in late 2016 following the route set for the original ship.
His Blue Star Line website outlining his project is full of happy snaps of Mr Palmer shaking hands with all sorts of consultants and designers and the like who have signed up for his voyage of recreation but, abruptly, the news comes to a shuddering halt on 14 May, 2014.
In his last statement issued on that day, Mr Palmer asserts, "Titanic II is scheduled to be launched from its construction base in China in 2018 before her maiden voyage…" There is no date provided for the planned maiden voyage.
When full of enthusiasm and bravado announcing the project, Mr Palmer airily dismissed any silly questions about how much it would cost – he either couldn't or wouldn't say – which hardly suggested a detailed financial plan and he has remained coy about that little detail.
But the good news has come from a spokesman for the Finnish company designing it. Mr Markku Kanerra has boldly said, "I can assure you, from the safety point of view, it will be absolutely the most safe cruise ship when it is launched."
I'm wondering if that is said in Finnish by a person with a lisp, if it sounds like "unthinkable".
Tell us, would you go on the Titanic II? Or is the original ship's history enough to turn you away?