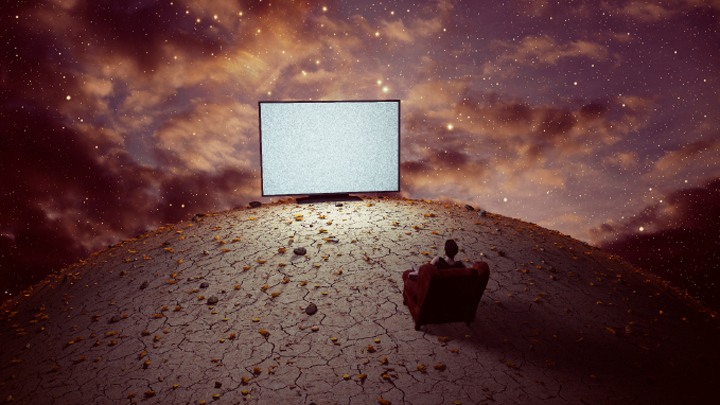 Television came to Brisbane in 1959 when I was 10 and my parents were probably the first in the street to buy a lovely mahogany three-in-one which mummy called "a really a lovely piece of furniture". Years later I discovered that she had kept the receipt from Palings for this appliance – as she kept everything – and the cost (in guineas) astounded me. It was several multiples of average male weekly earnings at the time.
Over the years when I have mentioned to younger people that we didn't get a TV until 1959, their questions invariably have been something like, "Was your family poor? or "What did you do before you got one?"
Now that I am officially a senior citizen having entered the twilight years – hopefully the twilight decades – I have been giving a bit of thought to getting cable television or, perhaps, one of those new things called Netflix, Stan or something.
However, just when I have reached the age when I can watch as much TV as I like – well at least during the day; I tend to nod off earlier at night nowadays – along comes a killjoy who claims that every hour of TV you watch after the age of 25 could cut 22 minutes from your lifespan.
Dr Lennert Veerman, from the School of Population Health at Queensland University, drew upon an earlier study by a Melbourne research team that concluded a single hour of TV viewing led to an 8 per cent increase in the risk of premature death.
"We've taken that study and translated it into what is means for life expectancy in Australia given how much TV we view. If our estimates are correct, then TV viewing is in the same league as smoking and obesity," Dr Veerman said.
"Given that Australians watch on average around two hours of TV a day, that would reduce life expectancy at birth by 1.8 years for me and about 1.5 years for women," he said.
I don't know about you but I am clinging to the hope inspired by Dr Veerman's cautious caveat of "If our estimates are correct…"
He did admit that an analysis for similar studies in the USA suggested that the risk of TV viewing was lower than the Queensland University study but that if the results of all studies were pooled, "…then for every single hour of TV that you watch after age 25 you could on average expect to lose five minutes of your lifetime". At least losing five minutes of life is far better than losing 22 minutes.
Smoking a single cigarette is supposed to cut your life by 11 minutes, so if you smoke while watching TV and snack away on unhealthy food then you might as well resign yourself to the fact that you will probably be dead even before you are old. Well, my good news is that I do all three but I have managed to scrape into the "young old" category.
Dr Veerman believes that the small proportion of people who watch six hours TV a day reduce their lifespan by 4.8 years.
Based on Dr Veerman's analysis, I should have died in late October 2013 and my mother should have died in about July 2001 but we are both – more or less – soldiering on bravely. Remember, there are lies, damned lies and statistics.
Meanwhile another Queensland University study headed by Dr Paul Gardiner has found that people aged 60 and overspend more time watching TV than any other age group – an average of four hours a day which is twice the estimate of average TV viewing quoted by Dr Veerman.
Gosh, what a surprise that is.
You only have to pop by mummy's Aged Care Facility to see that practically all of the old dears are propped up in the so-called "TV lounge" staring at a screen big enough for a Drive-In Theatre if they ever have a revival. Is the management deliberately trying to kill their inmates by stealth? Then again, quite a few are just sadly staring into the middle distance, oblivious of everything including the TV.
Dr Gardiner's team concluded that every hour of TV watching increased the risk of developing metabolic syndrome which, it appears, is a potent mix of every ill and disorder known to medical science.
Now, considering all of this, perhaps it is not such a good idea at my age – well, any age actually – to get anything that will tend to increase my daily TV viewing.
In fact, I'm going to make a real effort to cut back on my TV. I did notice one upcoming programme next week was about the bad effects TV viewing has on people of a certain age. I have made the deliberate and healthy decision not to watch it.
It's a start, isn't it? And no cable or Netflix or anything like it.
Share your thoughts below.