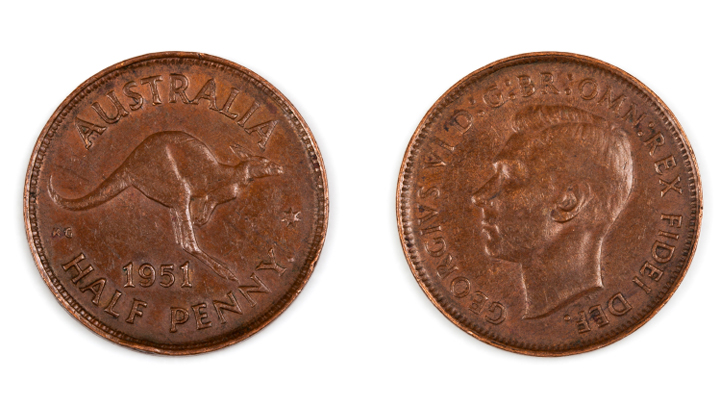 I guess everybody knows that the 1930 penny is the rarest and most valuable Australian coin but who knew that the few left are, to coin a phrase, worth a mint?
Earlier this year Coinworks, a major Australian coin and banknote dealer sold a 1930 penny for more than $1.5 million,the current value is assessed at $1.65 million and is rising rapidly. The reason? Only six proof pennies were produced that year and were never intended for circulation.
According to Museum Victoria, "In 1930 the country was in an economic depression and the Melbourne Mint received no orders from the Commonwealth Bank for new coins. Orders for silver coins were always treated differently at the mint to those for bronze; silver could only be struck after an order was received, Bronze however could be stockpiled."
"The new dies bearing the changed date 1930 were therefore tested on the bronze halfpenny and penny denominations even though no order existed. Stocks of the halfpenny were a little low so a small production run was undertaken; however there were plenty of 1929 pennies in store so only a few small trial runs to test the dies were made. The output of these runs were placed in the store with the 1929 coins but were so few that no record was made of their number."
"A small number of specially prepared proof coins were made, six penny and six halfpenny pieces. These proofs were sent to the two major numismatic collections in Australia- the National Gallery of Victoria (these were later transferred to Museum Victoria) and the Art Gallery of South Australia and to the British Museum. It was 1931 before any new order for bronze coins was received and the stock of 1929 pieces with the additional few 1930 pennies was released."
Three of these six pennies ended up in private hands but just how and why has never ever been ascertained.
Belinda Downie of Coinworks says that since they were never intended to be for circulation and were, instead, museum pieces the way they were produced was totally separate in an artistic environment from hand-selected blanks. They were struck twice giving the edge a frame-like quality.
In 1997 a 1930 penny sold for $147,500, in 1999 for $258,000, in 2005 for $625,000 and in 2009 for $800,000.
But the 1930 penny is not the only valuable Australian coin – last year a 1920 kookaburra square halfpenny sold for $725,000 having been sold for $19,000 in 1986 and $400,000 in 2007. Only three are recorded.
Ms Downie said that the buyers of rare coins tend to be wealthy business people looking for a relatively safe, long-term investment and the average return is often better than, for example, high-end real estate. And there is no maintenance, Council rates and every other cost property owners endure. The Federal Government has approved rare coins, banknotes and stamps as legitimate assets in self-managed superannuation funds.
She has a keen eye for a bargain herself – in 1996 she bought a 1947 Perth Mint proof penny at auction for $6,000 and she recalls that even raised eyebrows among fellow dealers at the time. Within fifteen years, its value had soared to more than $65,000.
Understandably, the 1930 penny is Australia's most forged 20th century coin. Prospective buyers should only buy from recognised and legitimate dealers.
Federation in 1901 gave the Commonwealth Government constitutional power to issue coins and banknotes and removed this power from the States – in 1898 the British Government allowed two colonies, NSW and Victoria, to mint their own silver and bronze coins – although British coins continued to be used until 1910 when Australian silver coins – florins, shillings, sixpences and threepences – were introduced with a portrait of King Edward V11 on one side.
In 1911, Australian pennies and halfpennies were introduced and in 1931, at the height of the Great Depression, the production of gold sovereigns in Australia was stopped. A crown or a five-shilling coin was produced in 1937 and 1938.
The Australian 1937 "model penny" of which it is believed only six exist, last sold in 2012 for $270,000 – the same coin changed hands in 1982 for $7,500. This coin is our only legacy in the Australian coin series of the short reign of King Edward V111. We were busy planning for a new coin issue to mark his coronation which included, for the first time, the famous bounding kangaroo.
However when King Edward abdicated to marry the American divorcee Mrs Wallis Simpson on December 1936, the new coins never made it beyond the test stage – the obverse design depicting the former king was removed and in the case of the penny only, the word "MODEL" was struck onto the blank face – a handful were given to the Federal Treasurer and other senior officials.
A legacy of the cost of World War 11 was the decision in 1947 to reduce the silver content in coins from 1.925 to 0.5 of the coin weight which lasted until decimalisation.
In 1963, production of the sixpenny, shilling and florin (two shilling) coins ceased and in 1964 the last of the halfpenny, penny and threepenny coins was discontinued. Decimal currency was introduced on February 14, 1966.
Share your thoughts below.
To write for Starts at 60 (and potentially win a $20 voucher), send your articles to our Community Editor here.