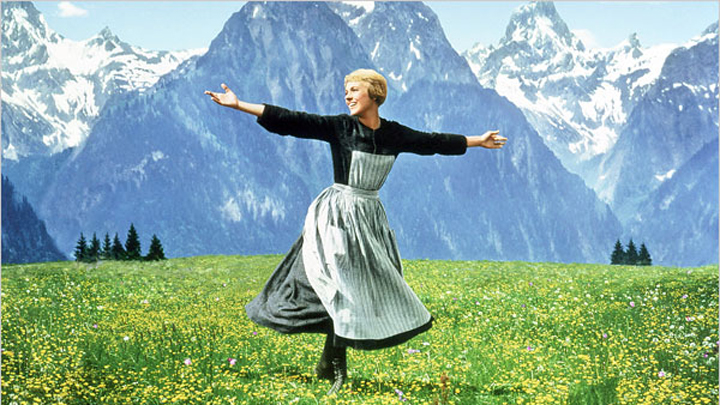 This year is the 50th anniversary of what has been claimed to be the best film musical of all time, The Sound of Music.
When it was released in 1965 it immediately became my mother's all-time favourite, displacing the 1940 tear-jerker, Waterloo Bridge with Robert Taylor and Vivian Leigh. When you wait a quarter of a century to revise your opinion about anything, it suggests a truly monumental reappraisal of view.
In 1965, I was 16, going on 17, and anything that my parents (and especially my mother) liked was automatically dismissed as being decidedly uncool. I mean how could I – the very embodiment (so I thought) of a hip, trendy and above all ultra-cool teen who rocked to hits like "(I Can't Get No) Satisfaction" from The Rolling Stones – possibly like "Do-Re-Mi" and "My Favourite Things"?
Mummy, incidentally, frowned upon that Rolling Stones' classic not just because of its questionable morality but because it was appallingly ungrammatical. In vain, I pointed out that had it been "I Can't Get Any Satisfaction" it just wouldn't have been…well, you know. It was called the 'generation gap' then and it's still called that now.
Frankly, I had the view then that The Sound of Music was so sugary sweet that repeated viewings could cause diabetes.
But there is no denying that it was hugely popular and it even, briefly, displaced Gone With The Wind as the highest grossing movie of all time. Over the years, it has earned an estimated US $286 million and it help save 20th Century Fox from bankruptcy after the catastrophic failure of Cleopatra in 1963. It was eclipsed by Grease in 1978 as the most successful musical and as the most successful movie ever in 1972 by The Godfather.
Nominated for 10 Oscars, it won 5 including Best Director and Best Picture beating Dr Zhivago, which I found inexplicable then and still do. Julie Andrews was nominated, but didn't win the Best Actress gong.
The film was based on Rodgers and Hammerstein's last stage musical which had its premiere in 1959 and it played very fast and loose with the actual history of the family saga. The final scene shows the courageous family trekking to freedom over the mountains when, in fact, they left quite openly by train. One irony is that if they had walked over that mountain, they would have come face to face with Hitler's holiday home, Eagle's Nest at Berchtesgaden which would probably not have been a good move.
Christopher Plummer, who played retired Navy officer Captain Georg von Trapp, once described the movie as "The Sound of Mucus" and he detested having to sing "Edelweiss", calling it "schmaltzy". In an interview about the movie, he said, "There had to be someone involved who was a sh*t – cynical, naughty – and I think (director) Robert Wise was very grateful for my presence because it helped him for veering over the cliff into a sea of mawkishness. But I loved Julia Andrews. The littlest one, who played Gretl, was an absolute monster, she took such attention away from everybody else. Then years later, I was in a play on Broadway and this blond bombshell showed up in my dressing room and said, 'You don't remember me, do you? My name is Gretl'"
Plummer got the role ahead of others who were considered including Bing Crosby, Sean Connery, Rex Harrison and Yul Brynner, who had won the 1956 Best Actor for his role in The King and I.
Julie Andrews – who got the role of Maria ahead of Audrey Hepburn and Doris Day and after her great success the year before in Mary Poppins – once observed, "I saw The Sound of Music again recently and I loved it. Probably it is a more valuable film now than when it first came out because some of the things it stood for have already disappeared. There is a kind of naive loveliness about it, and love goes so fast … love and music and happiness and family, that's what it is all about". And that was said by her in 1973 – only eight years after its release.
In the film as the Nazis roll into Austria prompting the family's escape, I loathed it so much at the time that I was almost praying that the Nazis would catch them.
It reminded me later of the story about the American alleged actress Pia Zadora who married a mega-millionaire some 30 years her senior and who bankrolled her in some memorably awful roles including The Diary of Anne Frank. She was simply dreadful and towards the end of the play, when Nazi Gestapo agents burst in to round up the Jewish family, audience members shouted out, "She's in the attic"!
It's funny now how I have come to like, in its own way, The Sound of Music – no doubt Mummy would put it down to maturity.
Do you like The Sound of Music? If so, why? And if not, what is your favourite movie instead? Tell us below.