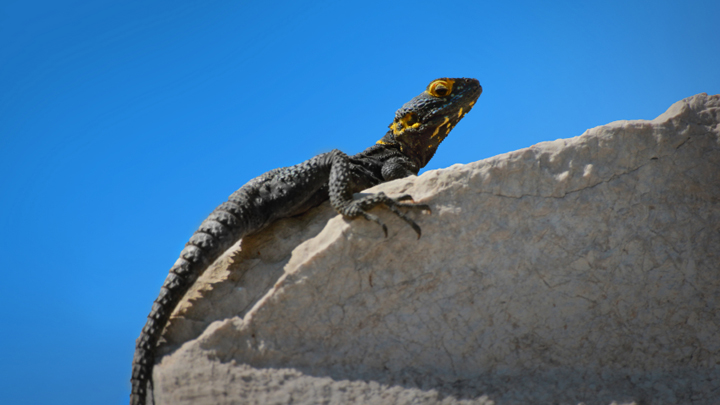 It now seems that Jim Morrison, the lead singer for The Doors, was being truthful when he warbled, "I am the lizard king, I can do anything" – well, possibly about lizards but not, sadly, about himself. He was dead at 27 in 1971, a victim of alcoholism and heroin.
Scientists at the University of Canberra have been having fun studying the sex lives of our very own bearded dragon lizards and have discovered that hot weather can change their sex. It seems that if men lizards can't stand the heat, they can change into lady lizards.
Frankly, I think that is a bit extreme to be honest and raises the question, why don't they just come in out of the sun? And when I say "lady lizards", I don't mean the reptilian equivalents of Les Girls but actual, real females who can give birth and everything.
It got me wondering if these reborn lady lizards needed to have the full Brazilian because beards on women are not all that attractive.
Clare Holleley, the team leader for this research, is as excited as all get-out, boasting, "This is the first time we have proved that sex reversal happens in the wild in any reptile at all".
It's all to do with their chromosomes and Ms Holleley and her colleagues have published their findings in the journal Nature. I won't bore you with the details – in fact, I'm not sure I even understand the details – but those who have devoted their lives to lizards would be fascinated about how the chromosomes in male lizards can get messed up in hot weather.
It seems, for them, gender reassignment is part of God's grand plan with no need at all for delicate surgery and years of therapy. I can already imagine those chaps who long to be ladies rushing to tropical climates to lie in the sun in an attempt to emulate male lizards when all they risk is skin cancer.
Ms Holleley and her team drove around central Australia looking at bearded dragons which, fortunately, are not shy.
"You drive up next to them, put a noose around their neck, and snag them. Then a quick once-over is enough to figure out their sex. It's usually pretty easy to tell if you look in the right places," she said.
That last statement has to high on the bleeding bloody obvious list – get a rope around anybody's neck when they are naked and it won't be hard to discover their gender I suppose – not that I've tried, mind you.
Now, seriously folks, this is not good news at all for bearded dragons.
When sex-changed females did the deed with normal males, all of their babies were boys. "They've completely lost a whole chromosome in one generation," Ms Holleley said. If that wasn't enough, these boy babies had a high propensity to switch to being girls.
If this keeps going, eligible bachelors could become a rarity in the bearded dragon world. I was going to write "hot blooded males" but that would be silly. Lizards are cold-blooded. But just think about one of these good old really manly and masculine males giving a potential bride the once over and thinking to himself, "This is uncanny. She looks just like my old mate Trevor" when the reason she looks like Trevor is because once she was Trevor.
Another team member, Arthur Georges, has commented that male-to-female dragons lay more eggs which, I think, proves that being a mother is dead easy.
Just how these mothers explain the birds and the bees to their kiddies would be tricky. Imagine one asking, "Why did you name me William mummy? Who was William?" and mummy having to admit shamefacedly, "I was William. I named you after me". The whole family could end up screaming bonkers in a psychiatric ward.
Laboratory tests have shown that the temperature needed to change sex seems to start at about 32C and occurs one hundred percent of the time at about 36C according to Ms Holleley.
Back in 1978, I could emphasise with John Travolta (Danny) and Olivia Newton-John (Sandy) when they recalled their romance the previous summer in the ditty, "Summer Nights" – I couldn't have agreed more that "Summer loving had me a blast, summer loving happened so fast…". Ah, the innocence of youth.
Next summer, I am staying quite deliberately indoors. Risk taking isn't wise at my age.
Share your thoughts below.