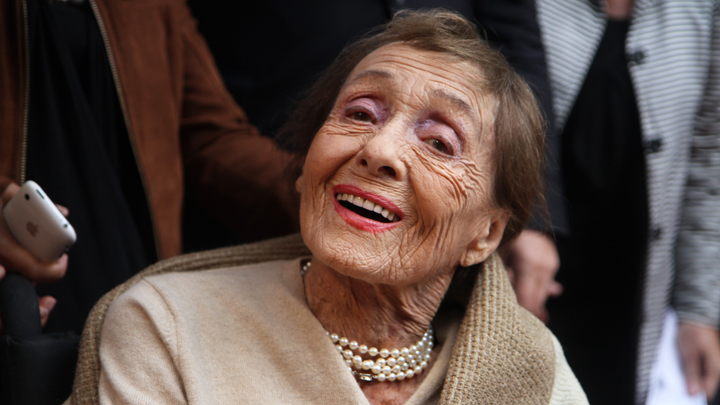 Just before 2015 dawned, the death in London of Luise Rainer – living quietly and alone as the widowed Mrs Robert Knittel – was announced. She was one of the last links to Hollywood's so-called "Golden Age" of the 1930s.
Ms Rainer was 104 and her Hollywood career was as spectacular as it was brief. Her star in the firmament of Hollywood's acting royalty shone brilliantly for a couple of years and crashed to earth as quickly as it had soared.
Born to affluent German-Jewish parents, she was already a well-known European actress when she was bought to the USA by MGM in 1935 in the belief that she could be the next Greta Garbo. She certainly delivered on that early promise, winning back-to-back Best Actress Oscars in 1936 for her performance in The Great Ziegfeld as the famed theatrical entrepreneur's ex-wife and in 1937 for her role as O-Lan, a humble Chinese peasant in The Good Earth.
That distinction was not equalled until Katharine Hepburn won Best Actress Oscars in 1967 for Guess Who's Coming to Dinner? and The Lion in Winter in 1968. They are the only actresses to have earned this notable achievement although Spencer Tracy and Tom Hanks have done so in the Best Actor category and Jason Robarts won two straight Best Supporting Actor awards.
Unlike her actress contemporaries – the likes of Hepburn, Bette Davis and Joan Crawford who went on to have life-long careers – Rainer proved to be "difficult" which meant in those days that she didn't meekly bow to the demands of the studio bosses. She had frequent battles with MGM chief Louis B Mayer and they had a huge falling-out.
In a 2009 interview, she recalled that she was being told to act in "all kinds of nonsense", adding, "I didn't want to do it, and I walked out".
An infuriated Mayer – who would not tolerate any hint of independence from his contracted stars – angrily said, "That girl is a Frankenstein; she is going to ruin our whole firm" and, to drive the point home told her, "We made you and we are going to destroy you".
Rainer made her last Hollywood movie in 1943 and that was that until 1997 when she appeared in a British production of Doestoyevsky's, The Gambler although she had had other opportunities which nearly always fell through because of her spats with the producers or directors. She was asked to appear in La Dolce Vita in 1960 but had a row with the Italian director before filming began.
She wasn't impressed by Hollywood or by any sort of fame. She was once asked about the Nobel Prize-winning Russian author Alexander Solzhenitsyn who stayed once with her and her husband in London and she described him as "terrible", adding "You could not talk to him about anything except his own work, you know? He was so conceited, and demanding!"
Rainer was one of the earliest "victims" of the so-called "Oscar Curse" which is supposed to afflict Best Actress Oscar winners with a broken relationship with their husbands/partners/significant others shortly after taking home the gold statuette. It is the sort of story that only a notoriously suspicious profession could believe.
Rainer's first marriage to playwright Clifford Odets fell apart after her Oscar wins and, in 1945, she married publisher Robert Knittel and they stayed married until his death in 1989.
Recent female Oscar winners whose love life has imploded after winning the gong and, somewhat embarrassingly, after effusively thanking their dearly beloved in their acceptance speeches include Helen Hunt, Julia Roberts, Sandra Bullock, Reese Witherspoon, Halle Barry, Charlize Theron, Hilary Swank, Renee Zellweger and Kate Winslet. Going further back in Hollywood history are notables such as Bette Davis and Joan Crawford who won the big one and then lost their man.
In 2011, researchers at the University of Toronto (Canada) did a study which actually did show that Best Actress Oscar winners are at a higher risk of divorce than nominees who do not win.
The study looked at 751 nominees in the Best Actor and Best Actress categories between 1936 and 2010 and the results showed that Best Actress winners have a 63 per cent chance of their marriages ending sooner that non-winners. The median marriage duration for the winner was 4.3 years while it was 9.5 years for non-winners. The difference between Best Actor winners and non-winners was judged to be statistically not significant – both lots of men had an average marriage duration of between about 12 and 12.5 years.
With Rainer's death, the distinction of being the oldest Oscar winner alive goes to Olivia de Havilland who won the Best Actress Oscar in 1947 and 1950 and who turned 99 on 7 January. The oldest living male Oscar winner is Sydney Poitier, 87, who won in 1964.
Have you seen any of Luise Rainer's films? Who is your favourite timeless Hollywood actor? Tell us below.