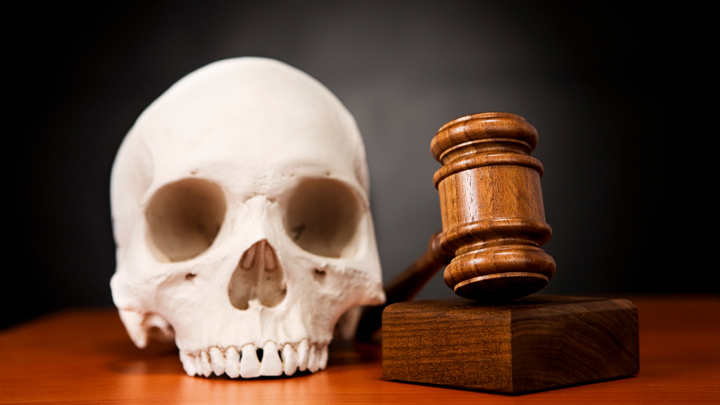 It now appears certain that Andrew Chan and Myuran Sukumaran, the leaders of the Bali Nine drug smugglers, will face an Indonesian firing squad.
Our official bi-partisan reaction has been one of horror and revulsion yet there are many Australians who believe that the two, who committed their crimes in the full knowledge of what Indonesian law is, should pay the ultimate penalty.
If there is an argument that, for example, a convicted murderer should be executed, why not argue – in the dubious cause of consistency – that an arsonist should have his house burned down, that a rapist should be raped or that a convicted drug smuggler should be pumped full of the poison he was trying to inflict on society? Nobody has ever suggested that apart from fringe fanatics; it is too bizarre to even contemplate.
We have a long and inglorious history of imposing the death penalty from the first in 1788 when Thomas Barrett, 17, was hung for forgery to Ronald Ryan, 41, who was hung in 1967 for killing a prison guard during an attempted prison escape. In the 20th century, 135 men and two women were executed.
Queensland was the first State to abolish the death penalty in 1922 and NSW was the last in 1985. In 1973, the death penalty under Federal law was abolished and in 2010 legislation was passed by the Commonwealth Parliament with bipartisan support to prevent any State or Territory from ever trying to reintroduce it.
One argument in favour of the death penalty is its alleged deterrent effect. But is it really a deterrent?
By the 10th century, hanging became the usual method of execution in Britain although boiling in oil, burning at the stake, beheading and drawing and quartering all had their vogue. During the reign of Henry VIII (1509 – 1547), an estimated 72,000 people were executed for such "crimes" as marrying a Jew, cutting down a tree and robbing a rabbit warren. By the mid 1700s, 222 crimes were punishable by death in the UK.
For a long time, executions were a bizarre form of public entertainment yet despite this heavy-handed approach, crime continued unabated. Poverty, alcoholism and desperation all contributed and, increasingly, juries wouldn't convict an accused if the penalty was death. Between 1823 and 1837, the death penalty for more than 100 crimes was eliminated.
So, while there no longer the prospect of any death penalty in Australia and while Australia has signed international conventions and UN General Assembly resolutions against the death penalty, the peak legal body, the Law Council of Australia, has noted, that, "… is not the beginning and end of the death penalty debate for Australia".
In a recent paper, the Law Council stated: "Faced with the prospect of the execution of some of our own citizens abroad, the Australian community has increasingly been forced to grapple with the question: what does it mean to be opposed to the death penalty in a region where our neighbours and allies continue to shoot and hang people?"
The Council posed the question, "Is it consistent with Australia's opposition to the death penalty to allow the Australian Federal Police to work cooperatively with foreign law enforcement agencies in the investigation of offences which carry the death penalty knowing that the provision of that assistance and information may ultimately lead to charge, conviction and execution?"
"Questions have also been raised about whether the Mutual Assistance Act should, as it currently does, allow the (Federal) Attorney-General a broad discretion to authorise the provision of mutual assistance in death penalty cases if he or she is satisfied that 'special circumstances' exist. The term 'special circumstances' is not defined in the Act".
In other words, is it morally right – even if legally correct – for Australian authorities to notify foreign governments that an Australian citizen on route to that foreign country might be carrying drugs, knowing that the penalty for that offence there is death? The Australian Federal Police have been heavily criticised for sending Indonesian Police most of the names and flight details of the Bali Nine in 2005.
Albert Pierrepoint, the UK's last official executioner had a unique perspective. His father and uncle were official executioners and when he wasn't running a pub in Manchester, he was busy hanging people through the British Empire as well as at home and he executed some 200 Nazis after the war.
However, in his 1974 autobiography, he wrote, "It is said to be a deterrent. I cannot agree … I do not now believe that any one of the hundreds of executions I carried out has in any way acted as a deterrent against future murder. Capital punishment, in my view, achieved nothing but revenge".
Do you agree with the points presented in this article? Should the death penalty exist in Australia, or anywhere else in the world? Is it barbaric?