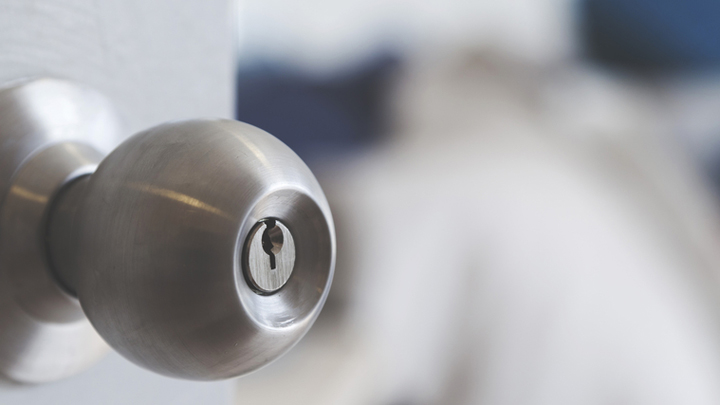 In 1970, Andrew and Susan Peacock, both 30, were the golden couple of Australian politics – he was Army Minister in John Gorton's Coalition government and she was a prominent socialite and the daughter of a senior Minister in the Victorian Liberal Government.
Comparisons were frequently drawn with the assassinated US President John F Kennedy and his glamorous wife Jackie.
Then came the scandal which threatened the career of Andrew Peacock and like all good scandals, especially in politics, it was all about what happened in the bedroom.
Shock! Horror!
On November 2, 1970, Woman's Day and The Australian Women's Weekly exposed the Peacocks' bedroom secret but it wasn't a serious piece by an investigative reporter; it wasn't a piece by some low-life muckraker. It was an advertisement.
Yes, Mrs Andrew Peacock admitted to the world that she had chosen Sheridan sheets for their bedroom.
The advertisement was headed, "Mrs Andrew Peacock is wife to Australia's youngest Federal Minister and one of the most vital women on the Australian scene. She chose to decorate her bedroom around Sheridan Printed Sheets".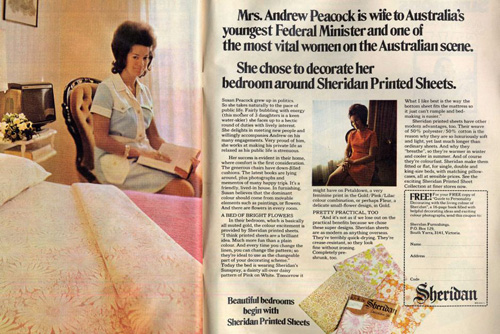 Was Mrs Andrew Peacock – in those days married women were still officially known by their husband's first name in polite society – sprawled across her Sheridan sheets fitted bed in a flimsy negligee winking suggestively and smiling a provocative smile? Well, no – she was fully, decently and properly clothed and decorously sitting on a chair by the bed, her hair piled high in the very latest style.
After a long preamble about what a wonderful, loving and supportive wife she was as well as being a proud and doting mother, we learned that the Peacock home is "where comfort is the first consideration". Yes, while Mrs Peacock might be young, beautiful, rich, famous and well-connected, she is really just like you when you think about was the message to Woman's Day and the Weekly readers.
Under the sub headline of "A Bed of Bright Flowers", we learned that, "In their bedroom, which is basically all muted gold, the colour excitement is provided by Sheridan printed sheets" and, as it happens, when the photographer popped by, "Today the bed is wearing Sheridan's Sunspray, a dainty all-over daisy pattern of pink on white."
And just to reinforce the message for the readers that Mrs Peacock is not some sort of frightful snob waited on hand and foot by faithful family retainers, there is a charming and very practical section under the heading, "Pretty Practical, Too" which is a grammatical lapse that Mrs Peacock, who went to a very exclusive girls' school, would not have allowed. She would have written, "Pretty Practical, To".
"And it's not as if we lose out on the practical benefits because we chosen these super designs. Sheridan sheets are as modern as anything overseas. They're terribly quick drying. They're crease resistant, so they look fine without ironing. Completely pre-shrunk to. What I like most is the way the bottom sheet fits the mattress so it just can't rumple and bed- making is easier," she gushed – or rather some advertising copywriter gushed for her.
The Woman's Day and Weekly readers would have lapped it up – why, here is the closest thing we have to home-grown royalty, and she washes her own sheets, she brings them in from the line and she makes the bed – gosh, just like us!
It's hard to believe, looking back, that this advertisement created a national sensation. But, the mere suggestion that these were the sheets on which she and her husband might…well, you know – was nothing less than a scandal. Decent people and, especially, decent women were outraged.
Andrew Peacock felt he had no option other than to submit his resignation as Army Minister to Prime Minister Gorton who, happily, was anything but a moralising snob. He told Peacock not to be "a bloody fool" and refused the resignation and Peacock kept his job. Then Opposition Leader Gough Whitlam agreed, saying it was "absurd to hold a man responsible for the trivial actions of his wife".
More than 40 years later the now Lady Renouf, in an ABC Australian Story interview, recalled the – well – the shameful horror of it is not too strong a term.
Liberal Party traditionalists – another term then for upper class pompous twits – muttered about an "abuse of Westminster traditions" and the story went around the world with headlines such as "Storm in a bedspread".
She described how the media arrived at their home and began banging on the door and shouting questions while she cowered indoors with their three small daughters. "Quite a frightening experience. Of course Andrew was mortified. It was horrible for me because I felt that I had ruined his career," she said.
She had intended to donate her $50 fee for the advertisement to buy classroom equipment for children in Papua-New Guinea she had met with her husband on a Ministerial trip. The happy outcome was that there was a surge in donations and, as she later said, "We actually sent out on a Hercules enough material to equip the school for a long time and they were so grateful".
Share your thoughts below.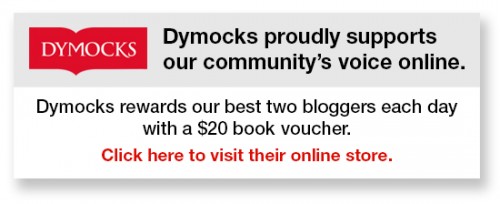 To write for Starts at 60 and potentially win a $20 voucher, send your articles to our Community Editor here.