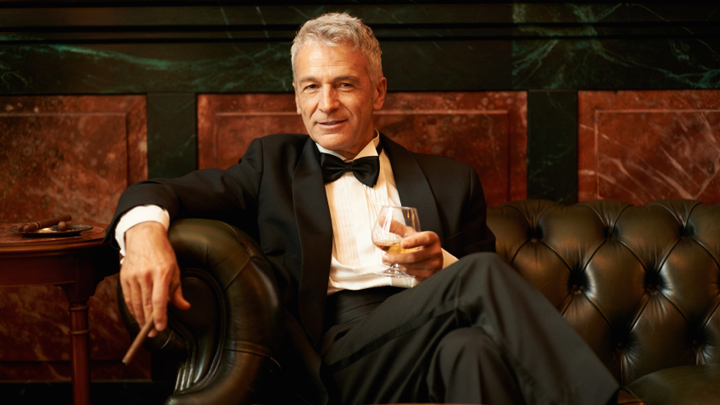 Well, what does sophisticated mean?
One definition, attributed to Leonardo Da Vinci, is "Simplicity is the ultimate sophistication."
It means, to varying degrees, worldly, cosmopolitan, experienced, cultivated, stylish, urbane, chic, suave and classy. And, yes, there are other meanings depending on your personal interpretation.
Think about Audrey Hepburn who wore little black Givenchy dress as Holly Golightly in "Breakfast At Tiffanys" – that is sophisticated. Think about the garish costumes manufactured from feathers, sequins and beads and worn by showgirls – that is vulgar.
Think of a single strand of perfectly matched pearls – that is sophisticated. Think about clunky gold jewellery – that is vulgar.
And you don't have to be rich to be sophisticated. Think of Hugh Hefner, the founder of the Playboy empire, and his Playboy Mansion where busty blonds are shown the door when they reach about 23 – that is vulgar. And there is nothing sophisticated about the "nouveau riche" who desperately try to impress with ostentatious, lurid and completely tasteless homes full of fake Louis XIV furniture and stuffed wild animals.
When I was a kiddy and went to my first "grown-up" party in about 1959 – on reflection, I think that my parents couldn't get a babysitter – I was tremendously impressed by little snacks that consisted of a pickled onion and a bit of cheese on a toothpick. If I had known the word "sophisticated" then I would have so described this daring innovation which was so much more exciting than mummy's plain old lamingtons.
When I was in High School and I visited a classmate's home I was almost swept away by the cutting edge decor – gosh, the empty squat Italian wine bottles, swathed in straw and with a candle stuck in the top spoke to me of daring, of decadence and, above all, of sophistication. "That sounds cheap to me," said mummy when I breathlessly told her of this and she added, "Don't they have proper candle-stick holders?"
I went to a couple of parties at my friend's house and, wow, weren't they sophisticated! The men and women actually mingled and chatted together which was an eye-opener because previously I thought that at grown-up parties the men clustered around the keg while the women were at the other end of the establishment swopping recipes and knitting patterns.
To be accused today of being unsophisticated can be a socially crippling experience yet this was not always the case.
Throughout the 19th century, "unsophisticated" was a term of praise, particularly for young girls as it implied purity, innocence and unworldliness – think of the novels of Charles Dickens and Jane Austin. However by the nineteen-twenties, "sophisticated" started to mean having worldly wisdom and a stylish flair. Yet during the inter-war period the word was often used with irony – there was still a distrust of the posturing and artificiality which it seemed to suggest.
In Noel Coward's "Private Lives" (1930), Amanda says, "I suffered a great deal, and had my heart broken. But it wasn't an innocent girlish heart. It was jagged with sophistication. I've always been sophisticated, far too knowing."
Noel Coward certain epitomised sophistication throughout his life. That couldn't be said of Henry Lawson who was a simple, salt-of-the earth bloke yet it would be unfair and unjust to criticise him as being unsophisticated. He was his own man and, as many would say in his defence, he didn't put on airs and graces. Coward, apart from his awesome talent, was almost all airs and graces.
Australian authors who could be considered sophisticated include Patrick White and Thomas Keneally but it is anything but sophisticated to have their books cluttering up the coffee table to try and impress visitors. Bryce Courtenay and Colleen McCullough who both wrote some rollicking yarns don't quite meet the sophisticated bar.
We have a tendency to associate sophistication with continental Europe and particularly with France. This goes back to the 17th century when the court of Louis XIV was elegant, epicurean, hedonistic and sexually permissive. However, while there was a sneaking regard for this lifestyle among some, generally it was seen to be both offensive and challenging to solid Anglo-Saxon virtues.
Today, we use phrases like "savoir faire" to suggest qualities that cannot quite be described in English and we still regard the French as leaders in haute couture and fine dining and their popular culture is seen as highbrow, as an intellectual form of glamour. Then again, some might consider them to be a bunch of wankers.
The word "posh" is one of several words that have undergone a subtle change over the years. Once it described something that was luxurious – and, by extension, sophisticated -but nowadays it can be used as a term of derision. Allegedly, "posh" is an acronym, the word being derived from the initials P –O-S-H meaning port out, starboard home which meant the shady side of the ship on the voyage to from the UK to India and then back.
Oscar Wilde once wrote, "I have the simplest tastes. I am always satisfied with the best."
Now that is sophisticated.