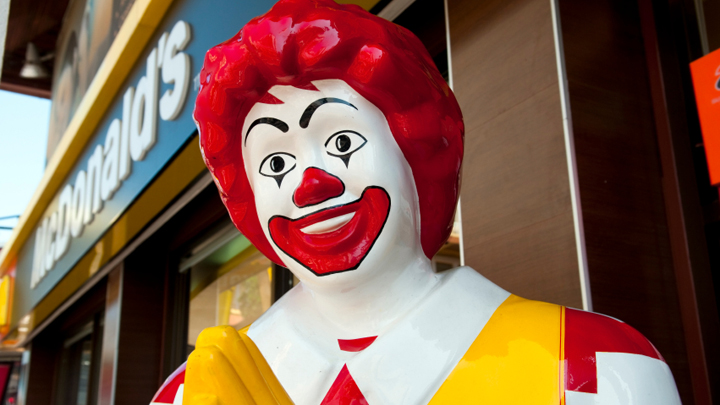 In these uncertain days when we of a certain generation bemoan the passing of the icons of our youth, sometimes – just sometimes – somebody with courage, faith and determination says "This far, but no further" and I am proud to salute Steve Easterbrook as such a man. Yeahhhhhh…onya Steve, a real cool dude!
Mr Easterbrook is a man of vision and of true grit. He became CEO of McDonald's – which is a major force for good in the ongoing fight against starvation world-wide – in March.
At the recent McDonalds annual shareholder meeting in the USA, Mr Easterbrook declared that Ronald McDonald is "here to stay" – yes, although under his wise leadership Ronald's legendary clown costume has been somewhat modified to make it, again in Steve's word, 'trendier", our favourite red-headed funster is safe. Job security is important especially for clowns as good old-fashioned circuses are fast disappearing.
I for one don't mind that Ronald's outfit has undergone some updating – after all, I have gone from flairs and skin-hugging satin shirts to comfortable corduroys and cardigans – and, let's face it, when McDonald's made its first trademark application for good old Ron back in 1967, his image was the spitting image of Freddie Kruger. Nowadays, a gentler, kinder and trendier Ron doesn't frighten the kiddies.
And, given that Ronald is now middle-aged, I think it absolutely sensible that his old-fashioned jumpsuit has been replaced by yellow cargo pants, a vest and a red-and-white striped rugby shirt. I am envious – deeply envious – that his large red shoes have remained because it is years and years since I abandoned my platforms for comfy slippers.
"Ronald McDonald – the Hamburger-Happy Clown" made his first appearance on US television in 1963 and was created by actor Willard Scott who had previously played Bozo the Clown. Mr Scott went onto be the weather man on NBC-TV's "Today Show" which showed a real talent to switch fantasy roles.
Mind you, I have some niggling worries about what has happened to McDonaldland – Ronald's home base – where he has, or used to have anyway, lots of adventures with his cheery chums Mayor McCheese, the Hamburglar, Grimace, Birdie the Early Bird and those lovable tots, The Fry Kids. If Mr Easterbrook happens to read this, I do hope that he can lie to rest my lingering concerns.
When the rival fast food chain Taco Bell entered the US breakfast market in 2014, they ran ads from actual real people called Ronald McDonald testifying to the wonderfully nutritional and all-round loveliness of their menu proving, yet again, that imitation is the sincerest form of flattery. Pathetic, really pathetic wasn't it?.
And while on the subject of imitation, I felt sick – yes sick is not too strong a word – when I saw Heath Ledger doing his demonic portrayal of Ronald in "The Dark Knight". I think the character was supposed to be somebody or something called The Joker but I saw straight through that so-called "joke" and dashed from the theatre for a reassuring Triple Beef with Bacon and Double Cheese Big Mac with large fries.
What is also nice about Ronald is that he has become so culturally aware – in Thailand, for example, he greets patrons with the traditional Thai "wai" gesture of palms together at chest height. We could all learn a lot from his sensitivity.
And he is honoured as the Patron of Ronald McDonald Houses where parents can stay overnight when visiting their sick youngsters at nearby hospitals. I understand that these are for parents whose kiddies are suffering from serious chronic ailments and not undergoing treatment for childhood obesity.
So back to that McDonald's shareholder meeting and Mr Easterbrook who also announced that he was "incredibly proud" that workers at their US outlets – but not at outlets owned by franchisees – would be paid a massive $1 an hour above the local minimum wage at their US outlets. Yet that wasn't enough satisfy the whingers who staged a noisy mass demonstration outside the meeting demanding an impossibly high $15 an hour. The bloody cheek!
One US media outlet quoted a McDonald's worker as saying he gets $8.25 an hour which, to my mind, is quite sufficient given that Mr Easterbrook – him with the vision, the determination and all of that – struggles by on a base salary of only $1.1 million plus his Target Incentive Plan which is 160% of base salary. I can only hope that he gets an employee discount for burgers.
Some pack of whingers called "Corporate Accountability" also turned up at the shareholders' meeting demanding that Ronald be retired because the clown markets to children. That's rubbish because I'm still terribly fond of him.
If I'd been Mr Easterbrook, I would have given every member of this group who are probably commies, free vouchers for a McHappy Meal just to cheer them up.
Share your thoughts below.