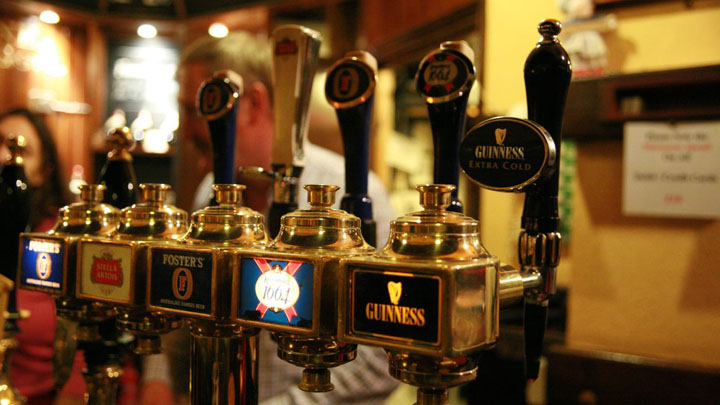 Now and again University researchers actually do come up with a project which has clear public benefits and I am delighted to report that Griffith University in Queensland is an outstanding example of that.
Researchers at the University's Gold Coast campus are looking at ways to make a beer that restores water to the body, rather than depleting it. As those of us who occasionally like a bit of refreshment (aka beer) know, dehydration as a result can leave one feeling just a tiny bit hung over.
Associate Professor Ben Desbrow, who is a leading light in this dedicated team, has said that they are particularly fascinated by beer because people can drink large volumes of it without inducing what he calls "flavour fatigue".
"People stop drinking beer not because they get sick of the taste of it but because they have to be mindful of the consequences – whether they're trying to avoid a hangover or they have to drive a car or they run out of money," he said.
Frankly, I could have told him that for free and even added another two reasons – they run out of beer or they collapse. Not that any of this has happened to me, of course.
Well, I did once admit to my mother that I had a drinking problem – the previous Saturday I had run out of the amber nectar around 4.17am and that is the worst kind of drinking problem. And, oh what a feeling that is.
The good professor and his team are keen to ensure that the taste of beer does not suffer as a result of their mucking around with the ingredients. "You obviously aren't going to have anyone drink anything that's unpalatable," he said which exceeds gold standard for the bleeding bloody obvious.
But I don't want to discourage them – at my age this research could not be more timely. The team has set up a survey on the University website and all Australians who enjoy the odd beer are encouraged to complete it. I gave it a good deal of thought and it took me, um, let me think – well, almost three stubbies. They claim it will take 10 minutes so clearly I stayed a little bit longer.
If they achieve their wonderful research outcome then the Nobel Prize is theirs. And I thought it was just lovely that they are based at the Menzies Health Institute – good old Bob enjoyed the odd tipple and would be proud.
Meanwhile New Yorkers – rich New Yorkers that is – have recourse to what is called The Hangover Club which, appropriately enough, was co-founded by a Dr Maurice Beer. If you wake up in New York with a serious hangover, you just ring them up and make a booking and within thirty minutes a qualified nurse will turn up and insert an IV drip into your arm and vitamins and electrolytes are pumped in.
A thirty minute treatment costs a mere US$175 while the premium treatment – presumably for those seriously not at their peak – edges towards US$250. Almost instant restoration is the promise – nausea gone, immune system recharged, stress reduced and skin rehydrated.
My remedy – on the rare occasions a remedy is required – is the good old hair of the dog.
Sadly, beer consumption in Australia is declining – I was staggered to learn that we only rank 11th in the list of countries in the per capita consumption and, even more alarmingly, we are dropping further down that list.
Latest statistics show that we only consume 83.1 litres of beer per head each year while the number one country, the Czech Republic, has an enviable consumption of 148.6 litres per person. They are probably still rejoicing in the end of communism but, nevertheless, this wide brown land has losing status rapidly.
According to the Australian Bureau of Statistics, the consumption of beer has more than halved since the mid 1970s – the time when I was virtually single-handedly supporting four pubs and a club – and is now at the lowest level since 1945-46. Beer last year comprised 41% of all alcohol consumed by Australians while wine comprised 37%, spirits 13%, ready-to-drink beverages 7% and cider 2%.
The shame of it all – and this underlines the urgency of the Griffith Uni research – is that wine has probably overtaken beer by now.
And another deplorable trend is that many beer drinkers are turning away from grown-up brews to some frothy fizzy muck called "light" or "mid-strength". That might be all right for the ladies but it makes me wonder what sort of men this country is producing. I'm pretty certain that when God said, "Let there be light" he wasn't talking to the brewing industry.
Then again, I didn't have a single beer for 14 long years and then I reached 15 and discovered that I had a hard-earned thirst that needed a big cold beer.
My father and I bonded like never before and my last half-century has hardly known a single day of temperance. I owe that to his memory.
Share your thoughts below.