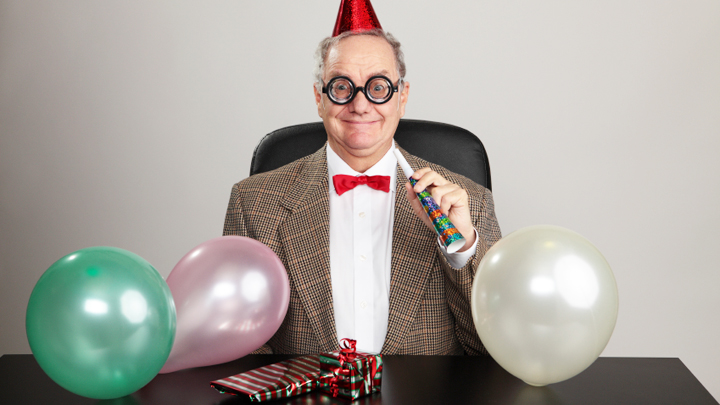 Well, today I am 66 – and I'm joining a very distinguished group indeed.
My fellow 66ers include Prince Charles, Lionel Ritchie, Olivia Newton-John, Jeremy Irons, Meryl Streep, John Farnham, Billy Joel and Lulu to name but few. And, more or less, they are still working – unlike me – and should have some pretty good years ahead of them.
Then again, quite a list of famous folks have died at 66 – Dudley Moore, Tony Greig, Gene Pitney, Richard Greene (who was fabulous in the black and white TV series, "Robin Hood") and Fred Gwynne (equally fabulous as the father in "The Munsters") and Davy Jones of "The Monkees" . I'd rather not think about that list.
But being 66, is nothing really special – it's not the sort of birthday you celebrate like your 18th, your 21st, your 40th, your 50th, your 60th or your 70th and beyond. Last year we had a splendid dinner party for my birthday which fell on a Saturday; this year I have told my partner to start saving furiously for my 70th.
I can recall a few things that happened on my birthday over the years. On my 16th birthday in 1965, Singapore became an independent nation after leaving Malaysia, on my 20th birthday in 1969 Charles Manson and his screwed-up followers murdered pregnant actress Sharon Tate and four of her friends in a brutal, frenzied attack and in 1974 on my 25th birthday, President Richard Nixon resigned. I enjoyed my 25th birthday especially.
My birthday today is, I think appropriately, on a Sunday – what my dear old mummy still calls The Lord's Day. Now this is a bit spooky as Dame Edna might say, but there are 66 books in the Bible and 66 words in The Lord's Prayer.
Will the coming year see me become religious? It's some time – well, about 57 years – since I learned at Sunday School that Jesus wants me for a sunbeam so perhaps I should check back to see if that is still in prospect. You can't be too careful when you have a lot more yesterdays than likely tomorrows.
I've done some research about being 66 and I am indebted to Tania Gabrielle who is a "Wealth Astro-Numerologist" – well, that's how she describes herself on her jolly informative website. And she has such a lovely smile which encourages me to believe her and trust her.
She writes that 66, "is the spiritual master number of love. It shows a double '6th sense' – an ability to connect with others intuitively on such a deep level that you are able to coach them and support their goals". Isn't that interesting? The fact is that I've been like that all of my life – helping, mentoring, coaching and guiding lots of folks whether they wanted it or not. Some didn't, you will be surprised to learn.
The "Affinity Numerology" website tells me that 66 is "a composition containing the ideas of optimism, creativity, inspiration, social interaction and idealism". And, yes, I'm all of that and more.
In the world of mathematics, 66 is a sphenic number, a triangular number, a hexagonal number and a semi-meandric number. What a busy little number it is! Reminds me of a long-ago chum who was similarly described.
And dysprosium has the atomic number 66. It is a rare chemical element with a metallic silver lustre and, combined with other stuff, is used as a laser material. Talking of lasers, Order 66 in the "Star Wars" is a prepared Order to the clone troopers to kill the Jedi commanding them.
The number 666 is described in the Bible as "the number of the beast" – the Anti-Christ, the Devil. Yes, I suppose it could be seen that at 66 I am two-thirds of a devil but I don't feel that the frightening and apocalyptic events which are described in the Book of Revelation are likely in the coming year. Sue me if they do.
If you fear 666 then you suffer from "Hexakosioihexekontahexaphobia" and I'm pretty sure it can't be fixed with tablets or a course of injections.
We will visit my mummy today at her maximum security frail elderly high care facility and, no doubt, she will go on and on about what sort of a kiddie I was, how I was a lazy student and how I was this and that. She told me when I was 60 that I procrastinated a lot and could have achieved more in my life and I retorted that I had years and years left. Well, six years have passed since then and I am still seriously pondering both new adventures and ventures – I don't like to rush these things.
I've reached certain conclusions in recent years – I don't like to eat health foods because I need all of the preservatives I can get and I don't worry about avoiding temptation since it has started avoiding me.
Former US Vice-President Nelson Rockefeller, who only made it to 70, once said, "There are three periods in life: youth, middle age and 'how well you look!"
I think I'm looking OK.
Tell him he's wrong… what's been your favourite over 60 birthday so far?