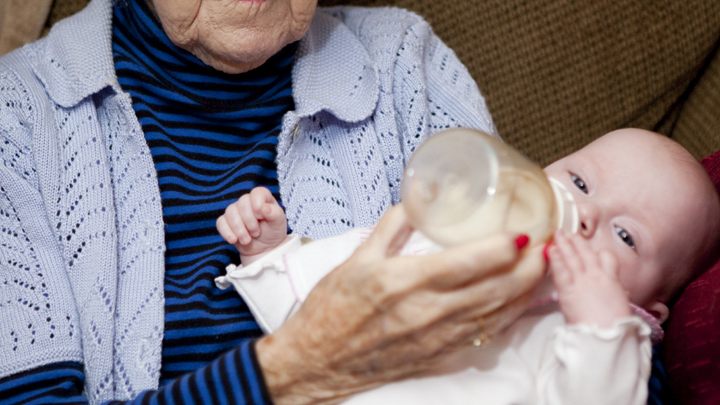 Recently, a Sussex woman was notified by maternity hospital letter that she was pregnant. It came as a complete surprise.
Yes, of course, many women have been surprised by the news that they are pregnant but it was even more of a surprise for Doris Ayling. She is 99, almost 100.
It was certainly an equally big surprise to her three children, seven grandchildren and 13 great-grandchildren. A spokesman for Fareham Community Hospital apologised, explaining that it was an "administrative error".
"I was a bit amused by it all. I've never been to the Portsmouth hospitals and I don't know where Fareham hospital is. It's a complete mystery to me how I got this letter. I had three children when I was 20, 23 and 29," Doris said adding, just in case anybody was in any doubt, "That was enough".
The oldest woman alleged to have given birth is a 70 year old in India but her claim is not officially accepted as she cannot produce a genuine birth certificate which may be understandable given the circumstances of her birth when birth certificates for the rural poor were very few and far between.
The oldest verified mother – a mother whose birth certificate was confirmed on the day she gave birth – was a Spanish woman, Maria del Carmen Bousada de Lara, who gave birth to twin boys on December 12, 2006 when she was 66 years and 358 days old. The babies were born by caesarean section, were delivered prematurely, each weighed 1.6 kilos and they were conceived through IVF with donor eggs.
When her own family criticised her decision to have children at that age – and she admitted to lying about her age to undergo the treatment in the USA -, she defended it, saying, "Everyone has the right to have children at the right time for them. This was the right time for me. It was something I always dreamed of."
She said that her own mother had reached the age of 101 and that she expected a "good chance" to bring up her children and even see her grandchildren.
Sadly, Ms Bousada died in July 2009 of ovarian cancer when her boys were two and a half.
Recently, Annegret Raunigk gave birth to quadruplets – three boys and a girl – in a Berlin hospital at the age of 65. The single mother, who already has seven grandchildren, defended her decision saying that her 10 year old daughter Lelia wanted another sibling. Her newest children are younger than her grandchildren.
She believes that she will stay fit and healthy and fully able to raise the children adding, "I don't interfere in other people's lives and I expect the same from others".
Once, cases of woman over the age of 50 having babies were extremely rare. However, advances in assisted reproductive technology – in particular egg donation – have seen many over 50 mothers. Judy Bershak, an American woman, was the first recorded older mother who conceived via IVF with oocytes donation. She gave birth to a daughter at the age of 50 in July, 1996.
Perhaps it is not appropriate for a man to be critical of older women who want to have a baby and who will go to any lengths to have one but it does open up ethical questions about the ultimate fairness to a child who will probably not grow up to know and love his or her mother. The same thing can be said for older men who become fathers.
An Indian farmer, Ramjeet Raghav, became the world's oldest dad in October, 2012, at the age of 96 – beating his own record he had set two years earlier when he was 94. His wife, Shakuntala, was 54 the second time she became a mum.
Proud dad said, "What can I do? This is all God's wish. He wanted me to have another son. I do it three or four times a night. My neighbours are jealous and they keep asking me for my secret but all I tell them is that it is God's will. I'm healthy and I enjoy sex with my wife. I think it's very important for a husband and wife to have sex regularly. When she asks I will go on all night but for the sake of my child I've put our needs aside for now," he said.
He told The Times of India that he had been a bachelor and practiced celibacy until he met his wife when he was 86. I suppose since he had saved himself up for nearly 70 years, he had a lot of catching up to do.
Since then his wife has left him – maybe when she married an old man she was hoping for a quiet life and not doing the deed three or four times a night.
Still, every man on the planet would probably envy Ramjeet's prowess while feeling sad about his personal domestic situation.
Tell us, how old is too old to bear a child?