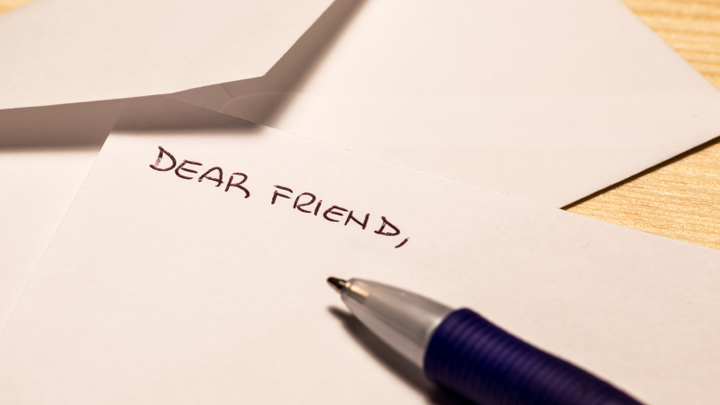 I was surprised when I read about it and then, on reflection, I was surprised that I should have been surprised.
Standard Life, a UK provider of pensions and savings products, has just released a survey they commissioned about friendship. A total of 3,004 people of various ages were questioned and the results showed that one in eight over 60s had more than ten close friends compared with just one in ten in the 20-to-30 age group.
A retired English journalist Michael Leapman wrote about the survey in The Telegraph and he deduced – very accurately I would say – that while many young people had countless "friends" pouring out of their smartphones, they at least know who their real friends are. He noted that many in our age group didn't subscribe to so-called social media and reasoned, "This must mean that Facebook friends are not regarded as real friends at all. Eliminate those, and you can see how older people have had many more years to establish friendships and, in retirement, more time to cultivate them".
Mr Leapman wrote, "I belong to a small group of former colleagues in various newspapers who get together most Friday evenings at a bar close to Fleet Street where we served our apprenticeship. Like all old duffers, we endlessly recycle tales of youthful derring-do – and impose a strict limit on the time allowed to discuss our latest geriatric ailments".
"We usually share the hostelry with several groups of much younger men and women, celebrating together the end of their working week. Unlike some of them, we do not raise our voices raucously or stagger out to fall senseless on the pavement. Although the Standard Life survey records that the elderly indulge in alcohol nearly twice as often as the young, over time we have learned the discipline of moderation".
I had a quiet smirk to myself while reading that last bit – after all, moderation, like beauty, is in the eye of the beholder.
Nowadays, we are being continually bombarded by "nanny state" strictures on how to make, keep and nurture friendships. Once upon a time, it was simply good enough to meet somebody, discover you liked each other and move on from there.
Not surprisingly, the United Nations has an International Day of Friendship like it has an International Day for every bloody thing. If you care about these meaningless things, then you should be especially friendly to your friends on 30 July. I was far too busy to think of friends that date last year since I was celebrating the beginning of St Vitalian's reign as Pope in 657AD and I'm not even a Catholic.
The US Congress decided in 1935 that the first Sunday in August should be Friendship Day – I suppose since they were beginning to emerge from the Great Depression, politicians felt an extra bit of friendship all round wouldn't be a bad idea and, after all, it doesn't cost anything and it provides an excellent photo opportunity. This coming 2 August, I will be recalling the Battle of Cannae in 216BC during the Second Punic War – no time at all for friends, I'm sorry.
And if that isn't enough, there is Best Friends' Day on 8 June and all of February is International Friendship Month and the third week in May as Old Friends/New Friends Week.
And just for the ladies, bless them, there is Women's Friendship Day on the third Sunday in August. It seems there is no Men's Friendship Day at all but, of course, chaps can have meaningful bondage every day of the year.
The UN celebration on 30 July was only instituted in 2011 which leads me to suspect that Winnie the Pooh, designated the first UN Friendship Ambassador by the UN in 1997, had not really been up to the job. Indeed, in many parts of the world between 1997 and 2011 there was a marked lack of friendship and dear old Winnie could have been gassed, bombed, stabbed, shot, hung and otherwise killed almost anywhere.
Mind you, I think that it was curiously appropriate that Winnie was chosen by the UN given that he was a naive, slow-witted glutton – even he agreed with his friends that he had no brain. His obsession about honey which has been shown to contribute to obesity, heart problems and liver disease marks him down by the UN's World Health Organisation even if he is a hero to the international friendship-observation industry.
Then again, I could be unnecessarily harsh about Winnie. He reflected so much of what passes for considered debate in the General Assemble when he said, "When you are a Bear of Very Little Brain, and you Think of Things, you find sometimes that a Thing which seemed very Thingish inside you is quite different when it gets out into the open and has other people looking at it."
I think I could be quite friendly with Winnie – a meeting of minds many other lesser "friends" would say.
Share your thoughts below.