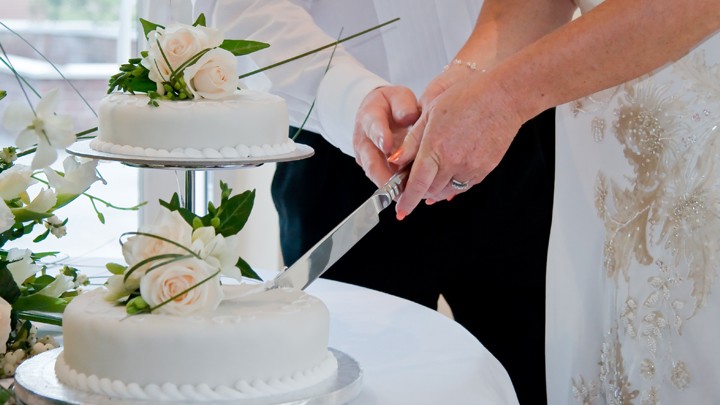 There is a tradition – or, perhaps more strictly, there used to be a tradition – of the happy couple saving some of their wedding cake to enjoy together on their first anniversary.
I recalled this fading tradition when I read of an American couple Ann and Ken Fredericks in Florida who have kept this sweet little ceremony alive and who, every year when their anniversary rolls around, share a small piece of their original wedding cake washed down with a bottle of champagne.
Ann and Ken, it should be noted, celebrated their 60th anniversary earlier this year. Ann's mother created the dark fruit cake for their wedding in 1955 and they have kept the slowly diminishing fragment of cake wrapped in cling wrap inside a tightly sealed old coffee tin which sits in a cupboard above the refrigerator.
"I mean, dark fruit cake keeps," Mrs Fredericks said. "I mean it doesn't have an objectionable taste, but it's a little dry".
To overcome that little problem, the couple douse their annual piece of cake with brandy. "Believe me, it's quite tasty, as long as it's got enough brandy on it and it's never made us sick. A little bit of brandy never hurt anybody," she said.
They are both now in their 80s and what with brandy and champagne, their own private anniversary parties must really go with a swing. Talk about having your cake and eating it too.
Mrs Fredericks admits that their children are "appalled" at their tradition but that doesn't bother them one little bit. Mr Fredericks says that they still love each other as much now as they did sixty years ago and "we have a good, close family". Ann added that they still hold hands every night when they go to bed.
When news of their annual ceremony hit the American media, they were astounded at the reaction – the story went viral and Ken thought the whole media thing was "silly". Ann added that she's "never been on Facebook or any of these social media because, you know it's … well I don't want to spend my time there. I have other things that I have to do".
The ceremonial cutting of the wedding cake is the first thing newly married couples do together, showing that they will be together forever. Tradition states that they should keep a piece after the big day to ensure the groom's fidelity. Other superstitions surrounding the cake are that sharing it with friends and family will increase fertility and prosperity, while the bride must never ever bake the cake herself; if she tastes it before the ceremony, she will lose her husband's love.
If the happy couple is keen to follow tradition, then they should have a special "cake cutting" song playing while they wield the knife.
A few years back I went to one wedding where the bride had graciously allowed her future hubby make a selection, telling him she wanted "a cake song". We were all a bit startled – bride included – when "I will survive" boomed over the loudspeakers at the reception. Perhaps better known as the 1978 Gloria Gaynor tune about courageous survival after a relationship breakdown, this version had been recorded by an American "alternative rock band" named – yes, you guessed it – "Cake". I could have told the bride that wonderful chap that he was and all of that, he did unfortunately take everything quite literally.
She should have known better after he chose Pat Benatar's "Love is a Battlefield" as the background to their announcement of upcoming nuptials at the engagement party.
Once upon a time in Merrie Olde England, there was a tradition to have two cakes – a bride's cake and a groom's cake. The groom's cake was always smaller and not iced and, eventually, by the end of the 17th century, the groom's cake tradition was dying out. To my mind, that was a metaphor for who runs a marriage. A lot of chaps would be a lot happier if they remembered that before agreeing to tie the knot. Even successful marriages are not – well – a piece of cake, are they?
And you would have to go a long way – and at vast expense – to beat the wedding cake Princess Elizabeth and Prince Philip had for their ceremony in 1947. Weighing more than 226 kg and more than 2.75 metres tall, it was made from ingredients received from Australian Girl Guides as a wedding gift. One tier was used on the wedding day, one was kept for the christening of Prince Charles and the third tier was sent back to Australia for the Girl Guides.
I'm pretty sure that Ann and Ken Fredericks' cake wasn't that big and they have managed to save it for sixty years – and, hopefully, even longer – for further anniversaries. Their relationship, like their cake, has never got stale – nothing like brandy and champagne to freshen something up.
And cake too, of course.
Do you remember your wedding cake? What's your favourite cake-themed tradition?
To write for Starts at 60 (and potentially win a $20 voucher), send your articles to our Community Editor here.