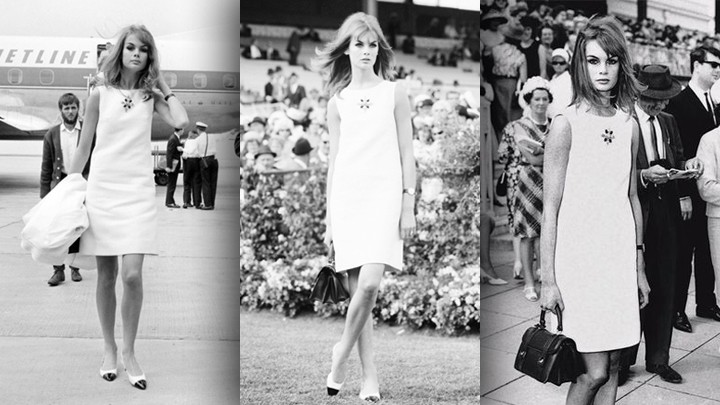 Half a century ago, Melbourne society flocked to Derby Day at Flemington. The fashion stakes were incredibly high – much as they are today.
The preparation that jockeys and horses have for this major event on the racing calendar is only matched – and, arguably, outmatched – by the effort made by society matrons for the "Fashions on the Field". Beneath its very thin civilised veneer lies ruthlessness and determination that confounds mere mortals.
In 1965, the ladies from Toorak and other genteel suburbs went to their hairdressers, climbed into their original creations, adjusted their stylish hats and put on their gloves prior to the big event. In the Members' Enclosure they kissed each other demurely, waxed loudly lyrical ("Darling, you look sensational") about each others' outfits, sipped champagne and, more or less privately, made savagely lacerating comments ("You know she wore that hat two years ago!") about one another.
But in 1965, they were united as never before. In 1965, British supermodel Jean Shrimpton, then 22 and dubbed "The Shrimp", shocked and outraged every lady and titillated every man when she wore THAT dress.
That dress was a simple sleeveless white mini, scandalously cut 10cm above the knee. To make matters even worse, if that were possible, she didn't wear stockings, a hat or gloves.
As she later recalled in her memoirs: "The day of the races was a hot one, so I didn't bother to wear any stockings. My legs were still brown from the summer, and as the dress was short, it was hardly formal. I had no hat and gloves with me for the very good reason that I owned neither".
Her two-week visit was sponsored by the Victoria Racing Club and a local synthetic fibre company. She was the judge for "Fashions on the Field" and promoted a range of new dresses made of Orlon. Years later, she recalled: "The fabric company that sent me the material for the dress never sent me enough material". To work around the mistake, she told her dressmaker in London that "nobody's going to take any notice", so she requested they "just make the skirt a bit shorter".
In swinging sixties London, hemlines were already creeping up, but Melbourne remained a bastion of conservative decency. The sense of shock and awe when she appeared was more than palpable; as a story in Melbourne's The Sun News-Pictorial reported the next day: "If the skies had rained acid, not a well-dressed woman would have given The Shrimp an umbrella. Fashionably-dressed ladies who had been dying to see what heavenly outfit Jean would be wearing seemed very angry".
Lady Nathan, a society style leader and former Melbourne Lady Mayoress, sniffed that Jean was "a child with bad manners" and claimed that Australian women dressed as well as any in the world. "If Miss Shrimpton wants to wear skirts four inches above the knee in London, that's her business, but it's not done here. I feel we do know so much better than Miss Shrimpton. We all dress correctly here," she said.
Even Australian model Maggie Tabberer criticised her, saying "I loathe that look".
For her two weeks in Australia, Jean was paid an astronomical two thousand pounds ($4,000) which was equivalent to at least a year's wages for the average Australian man at the time. Even The Beatles had only been paid fifteen hundred pounds ($3,000) for their 1964 visit.
The immediate legacy of "The Miniskirt Affair" was to make dress lengths a media barometer of the "Permissive Society" alongside the pill and long hair for men. For my mother, it was A Sign Of Things To Come; something not just to be dreaded, but resisted strenuously by wholesome family people who had proper standards. I don't recall my father saying anything of the sort.
The British press reacted angrily to Australian criticism of their young fashion heroine. Criticism from The London Evening News was particularly pointed: "Surrounded by sober draped silks and floral nylons, ghastly tulle hats and fur stoles, she was like a petunia in an onion patch".
After the event, Jean said she hadn't known that Melbourne placed such heavy emphasis on conformity, adding: "I haven't decided what to wear to the Melbourne Cup. I suppose I'll have to give it a lot more thought".
And she did – after being disciplined by her sponsors.
It took me a good deal of detective work to discover that her Melbourne Cup outfit was a three-piece grey suit with an ice-blue Breton hat, beige gloves and stockings and a chocolate brown handbag.
But the damage had been done. As mummy remarked at the time, "It's far too late for her to try and be nice now".
Do you remember the day The Shrimp wore THAT dress? How did you feel about it at the time?
To write for Starts at 60 (and potentially win a $20 voucher), send your articles to our Community Editor here.