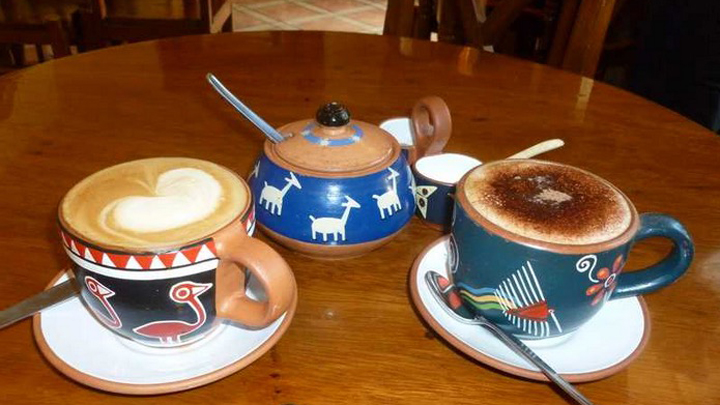 Jane and Duncan have been backpacking around South America and Europe and have found some of the best coffee in the world on their trip.
Cusco, Peru
Address: Choquechaka 509, Cusco Peru
We were in Cusco for two weeks and our daily coffee was spent here at Jack's. The cafe is run by Australian Jane Berthelsen. The menu is varied and they use the freshest of ingredients. It is the best tourist restaurant in Cusco. Be prepared to queue.
Cost of coffee for both of us: $4.00 AUD
Naples, Italy
Opposite our Hostel of the Sun, Via Guglielmo Melisurgo in Naples, was our favourite coffee shop, Café Marsicano that served the best rum babas we have ever tasted. So sweet and tasty but very filling, we struggled to get through one between us.
The cost of two coffees and sharing one Rum Baba: $10.00 AUD
Goreme, Turkey
Address: 28 Muze Cad, Goreme
Cafe Safac was established in 2005 and is owned by the Cingitas family. The cafe is well known for its lattes and great food.
The cost of two coffees and lunch: AUD19.00
Monte Carlo, Monaco
Cafe de Paris near the Casino in Monte Carlo is a must for all to visit. It is a great place to people watch and also to car watch – many very expensive cars pass by with their chauffeurs after dropping their owners off at the Casino. Coffee is expensive as you would expect but you are paying for the view.
The cost of two coffees: AUD17
Aix-en-Provence, France
Cafe To Go
Address: 20 rue Jacques de la Roque, Aix-en-Provence
We were in Aix-en-Provence on one of their many local market days and we were wandering the back streets looking for a quaint coffee shop. A strong smell of coffee wafted around us and searching for where this heavenly smell came from we stumbled across Coffee to Go. A sign advertising Australian Flat White was out the front and the cafe was busy, a good sign. Adrien Senac, the young owner of the cafe, explained to us that he had trained as a barista in Australia. This was a good sign. The coffee was brilliant, unfortunately we were staying in Marseille otherwise we would have been here every morning to get our coffee fix.
The cost of two coffees: AUD10
Puerto Iguazu, Argentina
Address: 7 bocas Avenida Brasil y Perito Moreno, Puerto Iguazu
Te Amare Maitena is a great find for us. This is the first time we have been served a bowl of caramel ice cream and mineral water with our daily coffee. We were sorry that we were leaving that evening for Buenos Aires otherwise we would be visiting here daily.
The cost of two coffees: AUD8
Previously published here
To write for Starts at 60 and potentially win a $20 voucher, send your articles to our Community Editor here.