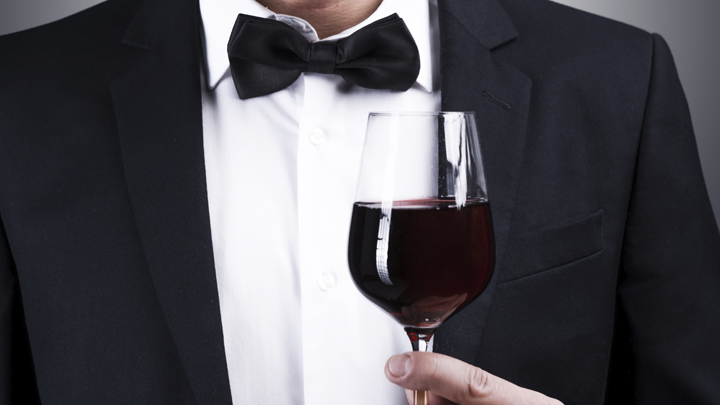 Our Christmas gifts included a bottle of wine from a chum who thinks he is a wine expert.
Every time he takes a sip, he goes through the annoyingly ostentatious charade of swirling the grog around the glass, held up to the light then sticking his nose in as far as possible and making curiously feral clucking and grunting sorts of noises before taking that first tentative sip. That is followed inevitably with the sort of noise other people make when they are having the best sex of their lives or, alternatively, an anguished cry of pain that would frighten the devil.
As a piece of theatre it has long lost its charm – frankly, it's a bit like watching endless replays of To The Manor Born (which was only faintly amusing the first time around) – yet he is a one-trick pony and will grind relentlessly on.
Then – and, oh dear God, the recollection of this is like suffering from delirium tremens without even having taken a single drink – we are treated to a long, tedious diatribe about how he first enjoyed this drop on a terrace in Portugal, overlooking a charming village nestled against the azure blue Atlantic in 1984 with a charming young local who had the best legs in Europe. Mind you, to add some authenticity to these tales he is likely to say something like that first time was with the 1956 vintage and what he is contemplating now is the 1963 vintage.
And, of course, we are obliged to listen to how this 1963 vintage still retains the trade-mark back-palate and lingering finish that made the 1956 vintage so precious and that this absolutely proves that it came from grapes grown on the north-western slopes of the vineyard which comprises slightly loamy but well-drained soil as opposed to the… oh, I think we have had enough of this!
To quote from the label of this gifted bottle, it is "a complex bouquet and medium-bodied palate bringing a fused combination of black cherry fruit, liquorice, spice, cedary oak and tannins into play".
Now, isn't that fascinating?
Here's silly old me thinking that wine was made with grapes. I'm not sure that I actually want to consume this wine now that I know some local urchins have been employed to stick lumps of liquorice into the vats. And what is "cedary oak"? Cedar is a softwood and I learned all I wanted to know about it in about 1960 when Mummy went through her Danish De-Luxe phase, while oak is the hardwood that was traditionally used to build Royal Navy sailing ships when Britannia ruled the waves.
I happen to like a nice crisp Chardonnay on a hot day; in fact I have been known to like several and even when it is not a hot day. I also happened to mention this to our wine connoisseur chum who immediately recommended some wildly expensive drop. He breathlessly told us that this superb creation was notable for the inclusion of some pressings, wild yeast fermentation partly in barrel and lees contact and that this had contributed to its complexity but had not wholly obscured the vivid passionfruit mid-palate and even less to the citrusy acidity of the intense and very long finish.
"Oh," I said, "It sounds like a Sauvignon Blanc to me – not a Chardy".
It was a total stab in the dark and, wonder of wonders, he later admitted through gritted teeth that I was right. Now, every time we are in his company he is very wary of me which means we get invitations from people we don't really know but who have already invited him and add us as a precaution. My fame has spread.
I'll tell you what a good wine is and, for that matter, what a good beer, gin, whiskey, vodka or whatever is – it's the one that you like. End of the matter. Ignore the snobs, the alleged experts who might curl their delicate noses up at the mere mention of your favourite tipple. Bugger them and damn them to hell, I say.
And while I'm on the subject of pretentious rubbish, don't you just love those restaurants which have stray bits of French scattered throughout the menu? This is supposed to impress you with their sophistication.
I suppose, to the innocent, that any dish which is "avec pommes de terre" sounds better than having a side order of spuds, that "fromage" puts a taste-temping zing into a dismal plate of cheeses bought three weeks ago from Coles. Ordering "crudités" doesn't mean the wait staff will suddenly strip and do the can-can, it means raw vegetables.
And don't get me started on "nouvelle cuisine" which means kiddies' portions designed by a frustrated architect. You will want a hamburger on the way home.
Are you a bit of a wine snob? Or do you know someone who is? What is your favourite wine? Share your stories below.
If you'd like to write a blog for Starts at 60 – we'd love to hear your stories! See our guidelines here and submit your articles to us here.