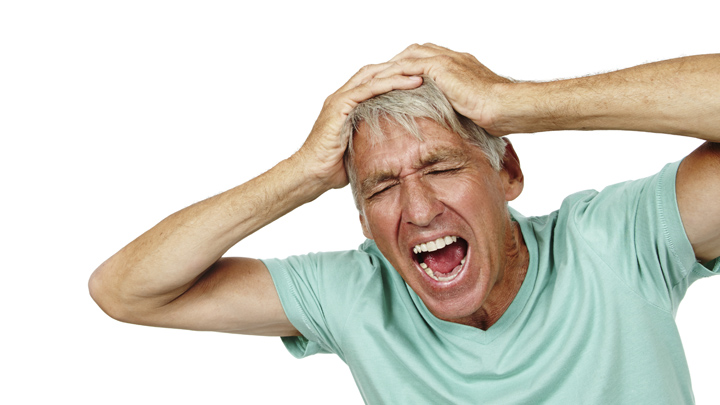 The many blessed folks who know me and love me will be staggered – yes "staggered" is not too strong a word in this circumstance – but some ignorant fool once actually had the barefaced audacity to suggest that I undertake something called "anger management".
Quite rightly and very calmly, I told him that I'd smash his stupid fat face in if he suggested that again. I'm a very calm – serene even – type of person but I simply cannot brook idiots and others who, failing to realise that they are profoundly unintelligent, actually try to disagree with me.
I am mindful of the wise words of Aristotle who said, "Anybody can become angry – that is easy, but to be angry with the right person and to the right degree and at the right time and for the right purpose, and in the right way – that is not within everybody's power and is not easy".
Usually, that fat old Greek who wore a frock is pretty much spot on but I have to disagree with him here in one small regard. Actually I have found it very easy to get angry at the right time, for the right reasons and with the right people and, on reflection, have found my anger to be entirely and absolutely justified every single time. Not that it has actually been anger – I've just been clearing the air, disabusing people of their misconceptions and inane ideas and generally making the world a better place.
A lot of rubbish has been written and spoken about how and why anger should be managed. I could not agree more with Roseanne Barr who observed, "Experts say you should never hit your children in anger. What is a good time? When you are feeling festive?"
It is comforting to know that the Bible has no fewer than fifty-four quotes about anger – more or less along the lines of "cool it"- although I cannot recall any of them being used in the script of the movie of the same name. My life is very busy so I never read the book, I just saw the movie and, in any case, I learned at Sunday School in about 1955 that Jesus wants me for a sunbeam so no need to explore the subject any further.
Anyhow, back to anger and the management thereof.
There is an outfit called the Anger Management Institute of Australia (AMIA) and, like Mental Health Week, you'd be mad to miss it.
According to the terrifically sharing and caring AMIA, it is "a fee-based specialist service that provides individual based anger management courses throughout Australia via Skype" and they are not kidding when they say it is "fee- based". You can sign up for a "single session or couple therapy" for a mere $150 which gets you ninety minutes of invaluable advice via Skype or telephone.
For the more unhinged who tend to fly off the handle for no reason at all, there is the super-value Online Individual Anger Management Counselling which provides five, sixty-minute sessions (again via Skype or telephone) and you are warned, "Full payment for the five sessions must be paid in advance".
Too bad I guess if all of your anger management issues are sorted out by the end of the second session. I, for one, would be bloody ropable if that happened to me – not that I would ever need it of course.
Unfortunately – sadly really – "no Medicare rebates apply", but, on the upside, you don't need a GP referral, just a valid credit card. And the really exciting news is that "People who complete all 5 sessions will receive a certificate of completion upon request".
If I did the course – not that I have to – I would certainly want the certificate for no other reason than to wave it in front of assorted dolts who get stroppy with me about my alleged attitude towards them. I could see myself saying rather smugly, "Look here, you gormless lunatic, there's nothing the matter with me and I've got a bloody certificate to prove it. Where's yours, you gross ignoramus?" Naturally I would be saying it in voice of sweet reason – not that I will have to because I don't need the wretched course at all, do I?
The fact is that I don't need anger management; what I need is for people to try and manage their stupidity around me. You can take this turn-the-other-cheek stuff just a bit too far and I, for one, won't budge one millimetre about that. I can assure you that I am not one who goes to bed angry – I stay awake and plot revenge.
So stay out of my way because my divine serenity can only take so much.
Do you have an anger problem? What gets you most angry? How do you deal with anger? Tell us below.