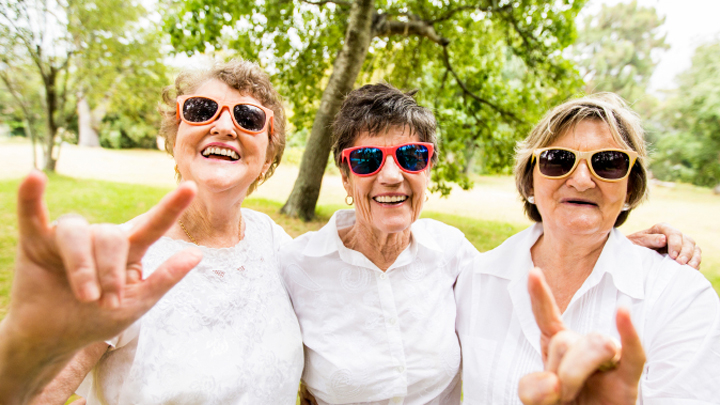 It's official: the older we are the happier we are.
Latest figures by the Australian Bureau of Statistics (ABS), show that, on average, Australians rate their overall life satisfaction as 7.6 out of ten while those aged 75 plus have the highest life satisfaction rate of 8.1 out of 10.
In fact, the golden oldies are significantly happier with their lives than the 15 – 24 age group which scored only 7.7 while those who identified as bisexual or "other" and those with a mental health condition were equally bottom of the list with a satisfaction rate of 6.6. Women (7.7) are marginally more content than men (7.6).
The findings are included in the ABS General Social Survey released at the end of June.
For the first time, the survey collected information about people's self-reported mental health condition and their sexual orientation.
"Data showed that people who self-reported a mental health condition were three times more likely to have problems accessing health care and five times more likely to assess their health as poor (13% compared with an overall 2.6%). They were also less likely to be employed are more likely to have suffered discrimination and crime," said Dr Paul Jelfs of the ABS.
He said that in 2014, more than half a million people or 3% of the population identified as non-heterosexual, including 268,000 who identified as gay or lesbian and 255,000 who said they were bisexual or "other".
One worrying trend identified is a fall in the overall participation rate in sport and recreational activities from 7.4 out of ten in 2010 to only 7 out of 10 in 2014 while face-to-face contact with others has declined from 79% overall in 2010 to 76% last year. A whopping 92% of people used technology using phone, text or video to stay in touch with family and friends.
ABS figures also show that the media age of Australians has increased by four years over the past two decades from 33.4 years to 37.3 years. In those 20 years, the proportion of the population aged 65 and over increased from 11.% to 14.7% and this group is projected to have the most rapid increase over the next decade as all of the baby boomers will be 65 or older. In the 12 months to 30 June, 2014, the number of people aged 65 and over increased by 118,700 – a 3.6% increase.
The older and oldest age groups have showed marked increases in the past 20 years – those aged 85 and over increased by 153% compared to an overall population group of 32% while those aged 100 and over soared by 263%. In just one year to June, 2014, the number of centenarians increased by 490 people (13.8%) to reach 4,000 while there were almost four times more women (3,200) than men (880) in this age group.
Current overall life expectancy is now 82.1 years with both the falling birth rate and the impact of better health care for seniors having a marked effect. The proportion of children aged to 4 years decreased from 21.6% to 18.8% of the population in 20 years.
We are steadily heading towards a population of 24 million – there is one birth every one minute and 45 seconds, one death every three minutes and 25 seconds and a net gain of one person because of immigration every 2 minutes and 12 seconds delivering an overall population growth of one person every one minute and 22 seconds.
The ABS believes that our national population will virtually double to 46 million by 2075 although this projected population could happen any time between 2058 and after 2101, depending on variables.
Highlights from ABS projections include Perth taking over Brisbane in 2028 population-wise and, ten years after that, the ACT overtaking Tasmania.
According to the ABS Director of Demography, Bjorn Jarvis, the number of people aged 65 and older is projected to double from 3.2 million (14% of the population) to 6.8 million (20% of the population) by 2040 when the media age is projected to be 40.5 years.
Population trends are based on assumptions of future levels of fertility, life expectancy and migration based on recent trends.
Mr Jarvis said the number of people aged 85 and older was projected to almost triple by 2040 increasing by 770.000 to reach 1.2 million making that age group 4% of the total population compared with 2% today.