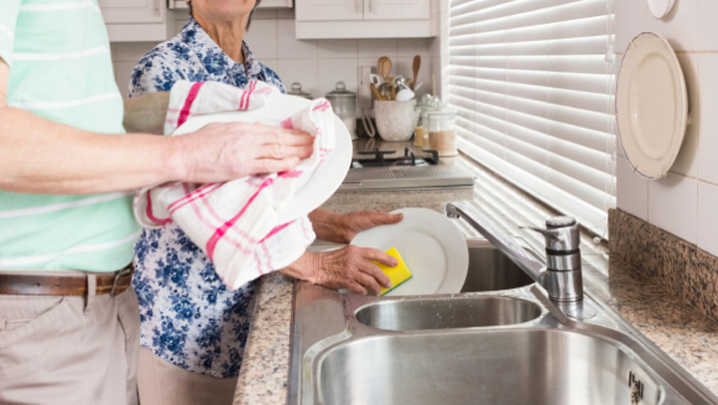 I'm convinced that men and women have a fundamentally different attitude to domestic chores.
When I was a kiddy, Friday was cleaning lady day and, without fail, every Friday morning my brother and I were issued the motherly order to make sure that our bedrooms were tidy because, as mummy never failed to say, "I don't want the cleaning woman thinking that we live in a pig sty".
Even then, the logic of this maternal stricture escaped me. I thought then – and still do – that cleaning lady day was the only day when you should feel free to leave your room in an ungodly mess. We have a regular cleaner nowadays – as I have had to point out several times I did not knock off work to become a domestic drudge – but mummy's instruction still lingers and I do some basic tidying on cleaning day as if I am on some sort of autopilot.
Naturally, we chaps have become lots more sensitive than our fathers' generation to the needs of the womenfolk but that doesn't mean we have changed all that much when it comes to a division of domestic chores. Do we reasonably think that younger blokes today are enlightened and progressive about this?
Well, consider these findings from a recent British study which surveyed more than 2,000 men over the age of 30 – showed that laundry, cooking and making the bed were all jobs either left undone or to the woman of the house. Mind you, I have never ever seen the need to make the bed except when changing the sheets – it's not as if a photographer from "Better Homes and Gardens" is going to make a surprise visit, is it?
The survey showed that the typical British man only learned how to use a washing machine at the age of 24 and is 27 before he has learned how to make a proper meal. More than half admitted they "never needed to know" while a further 39% said they "had someone else to do it for me."
And 9% flatly stated "It's not my job" to do anything even vaguely domestic in nature. When asked if chores were carried out by a wife, partner or parents, half of the men said that they didn't do laundry, 31% did not cook and 18% can't or won't make the bed. Yet, in an apparent contradiction, 58% felt that they contributed fairly contributed to housework.
Perhaps "fair contribution" has a different meaning for men and women.
But what shocked me more than anything was a comment from the person who conducted the survey: "Too many men hold the mindset that chores are not their job and should be done by the women of the house. They need to wake up into the 21st century. I believe more needs to be done to encourage men to help around the house. Chores should be introduced from a young age to encourage and develop abilities – it will only benefit them in the future."
I can easily imagine some feminist academic coming out with this sort of nonsense but the author was a man! Yes, a man – Nick Swan in fact. Talk about letting down the side. I do wonder if his mates say to him in the pub after work, "Time for another one Nick or do you have to dash home to cook dinner, bring in the washing and do the ironing?"
Serves him right if they do.
Meanwhile another British study on more or less the same subject is supposed to have shown that, when added up over their lifetimes, women spend seven years looking after children, six years doing housework, five years cooking and four years shopping. Presumably, the shopping bit refers to groceries because I know women who have spent a total of 32 years shopping by the age of 50.
And, it is further alleged, women are at their busiest between the ages of 25 to 34 while Saturdays between 9am and midday are their ultra-busy times.
To balance things out a bit, yet another British study is supposed to have shown that women are getting fatter because they do less housework.
Researcher Dr Melanie Luhrmann said that the average British woman spends nearly 20% less of her day than her early 1980s counterpart on housework but are spending more time at work and the swop may have added to their weight. Advances in technology, while saving women time and effort, have meant that fewer calories are burned.
She said that while women were eating less nowadays, they should be consuming even smaller meals as the level of activity had dropped significantly.
"Both physical activity and calories are important," she said, noting that obesity levels in the UK have tripled in the last thirty years.
So, if a chap wants his lady to be trim, taut and terrific – and if he cares deeply about her health and wellbeing – he won't muscle in and offer to do housework.
Now that really is sharing and caring, isn't it?
Share your thoughts below.
To write for Starts at 60 (and potentially win a $20 voucher), send your articles to our Community Editor here.