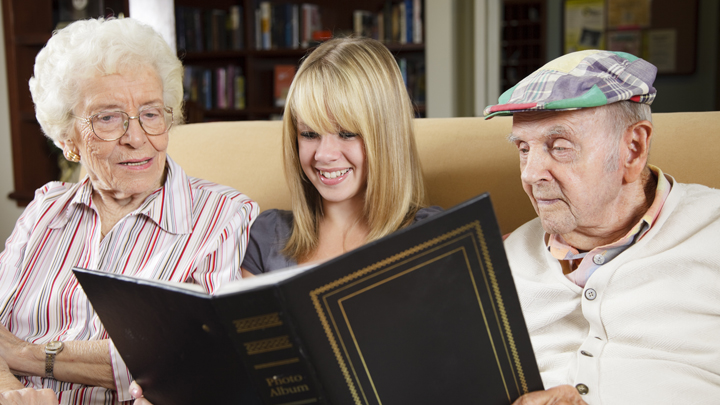 A group of retirement home residents and a group of young students in Holland are pioneering what could become a world-wide innovation in aged care – and it is a "win-win" situation for both.
The Humanitas home in Deventer has their elderly guests and young students living in the same complex and, in return for rent-free accommodation, the students undertake to spend at least thirty hours a month quality time with their much older neighbours.
The home's management says that the age difference between the two groups is probably, on average, at least sixty years but that both are thoroughly enjoying the experience and that most students considerably exceed their quality time commitment.
Currently, there are six students in their early twenties sharing with about 160 seniors. Students are lining up to become part of the program.
There is only one rule for the students – don't be a nuisance! They can come and go as they like and have friends visit. Home Manager Gea Sijpkes said students didn't find the rule too difficult to follow although she added that it helped that many of the seniors were rather hard of hearing.
"It's important not to isolate the elderly from the outside world. When you are 96 years old with a knee problem, well, the knee isn't going to get any better, the doctors can't do much. But what we can do is create an environment where you forget about the painful knee. The students bring the outside world in, there is a lot of warmth in the contact," she said.
The inter-reaction has been very beneficial for the breaking down of prejudices between the widely separated age groups – no longer do the senior regard all young people as lazy and inconsiderate layabouts while the students don't think of their elderly neighbours as being useless and ignorant. Both groups have learned mutual respect.
The home stresses that the students are not replacements for trained professional staff who attend to the seniors' health and well-being concerns.
Quality time activities may be something as simple as watching sports on TV together, just chatting, helping celebrate birthdays and just offering company. The range of activities is growing as the students and the seniors discuss what can be done such as playing games together, going together on shopping trips and even the preparation of simple meals.
One student took a group of seniors into the garden and gave them cans of spray paint so they could learn about graffiti. Another student taught an 85-year old how to use the internet so he can stay in touch with his children and grandchildren and he even has his own Facebook page now.
Denise, a 22-year old journalism student, said, "Not only do I not pay any rent, but I also like working with the elderly. Given that student rooms are too small, dirty and too expensive, this is a fantastic alternative."
Another student said, "For 400 euros (AU$557) a month I'd get barely ten square metres and I have to share the kitchen and bathroom. Here I have twice as much space and I have my own kitchen and bathroom."
Not surprisingly, the home is receiving inquiries from around the world about how the scheme works.