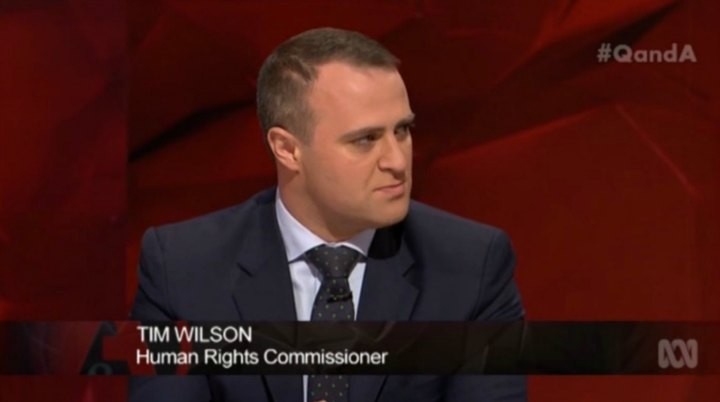 Last night's episode of Q&A tackled the issue at hand straight off the bat, with host Tony Jones and the Liberal appointee to the Human Right Commission Tim Wilson facing off over last week's inclusion of Zaky Mallah on the show.
Mr Wilson said he had considered boycotting the show in line with fellow party members, but decided to go on the show to explain a few things to the producers.
"Over the past week, I have vacillated as a private citizen about whether I go on because I am not happy with Q&A's conduct last week, but as human rights commissioner I feel an obligation to go on Q&A and explain what free speech actually means," Mr Wilson said.
He said Mr Jones – who opened by saying the entire staff of Q&A was responsible for the content of each show – and the producers should be "ashamed" for the decisions made last week.
"I think the producers and yourself ought to be ashamed of yourselves for giving him a platform. The issue at heart is that the ABC chose to give this person a platform on live television," Mr Wilson said.
"To be brutally honest Tony when I came on this program in 2008 it was an environment where we had serious policy discussion. Too often these days it's caught up with gotcha moments and snide remarks designed to get extra attention in the news cycle," he added.
The Q&A host opened the show by saying it was the ABC's role to give people a voice under certain guidelines.
"The ABC's editorial standards tell us to present a diversity of perspectives so that over time no significant strand of thought or belief within the community is knowingly excluded, nor disproportionately represented," he said, implying that is what they did last week.
Mr Jones said the "safety and security" of the panellists and audience "is always a key priority for us".
Elaborating on the topic of freedom of speech, Mr Wilson said, "No one has called for this individual [Zaky Mallah] to be silenced or censored. No one has called for that."
Communications Minister Malcolm Turnbull is expected to receive a report of an investigation into last week's Q&A program on Tuesday.
The department investigated the context in which Mr Mallah appeared on the program, the decision-making process for the appearance and the protocols used in regard to physical security for the live broadcast.
Whether government ministers will continue to boycott the show remains to be seen, however, one Liberal MP thinks it is the wrong move. Queensland backbencher Ewen Jones said refusing to appear on the show "smacks of petulance" and is counter-productive.
Do you think this will put an end to the standoff between the Government and the ABC? What do you think of Tim Wilson's appearance on the show?