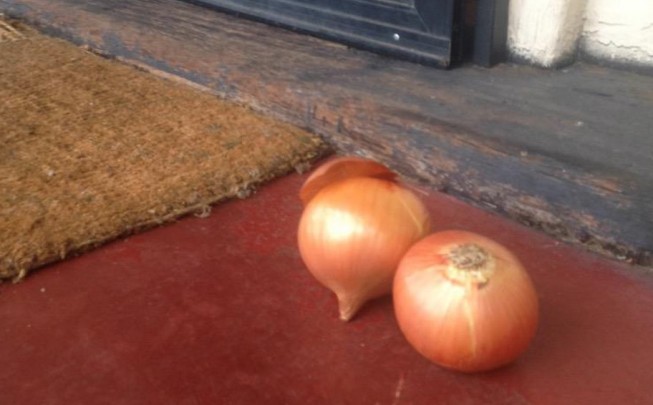 The spill is here, and there is simply nothing more to say about it.  So instead we have to go to the most entertaining moment today, and that is that there is a new hashtag trending on Twitter… #putoutyouronions
It's a hashtag devoted to mock sympathy for our Prime Minister who has been challenged by Malcolm Turnbull to a leadership battle tonight.
It is being called his pre-eulogy.
Take a look at some of the tweets and share your thoughts.
And on every doorstep this September, we remember the leader who brought tears to our eyes #putoutyouronions pic.twitter.com/6tl3k0hkWg

— Nick Klau (@nickklau) September 14, 2015
Trying to explain Australian politics to international friends. #putoutyouronions #libspill #reTurnbull

— Carol Duncan (@carolduncan) September 14, 2015
I put them next to my captain's pick #putyouronionsout #putoutyouronions pic.twitter.com/DLvoNJDAAS

— Chris Gentle (@crgentle) September 14, 2015
Never Forget, Tones. #PutOutYourOnions pic.twitter.com/eBkYZvqdos

— Pat McDermott (@PattusM) September 14, 2015
Farewell Tony #putoutyouronions #libspill #auspol http://t.co/w2KgIJZzqI pic.twitter.com/tb9xon7IuS

— Nadia McCarthy (@NadiaMcC) September 14, 2015
Just in time for council collection #libspill #PutOutYourOnions pic.twitter.com/Q2aDVvYdzR

— Kris Swales (@KrisSwales) September 14, 2015
#putoutyouronions for Abbott https://t.co/F7xQc66mWQ

— SnapElectionNow (@damelarksong4) September 14, 2015
See ya, Abbott. #PutOutYourOnions pic.twitter.com/84FVoifV4W

— Nurse Ratched (@esesesse) September 14, 2015
So long, @tonyabbottmhr #putoutyouronions https://t.co/ENTiAaDY6V pic.twitter.com/3Zez5aAhcL

— Comrade Weez (@weezmgk) September 14, 2015
Love that all the news programs are already playing their Abbott obit pieces. #auspol #libspill #PutOutYourOnions pic.twitter.com/uHRcKAUV7C

— John Kelly (@j2dk) September 14, 2015