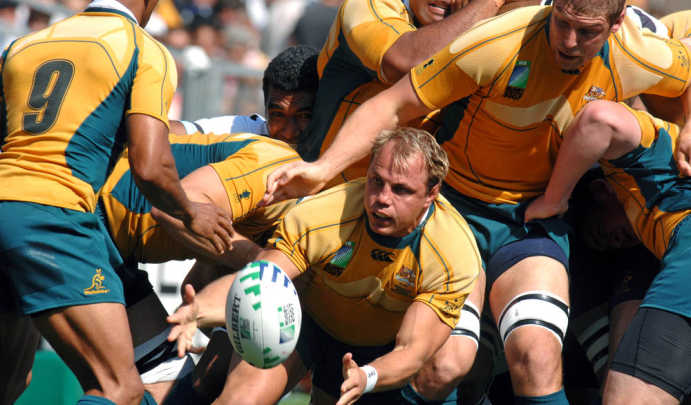 The 2015 Rugby World Cup took a decisive and somewhat terrifying turn last night as the All Blacks finally found 5th gear, running riot over their arch nemesis, the French.  In a show of free-flowing fancy footwork, and, let's face it, brut force, the All Blacks sent shivers down the spins of the remaining teams.
Certainly, the Springboks, who only just got up over the Welsh in the dying minutes of the game, will have taken notice against their semi-final opponents. In stark contrast to their uniform, The All Blacks will go into that game as white hot favourites.
However, the business end of a World Cup has not always been a happy hunting ground for the Kiwis. After winning the inaugural Cup in 1987, there was a embarrassing drought until only four years ago when, upon home soil for the first time since, the AB's were able to hoist the Webb Ellis Trophy for just the second time.
Last night's win, suggests they might have their eyes set squarely on the first ever successful defence of a World Cup.
The Wallabies, who must overcome Scotland tomorrow morning, and then the winner of Ireland and Argentina in the semis to earn a spot in the coverted final, are in their best form for a long, long time…and appear to be, for an even longer time, a unified outfit.  Assuming they do so, the Rugby World Cup Final, could shape up as the biggest final in cup history.  I'm sure the Aussies would rather tackle the South Africans, but rugby fans the world over would relish the chance to see the two superpowers of the rugby world, Australia and New Zealand, face off in an encounter, the size of which has not been seen since Cuban missile crisis.
The All Blacks are menacing outfit.  Irrespective of their form, they always look dangerous and can simply run over teams at will, if they're on game.  They draw parallels to Australian cricket's The Invincibles team, the Queensland Maroons (05-13) and the Hawthorn Hawks of the 1980's.  Games were never lost.  No margin was incapable of being mown down.  They all had never-say-die attitudes.
And whilst the Wallabies of 2015 have re-found that mongrel spirit that saw them hold aloft the silverware on two previous occasions, they will have to be at their very, VERY best to beat the All Blacks.
Either way, it's shaping up to be a epic end to the 8th Rugby World Cup. The southern hemisphere teams are dominating with only the Scots and Irish left north of the equator.
So with the last weeks of the Rugby World Cup ahead of us, we want over 60s who love the Rugby to join us in becoming our commentators.  We want you to send in your own commentary on the upcoming games if you are passionate enough.  Anyone game?