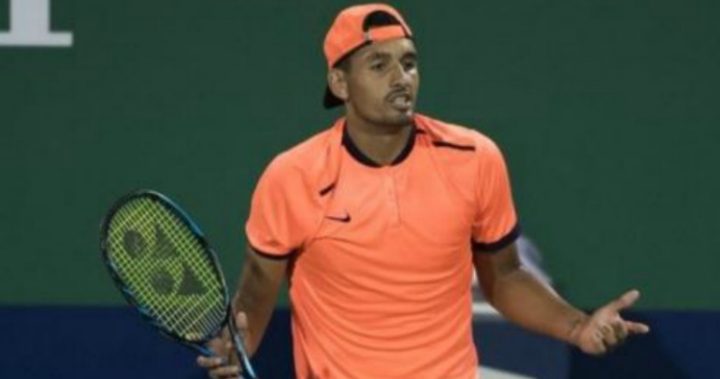 Nick Kyrgios is in the eye of a storm at the moment, after he was issued an eight-week ban by the ATP Tour and slapped with a fine of $32,900 for his behaviour at the Shanghai Masters game.
Tennis Australia on Tuesday issued a statement to declare Kyrgios had agreed to consult with a sports psychologist in order to reduce his Tour suspension down to three weeks.
"Nick's health and wellbeing is a priority and the ATP has offered a reduced penalty on the provision that he seeks appropriate professional advice, which he has agreed to do," the statement claimed.
"Nick understands the gravity of his actions, has shown remorse and expressed a willingness to improve."
While it seemed that the 21-year-old was sincerely apologetic after his tanking performance at the game against German Mischa Zverez, Kyrgios' latest public message suggests that apology may not have been as sincere as first thought.
On Wednesday morning asked his followers on Twitter to send him questions for a spotfire Q+A — as he has done regularly in the past.
While the enigmatic rising star may simply have been joking with his responses in an attempt to elicit another outburst of scorn from his critics, you can bet the ATP Tour will not be laughing.
When asked by a fan to confirm he will consult with a sports psychologist during his suspension and off-season, Kyrgios was quite nonchalant in his reply.
It was just one of several comments from Kyrgios during the social media exchange that will raise the eyebrows of Tennis officials, some others of which are as below.
His latest comment regarding drug use is certain to upset some members of the tennis community after Kyrgios in August avoided a sanction for pointing out players are allowed to smoke marijuana on the professional tour in a previous Twitter Q+A.
Under the WADA code, marijuana is not prohibited out of competition.
It certainly seems a long time since he issued his apology to fans, claiming he intended to use his ban "to improve on and off the court".
People believe that none of the more experienced athletes would ever do something like this. They had too much respect for the game.
What do you think about Kyrgios' reaction? Do you think he's being too flippant?