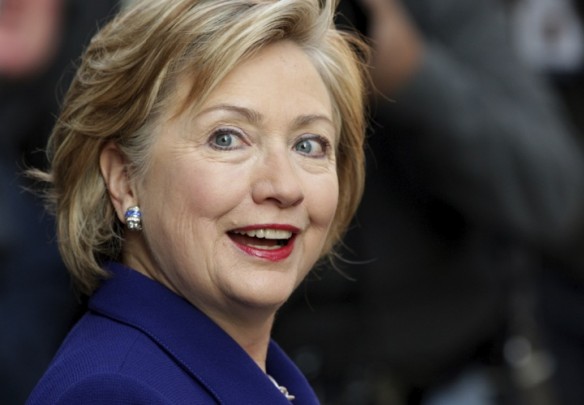 Hillary Clinton has stepped out in New York overnight to the cheers of an adoring crowd at her first major rally in the race to become the next President. And in a rather cheeky declaration, "I may not be the youngest candidate in this race, but I'll be the youngest woman president in the history of the United States…and the first grandmother" she added later.
As many women in the audience threw arms around each other and patted at tears, they listened to Clinton as she set her sights squarely on Republican policies and the widening gap between the haves and have nots. She ignored, for the moment her opposition for the Democratic nomination,
In an effort to champion herself as a leader for financially struggling everyday Americans, Clinton took aim at the big corporates, CEO pay checks, unequal distribution of wealth and the rights of LGBT's.
During the 45 minute speech, Clinton said, "Democracy can't be just for billionaires and corporations. Prosperity and democracy are part of your basic bargain, too. You brought our country back. Now it's time — your time — to secure the gains and move ahead. And you know what, America can't succeed unless you succeed".
"That is why I am running for president of the United States."
"You have to wonder, when does my hard work pay off? When does my family get ahead? When? I say now," she said.
Whilst Senator Bernie Sanders and Governor of Maryland Martin O'Malley stand between Clinton and the race to the oval office, Clinton begins the campaign with a sizeable leads and enormous brand recognition.   The Republicans, on the other hand, are struggling for a clear voice, with no less than 10 candidates currently vying for pre-selection.
Clinton, who was joined on stage by husband and former president Bill, daughter Chelsea and son-in-law Marc Mezinsky, also paid respect to her past, her womanhood and her future. Despite being a former first lady, senator and secretary of state, Clinton showed her endearing side saying she, "wished her mother could have been with us longer', 'to have seen Chelsea become a mother herself'. The emotion and affection of a grandmother was not lost on the crowd.
It will be a long and testing encounter to clinch first, the nomination and then the White House. No doubt her past, some of it not covered in glory, will be re-aired for all to see. Certainly, husband Bill's previous indispositions, although put to bed on many occasion, will once again test her mettle.
However, Clinton appears to be battle hardened and ready build a better America.   Maybe the world is ready too.   The world may very well need it.
Is the world ready for the most powerful person on the planet to be a woman?
<blockquote class="twitter-tweet" lang="en"><p lang="en" dir="ltr">Fun fact: her mother was born the same day Congress passed the 19th Amendment, giving women the right to vote. <a href="https://twitter.com/hashtag/Hillary2016?src=hash">#Hillary2016</a></p>&mdash; Madam President (@Madam_President) <a href="https://twitter.com/Madam_President/status/609761684283072512″>June 13, 2015</a></blockquote>
<script async src="//platform.twitter.com/widgets.js" charset="utf-8″></script>
<blockquote class="twitter-tweet" lang="en"><p lang="en" dir="ltr">Hillary is ready to fight for every single one of us. Sign on if you&#39;re with her: <a href="http://t.co/TlI2nJ9Um3″>http://t.co/TlI2nJ9Um3</a> <a href="https://twitter.com/hashtag/Hillary2016?src=hash">#Hillary2016</a> <a href="http://t.co/6D8eoKfIgw">pic.twitter.com/6D8eoKfIgw</a></p>&mdash; Hillary Clinton (@HillaryClinton) <a href="https://twitter.com/HillaryClinton/status/609763010576543744″>June 13, 2015</a></blockquote>
<script async src="//platform.twitter.com/widgets.js" charset="utf-8″></script>
<blockquote class="twitter-tweet" lang="en"><p lang="en" dir="ltr">A proud day I&#39;ll never forget. Go <a href="https://twitter.com/HillaryClinton">@HillaryClinton</a>! <a href="https://twitter.com/hashtag/Hillary2016?src=hash">#Hillary2016</a> <a href="http://t.co/9lf6pSBazf">pic.twitter.com/9lf6pSBazf</a></p>&mdash; Bill Clinton (@billclinton) <a href="https://twitter.com/billclinton/status/609804243562840064″>June 13, 2015</a></blockquote>
<script async src="//platform.twitter.com/widgets.js" charset="utf-8″></script>