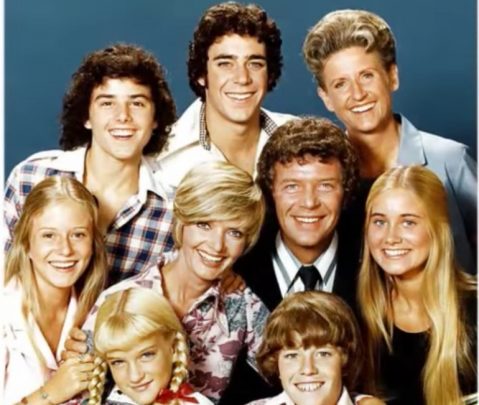 The Brady Bunch stars had us all believing how close they were on the show.
And now in light of the death of Florence Henderson, the actress who played Carol Brady, they're showing us again how close they are.
Henderson died yesterday of heart failure surrounded by her family and friends, a day after being hospitalised.
She was 82.
Read more: Brady Bunch actress Florence Henderson has died
Her on-screen children have paid tribute to her, taking to social media to share heartwarming memories and photos of the beloved actress.
Maureen McCormick, who played Marcia Brady, described her as "a dear friend".
"Florence Henderson was a dear friend for so very many years & in my <3 forever. Love & hugs to her family. I'll miss u dearly." she wrote on Twitter.
She also shared a photo of the two of them together.
Barry Williams, who played Greg Brady, described Henderson as "one of the most gracious people I have ever known".
"Deeply saddened. Florence was one of the most gracious people I have ever known, Proud to call her Mom and life long friend." he wrote on Twitter.
Christopher Knight (Peter Brady) also expressed his grief on Twitter, sharing a photo of himself with Henderson.
"I grieve for the passing of my dear friend, Florence. Privileged to have known her and the kindness of her heart. She will be missed. RIP." he wrote.
One of the youngest of the cast members, Susan Olsen (who played Cindy Brady) said the cast were "devastated" by the loss of their "TV mum".
"Of course we are all devastated by the loss of our TV Mom, but four magnificent human beings are proof that Florence was a wonderful mother in real life. It is for them that my heart is aching." she wrote on Facebook.
She also shared a photo of Henderson with former husband Ira Bernstein and their children.
Unfortunately for the actors in TV's most famous family it hasn't been an easy road.
The cast have been hit with several deaths over the years including Robert Reed (Mike Brady) who died in 1991 from colon cancer, brought on by a battle with AIDS, and Ann B. Davis who played Alice died in 2014 aged 88.
How heartwarming are these tributes?! Were you sad to hear of Florence Henderson's death?