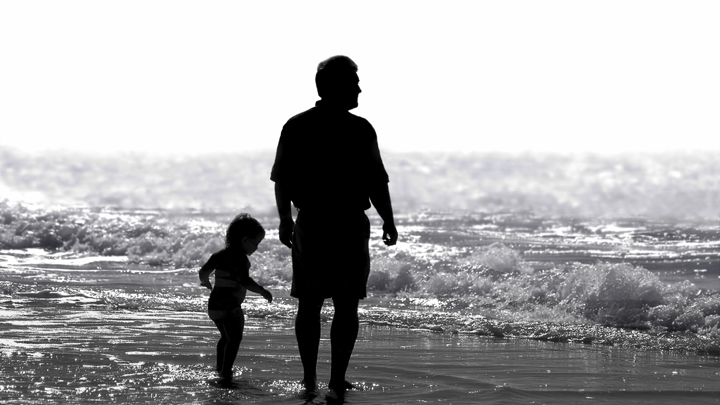 Last weekend, a dear friend of mind found out he would be a grandparent… For the first time! He only had two children, only one is married right now and in her 40s this was incredibly exciting news to the family. Bill's wife sadly passed away three years ago, so after a very long time of sadness, this is very welcome and happy news.
Bill told me while we ate lunch, that he spent several hours one weekend working on a piece of writing, a poem if you will, for the grandchild he will hold in seven months. He read it out to me, chuffed that he now has someone to say these words to, and it brought tears to my eyes. So this morning I'm sharing this with you, with Bill's permission, because words so beautiful, so meaningful and so valuable need to be shared.
These words are a valuable reminder of some of the things that as grandparents, we should remember. The important things, that our role requires from us…
My promise to you 
I promise to never laugh at you, but instead laugh with you, and teach you humility. 
I promise to never tell you, but to help you understand, and teach you the things that matter. 
I promise to never yell at you, but instead talk to you and teach you right from wrong. 
I promise to never do everything for you, and instead teach you how to do everything for yourself. 
I promise to never tell you what to look for in a friend, but instead teach you what values are important. 
I promise to never give you everything, and instead, give you what you deserve and teach you to earn it. 
I promise to never argue with you, but instead discuss things and try to understand where you are coming from. 
I promise to never abandon you, and instead be there for you when you need to talk, listen or question things. 
I promise to never be unloving to you and instead, teach you to love to. 
These are small things you see, but I want to teach you to be the best possible you and be here to guide you on your journey through life. 
Your Granddad. 
These words are simple, poignant and powerful. And they serve as a wonderful reminder of why our roles as grandparents are so important.
Tell us, what do you think the most important part of being a grandparent it?