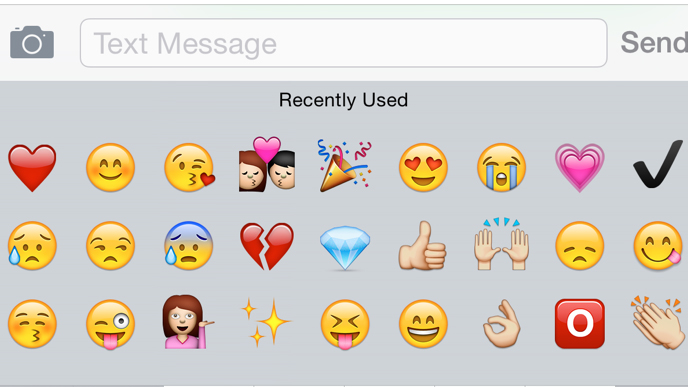 Many of our Starts at 60 community have asked us how to use emojis as they have seen them on Facebook or when texting with friends. Here are a few tips and tricks that will make using emojis easy and fun for you.
What are emojis?
They are tiny digital images or icons used in text messages to express an emotion to the receiver in a visual way that expands on the simple smiley face.
Where can I find the icons on my phone?
Not all phones come with emojis programmed into the device. Except Apple iPhones that should be set with the emoji icon in bottom row of your keyboard. Simply click on the smiley face and all the emoji images will show up for you to add to the text (as seen below).

Getting emojis onto Android phones can be tricky and the steps we have might not apply to your phone brand. But generally to download the emojis:
(1) Open your settings menu,
(2) Scroll down and select "about device/phone",
(3) Click on the "Android version",
(4) Open the Google Play Store and download Swiftkey Keyboard + Emoji,
(5) Enable the keyboard in the "Language and Input" menu".
If these steps don't work, go into the store where you bought the phone and they should be able to download the emojis for you.
What are the top five popular emojis and their meaning?
Note: we are using the emoji images from an iPhone, they do appear slightly different on Android phones.

(1) A face with a stuck out tongue and winking eye. It means crazy, cheeky or silly.

(2) A face that is blowing a heart kiss with a winking eye. It is most often used in a friendly way but can also be flirtatious.

(3) A lady dancing in a red dress associated with salsa dancing. It is most often used when going out with friends to a party.

(4) A pile of poop with a smiley face. It is most often used to insult someone in a cheeky way (hehe).
(5) Two hands palm to palm. It is most often used to pray or to show your sorry. It can be misinterpreted as meaning high five.
Here are four other emojis that you are misinterpreting

This emoji can be interpreted in many ways such as (1) a girl with attitude or (2) a girl flipping her hair. Apparently this emoji means "how can I help you?".

People have been using this emoji as (1) stop what you're doing or (2) flying away motion. But you should use this emoji for a hug or jazz hands.

The grinning face actually is a frustrated or freezing emoji symbol.

This boy has been used when "I have had a really bad day" but this emoji is actually bowing down with respect.
Do you use emojis when texting your friends and family? What is your favourite emoji?