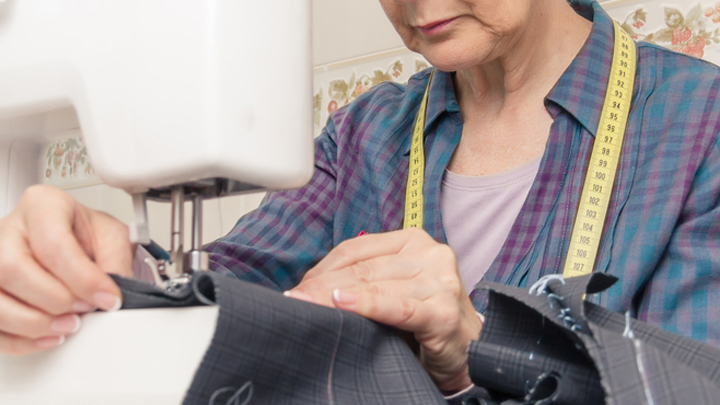 Do you love to sew? Even if you've been doing it for years, there's bound to be a couple of things you didn't know.
In fact just this week, our article "What that little ball on your unpicker is really for" has gone viral because no one realised for all this time!
Here's 23 little hacks we have found that will no doubt help you.
Do you have any others to add?
1. When threading a needle, spray the tip of the thread with hairspray. It will stiffen and easily pass through the eye of the needle.
2. Keep a magnet handy to pick up spare pins and needles.
3. Use binder clips instead of pins for fabrics such as leather that are easily damaged. They can also be used to hold binding together on a quilt.
Image Credit: The Sewing Loft
4. Apply clear nail polish to the top of buttons to keep threads in place.
5. Use toe separators to store your bobbins.
6. If you're using a slippery fabric, put a layer of muslin under it and pin the layers together before cutting.
7. Use a hair straightener to press fabric between buttons or embellishments.
8. Add an easy sew allowance to any pattern by rubber banding two pencils together and tracing the pattern.
Image Credit: Sew McCool
9. Substitute soap for chalk when tracing lines on fabric.
10. Have a spool that is too big for your sewing machine? Simply place it in a mug next to your machine directly under the spool pin.
11. Sharpen dull scissors by cutting tin foil or sandpaper.
12. Make a hem template that you can iron over – easy!
13. Use rubber bands to keep an exact seam allowance.
14. Print a bias tape template and use to iron over.
15. Coat your thread with this little gadget to strengthen weaker threads.
via (sew4home)
16. Next time you're sewing over lumpy fabric like towels or fleece, use a plastic bag. Simply place it over the fabric you are sewing and watch that presser foot glide!
17. How to find your grain: Pull on a loose thread will tug at your fabric and gather a little, gently pull it all the way out. The line this thread left behind is your cross-grain, perpedicular to your grain line. When you fold your fabric in half this line should match up on both sides.
18. Pull cord or elastic through a waist band using a safety pin.