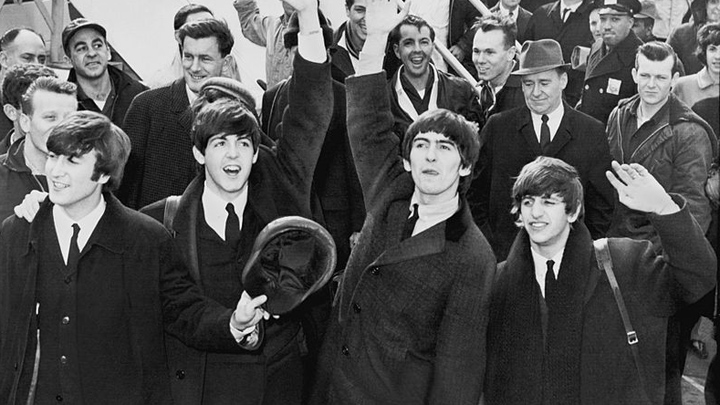 Let's take a walk down memory lane today and remember one of the greatest bands of all time, The Beatles.
A global sensation throughout the 60s, The Beatles well and truly cemented themselves in history, and although many have tried, no band since has achieved the level of success this foursome did.
Nicknamed the 'Fab Four', George Harrison, Paul McCartney, John Lennon and Ringo Starr formed the group that we all know and love in 1960, soaring to the charts with their first release in 1963, Please Please Me. It became a number one hit and set the band on track to become the most successful band of all time.
Beatlemania was well and truly in full swing, and hit the US just after the release of "I Want to Hold Your Hand". In 1964, they appeared on the Ed Sullivan show, performed in Washington DC, before heading back to New York and doing Ed Sullivan once more. In just two months The Beatles had 12 songs in the US top 100 including the #1 through #5 slots simultaneously.
By the end of 1964, the band had performed 32 concerts internationally and 30 in the US, plus 4 new albums (Meet The Beatles, The Beatles Second Album, A Hard Days Night and Something New) as well as a movie tie in to "A Hard Days Night".
The following year, they had five more CDs released, with Help! and Rubber Soul containing all new music – it's a wonder they had any time to write and record it. Their musical style was changing and growing and throughout the touring years, there were more than 1,400 shows and appearances. They were well and truly exhausted so decided to become a studio recording group.
It was 1966 when The Beatles released two more albums and play their last concert at Candlestick Park in San Francisco.
After 700 hours in the studio, Sgt Peppers Lonely Hearts Club Band was hailed as a revolutionary album and its complexity and creativity forever raised the bar for all future recording artists. The lyrics were psychedelic and powerful, with many non-sensical lines.
The Magical Mystery Tour was also released this year to coincide with a movie by the same name and while the album was well received, the movie was both a critical and commercial flop.
The White Album was released by Apple Records in 1968, with Yellow Submarine followed the year after, as did Abbey Road. In 1970 it was clear the band had different ideas on what they wanted to pursue, leading to conflicts. It was clear after Let It Be was put on shelves that The Beatles couldn't work together and it was announced that the band had broken up, sending shockwaves around the world.
Today we remember them as they were, in the prime of their lives. Here are some of The Beatles biggest songs: